---
Shellac.net Wood Finish Supply & MeritIndustries.com
Home of: MohawkFinishSupply.com
Authorized Mohawk Distributor
Select Products for Furniture & Cabinet Finishes, Touch-Up, Repair, Maintenance
• • •
New Hours Visit Our Showroom 9:00 - 4:00 Monday - Thursday 2465 Second Street, Napa Ca 94559
Thank You for your support, we appreciate your business, Ron & Pete.
---
---
MOHAWK WOOD FINISHING PRODUCTS
---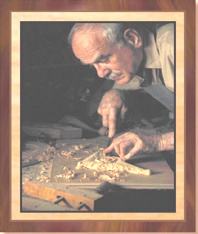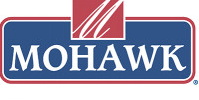 An Integrated System of Compatible Finishing Materials for Professional Results.
MOHAWK WOOD FINISHING PRODUCTS
An Authorized Mohawk Distributor
Materials Listed by Category & Product #
NEWS Blog

For Mohawk in Canada, Please Visit

Ardec Wood Finishing Products
---
BUFFCOTE™ LACQUER (Waxing Lacquer)
Click above: Product Data Shee
t & Application Information

BUFFCOTE™ LACQUER
(Satin & Matte)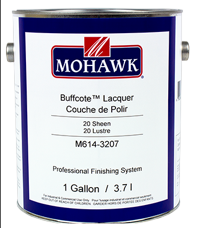 Buffcote™ (aka Waxing Lacquer) contains waxes that yields dazzling results for all types of fine furniture and interior woodwork. This unique lacquer delivers a very soft look and feel that will "wow" your customers and is formulated to give a hand rubbed effect right off the spray gun.
Buffcote Lacquer is used as a Top-Coat only over Finishers Choice gloss lacquer.
The slightly amber appearance of Buffcote Lacquer also adds to the patina and richness of the wood. Buffcote offers quick dry, quick build, and exceptional flow and leveling.
Buffcote looks great over stained wood or, alone as a beautiful natural finish.
Solids: 27% --- Satin (40) & Matte (20) sheens

CRACKLE LACQUER • UPS Ground Only •
CRACKLE LACQUER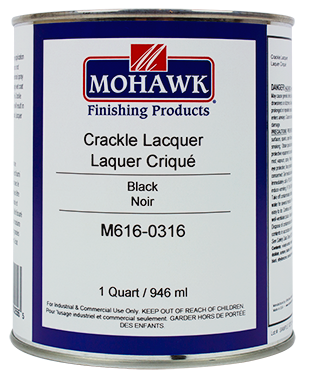 Crackle Lacquer creates a cracked, crazed, or antique looking finish.
A wet coat of Crackle Lacquer is sprayed over a dried nitrocellulose colored base coat.

The base color shows through when the crackle layer cracks.
For example, black over white yields white visible in the cracks
and clear over white simulates an antique white enamel finish.

Effective only when a wet coat is applied with a spray gun over a
conventional gloss lacquer finish. Crackle is offered in a ready to spray consistency.
The clear can be colored with lacquer colorants to create dynamic results.
MOHAWK Opaque COLORED LACQUERS
COLORED LACQUER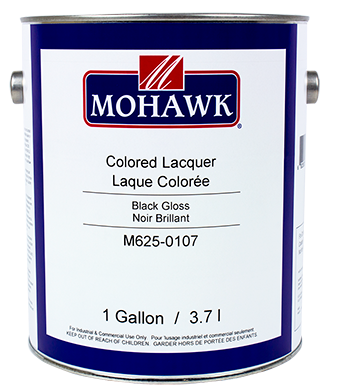 Mohawk Colored Lacquers are pigmented, nitrocellulose based coatings.
They are fast drying with excellent flow, build and hiding characteristics.
Colored Lacquers may be applied over a variety of interior wooden surfaces
including furniture, molding and musical instruments.
For best results apply over a freshly sanded E-Z Vinyl® Colored Sealer.
Reduce with Mohawk Lacquer Reducer 2255. No catalyst needed.
Warning: Not recommended for use in high moisture areas such as kitchens and bathrooms.
Solids: 31%.
• LACQUER REDUCER / THINNER 2255 • UPS Only •
PLEASE Click Above for Additional Information
LACQUER REDUCER - MOHAWK / Finishes Edge Lacquer Thinner 2255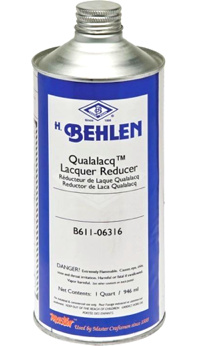 A special blend of solvents formulated for thinning nitrocellulose lacquers.

Use to thin:
• Lacquer Sanding Sealer
• Vinyl Lacquer Sanding Sealer
• Mohawk Nitrocellulose Lacquers
• Classic Stringed Instrument Lacquer.

Thinner improves flow of lacquers and adjusts viscosity for the spray equipment used.
(Avoid using more than 15 % by volume of the lacquer)
Note: 5 Gallon Pails are PICK-Up or DELIVERY Only - Please Phone ahead

Information Sheet, View or Print: Solvents For Your Lacquer Finishes

CLASSIC Stringed INSTRUMENT LACQUER • UPS Ground Only •
Click above:
Label Text & Application Information
CLASSIC Stringed INSTRUMENT Lacquer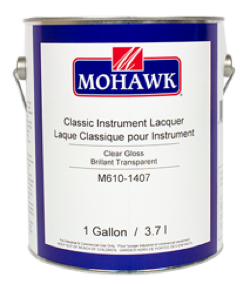 Classic Stringed Instrument Lacquer is a high quality
nitrocellulose lacquer specifically designed for wooden stringed instruments.

Stringed Instrument Lacquer allows for the special expansion and contraction
that occurs due to the unique construction of stringed instruments.
Note:
Stringed Instrument Lacquer must be applied over our Vinyl Sealer in order
to assure its unique film building and special finish characteristics.
Also available in Aerosol
DANISH FINISHING OIL • UPS Only •
Click above for Data & Application Information
DANISH
FINISHING OIL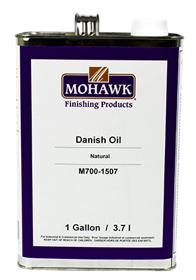 Danish Oil Finish is formulated and recommended for use on Teak wood,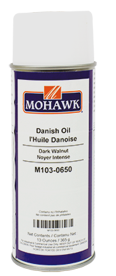 Monkeypod, Zebrawood, Rosewoods and other similar hard dense woods.
Danish Oil penetrates the wood and dries hard unlike linseed oil and
most other finishing oils
which become tacky when exposed to heat.
This polymerized wood finish, combines penetrating oils with resins to produce
a natural oil finish on unfinished wood. One application seals and finishes wood. Never gums up in warm temperatures. Will not print and is non-greasy.
Water spots, stains, burns and scratches are easily removed by buffing
with 4/0 steel wool and Danish Oil.

Avoid Spontaneous Combustion - Dispose of rags properly.
PUMICE STONE (Powdered Abrasives)
Click above for Label Text & Directions
PUMICE STONE Abrasives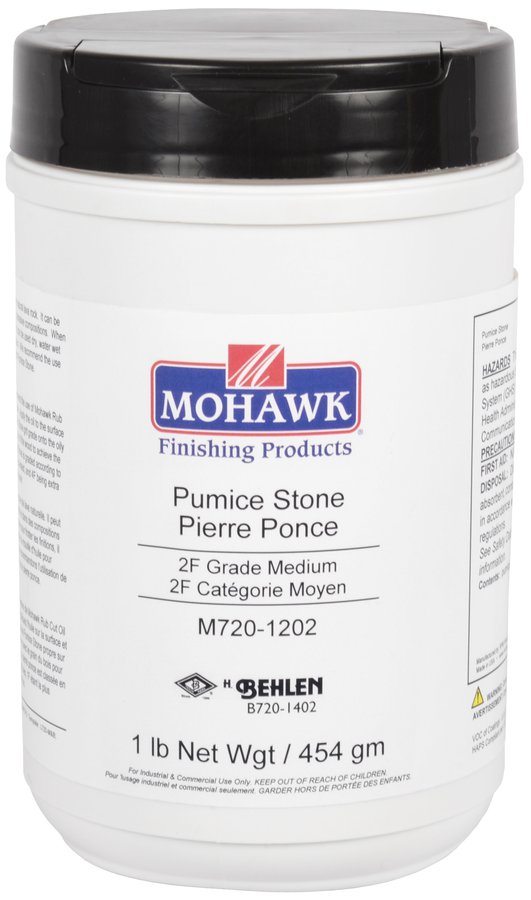 PUMICE Stone - 2F Powdered (Medium Fine, #00)
Powered Pumice is used as an abrasive and in abrasive compounds for rubbing down
wood finishes. When used for rubbing down finishes use water or rubbing oil
as a lubricant to control the finish rubbing.

PUMICE Stone - 4F - Powdered (Fine, #0000)
4F Pumice is used after the medium pumice rubbing and prior to rubbing
with rottenstone or fine rubbing and polishing compounds. Add water,
or rubbing oil, as a lubricant to control the cutting rate during final finish polishing.

DENATURED ALCOHOL (Behkol) Shellac Reducer • UPS Only •
Click above for more info About Denatured Alcohols:
DENATURED ALCOHOL
Shellac Reducer / Solvent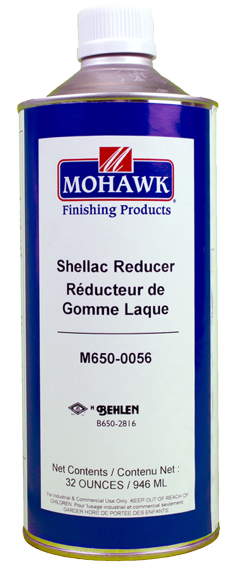 DENATURED ALCOHOL, Mohawk Shellac Reducer (formerly Behlen Behkol),
is formulated specifically to dissolve shellac flakes
and dilute or 'cut' liquid Shellacs.
See the: Shellac Pound Cut Mixing Chart
Denatured Alcohol, Shellac Reducer (formerly labeled Behkol) will make a shellac that has
a little more open or 'working time', a good solvent choice for mixing your own shellac.
Also used to dissolve alcohol Aniline Dyes.

• • 5 Gallon pails are Pick-Up, or North Bay & Bay Area Delivery Only. Call to arrange details.

Note: The SAME PRODUCT in 1 & 5 Gallon packaging now carries the Mohawk 'Finishers Edge' label.

NAPHTHA Solvent / Thinner • UPS Only •
NAPHTHA --- Solvent & Thinner

aka: Varnish Makers and Painters Naphtha (VMP Naphtha)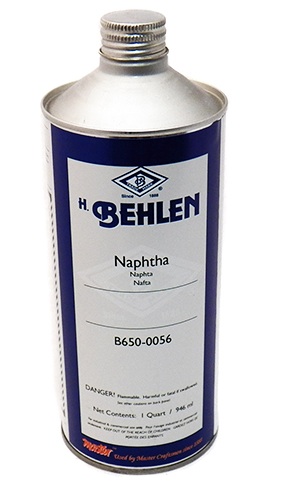 Naphtha is used to thin the viscosity and improve brushing of solvent / oil based
varnishes, paints, enamels and for general cleaning of these solvent based finishes.
A Petroleum distillate; used for reducing Paste Wood Fillers, and some stains.
Naphtha can replace mineral spirits or paint thinner and
will help accelerate drying time of oil based paints, enamels and varnishes.
Naphtha is Also used as a clean-up solvent.

Note: Do Not use for thinning or reducing: lacquers, shellac or latex paint.

OZ CREAM POLISH
Click link above for More Info
OZ
CREAM POLISH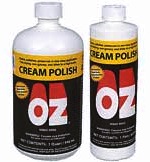 CLEANS, PROTECTS AND POLISHES all enameled, varnished and lacquered
wood
or metal surfaces, leather, linoleum, tile, glass, porcelain.
Excellent For:
Furniture, Pianos, Woodwork, All Kitchen Appliances, Venetian Blinds,
Bathroom Fixtures,Windows, Mirrors.


(Not for use on oil or wax finishes.)
BLUE LABEL PASTE WAX - 1 lb. Can
Click above for Label Text
BLUE LABEL PASTE WAX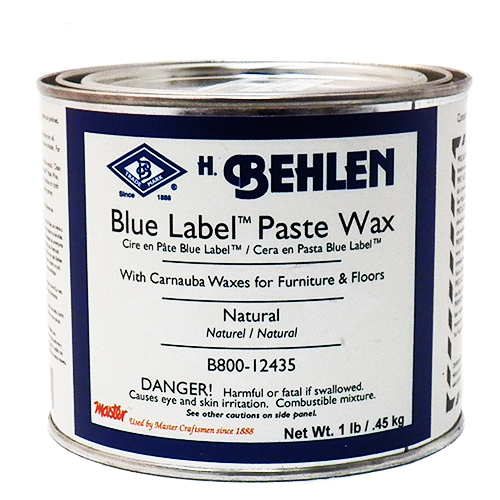 BLUE LABEL is a fine blend of waxes and pure spirits of gum spirits turpentine
that establishes and restores a sheen to all wood surfaces
while providing a protective finish at the same time.
Easy to apply and buff, Blue Label's carnauba wax blend
minimizes scratches and gives a rich luster when buffed by hand or machine.
One Pound Can
SLIDEEZ™ LUBRICANT
Click Above for Label Text
SLIDEEZ™ LUBRICANT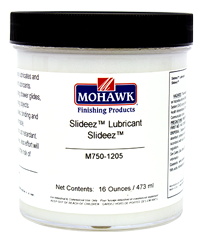 Lubricates wood, metal, plastic.
The semi-paste consistency lasts much longer than other forms of lubricant.
Drawers, windows, and doors work easier with an application of Slideez™.
It prevents binding of all moving parts.
• Slideez™ is also good for starting screws.
• An excellent rust preventative for tools used in gardens and metal objects in storage.
Slideez™ will not stain or cake and is non-flammable. •• Contains NO Silicone.
1 Pint / 16 Oz Jar

QuickWood EPOXY PUTTY STICK
Click Above: Application Information & Data
QuickWood EPOXY PUTTY STICKS - aka 'Tootsie-Roll' Epoxy
"Quick Cure" Epoxy Putty Sticks are ideal for repairs of table tops, edges of furniture, carvings and turnings.
It can be used as a replacement for Burn-In or Wax Fill Sticks, when a more durable repair is needed. Wood Epoxy is a specially formulated two part wood repair epoxy which is hand mixed or (kneaded) to a uniform color to create an extremely durable repair.
Wood epoxy has the same density as wood, and upon curing becomes an integral part of the item being repaired. To use, clean and roughen the area to be repaired. Cut off the amount required and knead to a uniform color. Apply firmly into the spot to be repaired, force into cracks or voids, remove any excess, and form as close to the required shape as possible. Wood epoxy has a 10-minute work life and hardens in 15 minutes. It may be sanded, carved, drilled or stained after the product is cured.
Full cure is achieved in 24 hours.
Pine
M743-1510


White
M743-1520


OAK / Light Walnut
M743-1530

Cherry / Mahogany
P-929


Black
M743-1570


Natural / Maple
P-900


Walnut
M743-1560

Ground HIDE GLUE
Ground HIDE GLUE
- High Clarity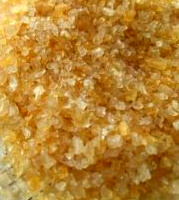 This HIGH CLARITY Ground Hide Glue is the traditional luthiers and furniture makers adhesive. It creates stronger wood joints than bottled liquid hide glues. Ground glue granules are mixed approximately 50 / 50 with hot water
and kept warm during use.
Although this glue has a quick grab it still allows you to re-position
the piece for an extended period prior to setting.
Ground Hide Glue is used extensively in wood veneering, chair making, guitar manufacture,
stringed instrument making and repair, antique repair and restoration, and in cabinet making.

Hide Glue can also be used to create crackle effects over oil
or latex-based undercoats.

Grade: High Clarity 192 gram strength. Made in the USA • $10.95 per pound in 5-pound packaging
Round Bridled GLUE BRUSHES
Round BRIDLED GLUE BRUSHES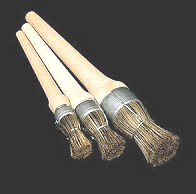 | | | |
| --- | --- | --- |
| Size | Diameter | Bristle Length |
| 2 | 1/4 in. | 1.25 in. |
| 4 | 3/8 in. | 1 3/8 |
| 6 | 1/2 in. | 1.5 in. |
| 10 | 3/4in. | 1.75 in. |
| 14 | 1 in. | 2.25 in. |
Currently, the # 2, 4, 6, 10, 14 brushes are available
These 100% pure gray hog bristle brushes feature plain wood handles
and seamless metal ferrules. For all hot or cold glue applications.
Wire bridled construction for added strength and to extend the brushes life.
When the brush wears down, remove the bridle, you now have a 'new' glue brush!

---
---
Shellac.net Wood Finish Supply / MeritIndustries.com
Authorized Mohawk Distributor
New Hours Visit us at: 2465 2nd St. Napa CA 94559 - 9:00 - 4:00 - Monday - Thursday - Closed Friday
Assistance for placing your order (9:00 am to 3:30 pm Pacific Time) 707-299-8016

Email: wfs@mcn.org ... Privacy Policy
rev. 11/25/23
---
---