---
Shellac.net Wood Finish Supply & MeritIndustries.com
Home of: MohawkFinishSupply.com
Authorized Mohawk Distributor
Select Products for Furniture & Cabinet Finishes, Touch-Up, Repair, Maintenance
• • •
New Hours Visit Our Showroom 9:00 - 4:00 Monday - Thursday 2465 Second Street, Napa Ca 94559
Thank You for your support, we appreciate your business, Ron & Pete.
---
---
MOHAWK WOOD FINISHING PRODUCTS
---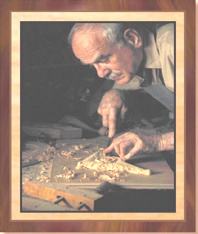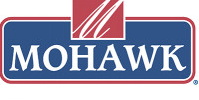 An Integrated System of Compatible Finishing Materials for Professional Results.
MOHAWK WOOD FINISHING PRODUCTS
An Authorized Mohawk Distributor
Materials Listed by Category & Product #
NEWS Blog

For Mohawk in Canada, Please Visit

Ardec Wood Finishing Products
---
Aerosols, Ultra-Flo Ultra Bond - CLEARS
Click link above for More Info
Ultra-Flo
ULTRA BOND - CLEAR LACQUERS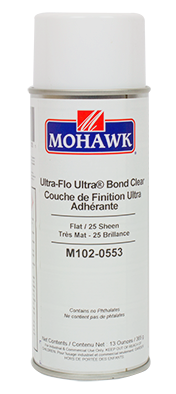 Mohawk's Ultra-Flo Ultra® Bond topcoat is specially
formulated to adhere to and flow out over hard to coat surfaces
such as UV finishes, 2 component polyurethanes, polyesters, etc.
Ultra-Flo Ultra® Bond topcoat has a unique blend of resins
and solvents that provide superior adhesion and flow.
High solids, fast-building, water clear finish. Excellent flow, fast drying and blush resistant.
The best choice for use over whites and light color furniture.

Net Wt. 13 oz.

Aerosol, C.A.B. Lacquer Production Topcoats • UPS Only •
Click link above for More Info

C.A.B. LACQUER Production TOPCOATS
&
FLOW-OUT Blenders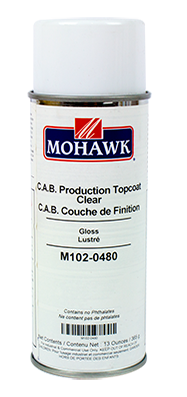 Mohawk CAB (Cellulose Acetate Butyrate) Acrylic Lacquer Topcoat
High solids, fast-building, water clear finish.
Excellent flow, fast drying and blush resistant.

C.A.B. Lacquers are the best choice for whites and light colored and pastel dyes or stains.
Cellulose Acetate Butyrate Lacquers may be applied over pigmented lacquer colors.


CAB Flow-Out Blenders contain a blending formula ideal for blending spray lines,
blending overspray and blending minor surface abrasions and scratches in C.A.B. lacquer finishes.
Mohawk CAB (Cellulose Acetate Butyrate) Lacquer does not yellow with age.
Net Wt. 13 oz.
Aerosols, WATER CLEAR ACRYLIC LACQUERS • UPS Ground Only •
Click above for more info

WATER CLEAR Acrylic LACQUER
Aerosols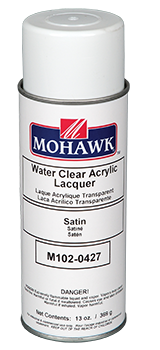 Acrylic coatings are crystal clear and non-yellowing.
Acrylic Lacquer is a water clear protective coating for furniture,
paper and plastic products.

Clear Acrylic lacquers may be sprayed on almost any surface (wood, metals, etc.).
Acrylic aerosols are compatible with Behlen & Mohawk touch-up products.

When a clear finish is needed over whites, bright colors, or light wood tones,
to retain clarity and color a Water Clear Acrylic is the answer.
Available: Gloss - Satin - Flatt


Aerosol, ULTRA® FLO CLEARS • UPS Only •
for More Information: Click Above

ULTRA® FLO CLEARS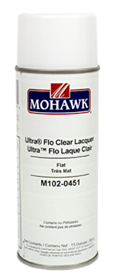 IDEAL for sealing in spot repairs

Formulated with special resins and solvents to provide a finish film free of orange peel.
Little or no over-spray when used over spot repairs on an existing lacquer finish.
Saves time, as the finish film will not require sanding or rubbing.

Net Wt. 13 oz.
Aerosol, 'Tone Finish' CLEAR LACQUERS
Please See
Aerosol Application Tips
(Click Above)
Tone Finish CLEAR
LACQUER Aerosols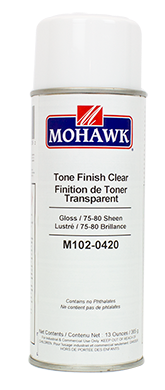 Clear Nitrocellulose based Lacquers are recommended as topcoats for wood grain finishes.
Use for the touch-up and repair of existing furniture and cabinet finishes.
The lower 'Tone Finish' solids seal, protect, and provide the correct
sheen adjustment to repaired areas.

Tone Finish Clears are formulated to adjust repairs to the correct sheen
and to blend well into existing finishes.
For bare or stripped surfaces or to build a finish, the higher solids
FINISHER'S CHOICE™Top Coat aerosol lacquers are recommended.


Aerosol, FINISHERS CHOICE CLEAR Lacquers • UPS Ground Only •
for More Information: Click Above
FINISHER'S CHOICE CLEAR LACQUER Aerosols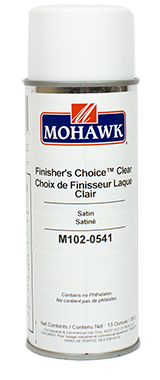 FINISHER'S CHOICE™ lacquers are water-resistant, high-solids nitrocellulose lacquer.
'
Top Coats' are a higher solids lacquer for use on bare wood or to build finish thickness.
FINISHER'S CHOICE™ lacquers and sealer perform like a spray gun applied finish.
Use these aerosols when applying a new finish to bare wood, or on bare wood
spot repairs when rubbing out will be necessary.
Finisher's Choice aerosols are compatible with solvent base dyes, stains,
and other Mohawk aerosol lacquers.
For a Dead Flatt sheen, build finish with Finisher's Choice Gloss for clarity and
then apply a final coat or two of the Tone Finish Clear DEAD FLATT.

For Touch-Up, and to blend Lacquers into the surrounding finish, use the Tone Finish Clear Aerosols.
Aerosol, PRE-CATALYZED CLEAR LACQUERS • UPS Ground Only •
Click link above for More Info
PRE-CAT Clear LACQUERS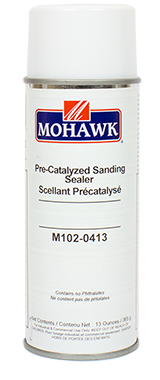 Pre-Cat lacquers feature excellent flow out for touch-up use.
The dry film is very durable and adheres where other finishes will not.
• Excels in flow-out, adhesion and hold-out.
• Fast-drying, resistant to yellowing.
• Leaves no halo on spot repairs.
• Very Good clarity and durability
Pre-Cat Lacquer aerosols have been tested and approved
for furniture factory touch-up on pre-catalyzed finishes.
An excellent choice for Kitchen and Bath cabinets.


Aerosol, GUITAR TONER Lacquers • UPS Ground Only •
GUITAR TONER Lacquers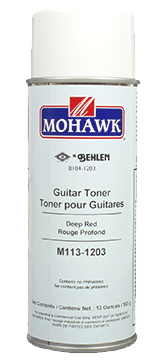 Toners are used to add shading effects to the guitar. Made from fade resistant dyes
in lacquer, they apply transparent color so the beauty of the wood shows through,
yet they are strong enough that several coats will create the dark sunburst effect
that is so popular on guitars.
Starcast Amber applies the basic light tone colors of the guitar. Encore Brown is used to
tone the body sides of acoustic guitars, which are typically darker than the soundboard.
The new DEEP RED M113-1203 is used on guitars, stringed, and percussion instruments;
use to tone edges or create a solid opaque Red color with a few more coats.
Aerosol colors shown for comparison only, color rendering subject to computer monitor limitations.

M113-1201
Encore Brown
M113-1202
Starcast Amber

M113-1203
Deep Red
METALLIC Color Aerosols • UPS Ground Only •
METALLIC Aerosols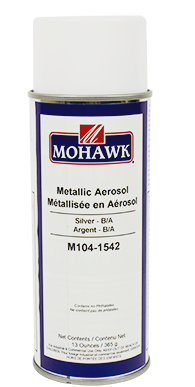 Opaque Solid Metallic Colors.
For use on metal, wood, ceramics, picture frames, sculptures.
For best results use over a White or Black primer / undercoater.
For interior use only.
Net Wt. 13 oz.
| | | | |
| --- | --- | --- | --- |
| ANTIQUE GOLD | RICH PALE GOLD | BRIGHT GOLD | SILVER |
Aerosol, DYE TONER Lacquers • UPS Ground Only •
Click above for Color Guide
Mohawk ULTRA CLASSIC
TONER
Aerosols
(Transparent DyeToners)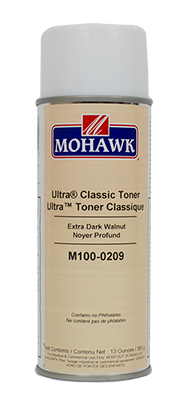 Mohawk Ultra Classic are manufactured by blending Translucent Fade Resistant Dyes
into furniture grade lacquers. Use Aerosol Dye Toners for shading, toning,
adjusting color and for sealing touch-ups & repairs.

The clarity of these Dye based Toners will not obscure the figure or grain of the wood.
Mohawk Ultra Classic Toners may also be used as a topcoat.

To adjust the toner sheen, topcoat with a Tone Finish CLEAR of the appropriate sheen.

Please See: The Importance of Agitating and Clearing the Aerosol tube
Aerosol colors shown for comparison only, color rendering subject to print & computer monitor limitations.
M100-0002
Natural Pine


M100-0004
Maison Brown

M100-0007
Amber

M100-0207
Med Brown Walnut

M100-0209
Extra Dark Walnut


M100-0220
Dark Golden Oak


M100-0224
Black
M100-0227
Dark Red Mahogany
M100-0229
Brown Mahogany

M100-0249
Perfect Brown

M100-0321
Lt Oak / Natural

M100-0351
Dark Walnut / Oak

M100-0352
Lt Walnut/Col Maple

M100-0353
Van Dyke Walnut

M100-0354
Brown Fruitwood
M100-0355
Med.OakTavern Pine

M100-0381
Red Mahog / Cherry

M100-0382
Natural Cherry

M100-0383
Dark Red Walnut

M100-0384
Deep Red Mahog
M100-0408
Cherry
M100-0415
Lt Golden Oak
M100-7020
Dark Walnut
M100-7021
Universal Walnut





























NOTE: Items without a price will be available soon; and when available will allow ordering.

Aerosol, Tone Finish LACQUER TONERS • UPS Ground Only •
Click above for more information
Tone Finish LACQUER TONERS
(Semi-Transparent Dye & Pigment Toners)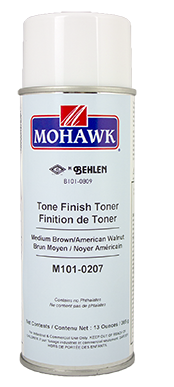 Finely ground, non-fading pigments for color repairs that last.
Tone Finish toners are translucent / semi-translucent dye and pigment based
lacquers made for color and tonal correction of off color or faded lacquer finishes.
Adjust the sheen with a topcoat of Tone Finish clear
available in; gloss, satin, flatt or dead flatt lacquer.

Digitized colors are shown as a reference and for color comparison purposes only.
Color rendering subject to computer monitor limitations. These translucent colors
will yield their final color based on the tone of the finish on which they are applied.

M101-0143
Raw Umber

M101-0207
Med Brn American Walnut
M101-0209
Extra Dark Walnut
M101-0222
Blonde

M101-0227
Dark Red Mahogany

M101-0229
Brown Mahogany

M101-0234
Medium Dark Walnut

M101-0326
Amber

M101-0386
Med. Red Mahogany

M101-0388
Fruitwood Cherry

M101-0408
Cherry

M101-0411
Nutmeg


M101-1435
Burnt Umber

M101-1478
Van Dyke Brown

M101-1522
Statesman Oak

For dye based clear translucent color and for color correction, use the Ultra Classic / Master Toners.

Lacquer toners may be inter-layered to adjust a final tonal result.
They may be used as a final finish, however for better protection and to achieve the correct sheen,
they can be top-coated with a clear Tone Finish aerosol of the desired sheen.
To assure correct and even color during a spray session
Please Shake Well, 2 Minutes to blend the pigments & dyes. Aerosols work best around 70° F.
Please See: The Importance of Agitating and Clearing the Aerosol tube

Aerosol, CLEAR Lacquer for BRASS • UPS Ground Only •
Click link above for More Info

LACQUER for BRASS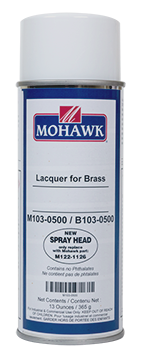 Mohawk
& Behlen
(M103-0500 & B103-0500)
is a water Clear, non-yellowing and durable coating
formulated
for superior adhesion to metal surfaces.
Lacquer for Brass will keep brass and brass-plated surfaces bright and looking new.
This PH neutral Clear Gloss lacquer is formulated
for use on non-ferrous metals to prevent tarnishing, and for corrosion protection.

Adhesion to clean metal surfaces is excellent.

- 13oz. Aerosol
Aerosol, PRIMER SEALERS • UPS Ground Only •
PRIMER SEALERS
-
Gray, Black & White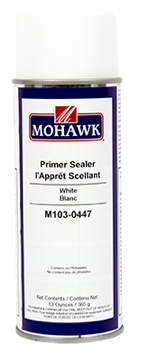 Primer Sealer coats are for use under colored lacquer
enamels. These sealers ensure good adhesion for the final
topcoat. Primer Sealers are fast drying and sand easily,
resulting in a smooth base for topcoats.

Mohawk Opaque Primer Sealers
have excellent color strength.

Net Wt. 13 oz.

Aerosol, BLACK Opaque Enamel Lacquer • UPS Ground Only •
Mohawk BLACK ENAMEL Lacquers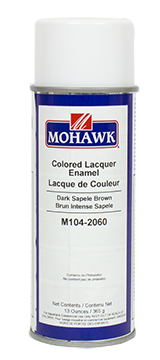 Aerosol Spray lacquers are formulated for re-coating
and for blending spot repairs into the surrounding surface.

The pigments dissolved into nitrocellulose lacquer,
are very resistant to color fade from UV exposure.

Aerosol Lacquers work well for finishing of smaller projects.
SOLID BLACK: Primer, Gloss, Satin, Flatt
For best results use the Black PRIMER SEALER


Aerosol, WHITE Opaque Enamel Lacquer • UPS Only •
WHITE
ENAMEL LACQUER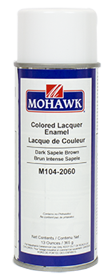 White, Solid Color (Opaque) Enamel Lacquer

A lacquer finish for interior use only.
Fast drying, lacquer based enamel.
Superior hiding power for producing opaque finishes.
The White Gloss sheen may be adjusted by top-coating with Acrylic
(non yellowing) Clears; Semi-Gloss, Satin, Flatt or Dead Flatt.

- For best results use opaque White PRIMER SEALER - M103-0447
Felt Tip PRO-MARK TOUCH-UP MARKERS
Click above for Product Data & Color Guide
Mohawk TOUCH-UP MARKERS

Pro-Mark® Markers incorporate a capillary style felt tip.
Pro-Mark® Touch-Up Markers are dye based, easy to use, and permanently color blemishes and stain wood and other substrates.
'Scratch Remover' Markers refinish worn spots and scratches on
furniture, wall paneling, leather, vinyl, picture and mirror frames.
($6.38 ea in the Set of 24)
Deep Cordovan
M267-0385


Warm Walnut
M267-0365

Ex Dk Walnut
M267-0209

Fruitwood
M267-0388

Cherry
M267-0408

Golden Oak
M267-0337

Black
M267-0001

Maple
M267-0411

Perfect Brown
M267-0249

Natural
M267-0003

Van Dyck Brown
M267-1478

Cherry / Walnut
M267-0381


Antique Maple
M267-0194


Pine
M267-1516


Natural Light Oak
M267-0321


Light Oak
M267-0004


Medium Oak
M267-0355


Warm Oak
M267-0474


Medium Dark Oak
M267-2052


Mahogany
M267-0387


Dark Red Mahogany
M267-0227


Dark Red Walnut
M267-0363


Ebonized Cherry
M267-0266


Black Brown
M267-0223

s1 = in set 1 ••• s2 = in set 2

TOUCH-UP MARKERS, Assortments - #1 & #2
'PRO-MARK'
Touch-Up Marker
-
Assortments #1 & #2
Mohawk
Pro Mark 'Scratch Remover'

Touch-Up Markers are easy to use and incorporate a capillary style felt tip.
Pro Mark Touch-Up Markers permanently color blemishes and stain wood and other substrates.
Refinish worn out spots and scratches on furniture, wall paneling, leather,
vinyl, picture and mirror frames. ($6.38 ea. in the Sets of 12)
Both the #1 and #2 sets of 12 are included in the
# M267-2400 - Touch-Up Marker DELUXE Assortment of 24
Set #1

Deep Cordovan
M267-0385


Warm Walnut
M267-0365

Ex Dk Walnut
M267-0209

Fruitwood
M267-0388

Cherry
M267-0408

Golden Oak
M267-0337

Black
M267-0001

Maple
M267-0411

Perfect Brown
M267-0249

Natural
M267-0003

Van Dyck Brown
M267-1478

Cherry / Walnut
M267-0381

Set #2

Antique Maple
M267-0194


Pine
M267-1516


Natural Light Oak
M267-0321


Light Oak
M267-0004


Medium Oak
M267-0355


Warm Oak
M267-0474


Medium Dark Oak
M267-2052


Mahogany
M267-0387


Dark Red Mahogany
M267-0227


Dark Red Walnut
M267-0363


Ebonized Cherry
M267-0266


Black Brown
M267-0223

---
---
Shellac.net Wood Finish Supply / MeritIndustries.com
Authorized Mohawk Distributor
New Hours Visit us at: 2465 2nd St. Napa CA 94559 - 9:00 - 4:00 - Monday - Thursday - Closed Friday
Assistance for placing your order (9:00 am to 3:30 pm Pacific Time) 707-299-8016

Email: wfs@mcn.org ... Privacy Policy
rev. 11/25/23
---
---