Shellac.net

Wood Finish Supply
/ MERIT Industries.com
Select Products for Traditional Furniture Finishing, Touch-Up, Repair and Maintenance
---
CLEAR AEROSOLS


Aerosol Application Tips & Usage Guidelines
---
Aerosol - TOP COAT CLEAR LACQUER • UPS Ground Only •
TOP COAT CLEAR LACQUER Aerosols
are an alcohol and water resistant, high solids nitrocellulose lacquer. '
Master Top Coats'
are a higher solids lacquer for use on bare wood or to build finish thickness.
Top Coat Lacquer and Sanding Sealer perform like a spray gun applied finish.
Use these aerosols when applying a new finish or on spot repairs
when rubbing will be necessary.
Top Coat Aerosols are compatible with Behlen solvent base stains and
other Behlen aerosol lacquers.
For a Flatt or Dead Flatt sheen, build finish with Top Coat Gloss for clarity and
then apply a final coat or two of the Jet Spray of the required sheen.
For Touch-Up and to blend into the surrounding finish use the Jet Spray™ Aerosols.
Aerosol - Jet Spray™ CLEAR LACQUER Aerosols
Please See
Aerosol Application Tips
(Click Above)
Jet Spray CLEAR
LACQUER Aerosols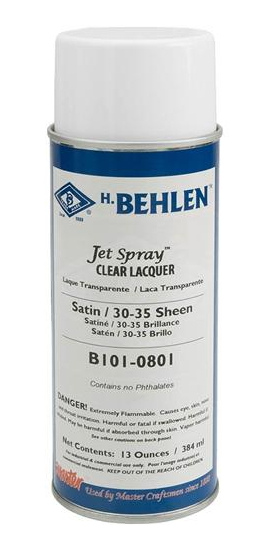 are made for use in touch-up and repair of existing furniture and cabinet finishes.
The lower solids seal, protect, and provide the correct sheen adjustment to repaired areas.

Jet Spray Clears are formulated to adjust repairs to the correct sheen
and to blend well into existing finishes.
For bare or stripped surfaces or to build a finish,
the higher solids Top Coat aerosol lacquers are recommended.

Aerosol - PRE-CAT LACQUERS • UPS Ground Only •
PRE-CAT LACQUERS

feature excellent flow out for touch-up use.
The dry film is very durable and adheres where other finishes will not.
Behlen Pre-Cat Lacquer Aerosols have been tested and approved
for furniture factory touch-up on Pre-catalyzed finishes.
A good choice for kitchen and bath cabinets.
Aerosol - WATER CLEAR Acrylic LACQUERS • UPS Ground Only •
WATER CLEAR Acrylic LACQUER
Aerosols
coatings are crystal clear and non-yellowing.
When a clear finish is needed over whites or light colors, a Water Clear Acrylic is the answer.
Water Clear Acrylics can be sprayed on almost any surface (wood, metals, etc.).
Acrylic aerosols are compatible with Behlen touch-up products.
Aerosol - ULTRA-FLO Ultra® Bond • UPS Ground Only •
ULTRA-FLO Ultra® Bond CLEAR LACQUER
Aerosols - for finish repairs on High-Tech Coatings
Ultra-Flo Ultra® Bond Clears are the solution for repairs on finishes where traditional lacquers and sealers fail to adhere.
Ultra-Flo Ultra® Bond uses a blend of resins and solvents that provide superior adhesion on hard to repair coatings.
The Ultra® Bond Clears are specially formulated for adhesion and flow-out over hard to repair coatings
such as UV finishes, 2 component polyurethanes, polyesters, and catalyzed coatings.
Use Ultra-Flo Ultra® Bonds for a final finish, or the B102-0550 Gloss as a bonding or transitional coating.
When used as a transitional coat, any Behlen clear or toner aerosol may be applied over the Ultra® Bond.
Shellac.net Wood Finish Supply / MERIT Industries.com
2325 #A First St. Napa CA 94559
Assistance in placing your order: 877-245-5611
rev 6/6/18
---
---





Email: orders@shellac.net ... to: Ordering Information ... Privacy Policy
---
---