---
---
Shellac.net Wood Finish Supply & MeritIndustries.com
Home of: MohawkFinishSupply.com
Authorized Mohawk Distributor
Select Products for Traditional Furniture Finishing, Touch-Up, Repair and Maintenance

---
---
CLEAR AEROSOLS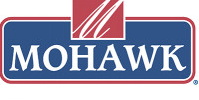 Premier
Please Read: Aerosol Application Tips & Usage Guidelines
---
BEHLEN AEROSOL SALE
BEHLEN AEROSOL SALE
Winter Clearance, H.Behlen Aerosols - Limited to stock on hand
$4.00 ea -- Great savings on our already low 7.89 pricing,

Aerosol, C.A.B. Production Topcoats
C.A.B. LACQUER Production TOPCOATS
&
FLOW-OUT Blenders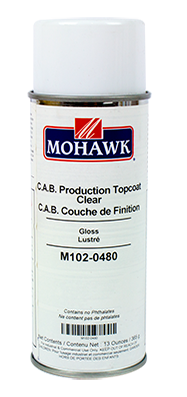 Mohawk CAB (Cellulose Acetate Butyrate) Acrylic Lacquer Topcoat
High solids, fast-building, water clear finish.
Excellent flow, fast drying and blush resistant.

C.A.B. Lacquers are the best choice for whites and light colored and pastel dyes or stains.
Cellulose Acetate Butyrate Lacquers may be applied over pigmented lacquer colors.


CAB Flow-Out Blenders contain a blending formula ideal for blending spray lines,
blending overspray and blending minor surface abrasions and scratches in C.A.B. lacquer finishes.
Mohawk CAB (Cellulose Acetate Butyrate) Lacquer does not yellow with age.


Net Wt. 13 oz.
Aerosols, Ultra-Flo Ultra Bond - CLEARS
Ultra-Flo ULTRA BOND - CLEAR LACQUERS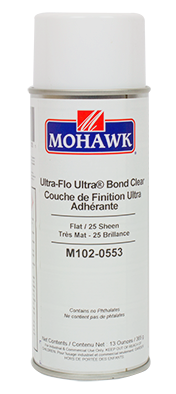 Mohawk's Ultra-Flo Ultra® Bond topcoat is specially
formulated to adhere to and flow out over hard to coat surfaces
such as UV finishes, 2 component polyurethanes, polyesters, etc.

Ultra-Flo Ultra® Bond topcoat has a unique blend
of resins and solvents that provide superior adhesion and flow.

Net Wt. 13 oz.


Aerosol, TOP COAT CLEAR LACQUER • UPS Ground Only •
FINISHER'S CHOICE / TOP COAT CLEAR LACQUER Aerosols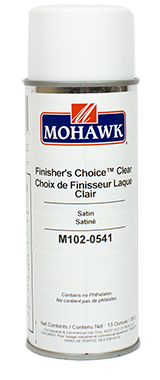 FINISHER'S CHOICE™ lacquers are water resistant, high solids nitrocellulose lacquer.
'
Top Coats' are a higher solids lacquer for use on bare wood or to build finish thickness.
FINISHER'S CHOICE™ lacquers and sanding sealer perform like a spray gun applied finish.
Use these aerosols when applying a new finish or on bare wood spot repairs
when rubbing out will be necessary.
Finisher's Choice aerosols are compatible with solvent base stains and
other Mohawk & H.Behlen aerosol lacquers.
For a Dead Flatt sheen, build finish with Top Coat Gloss for clarity and
then apply a final coat or two of the Jet Spray DEAD FLATT.

For Touch-Up, and to blend Lacquers into the surrounding finish, use the Jet Spray™ Aerosols.
Aerosol, 'Tone Finish' CLEAR LACQUERS
Please See
Aerosol Application Tips
(Click Above)
Tone Finish CLEAR
LACQUER Aerosols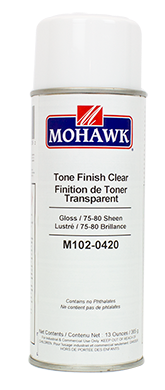 Clear Nitrocellulose based Lacquers are recommended as topcoats for wood grain finishes.
Use for the touch-up and repair of existing furniture and cabinet finishes.
The lower 'Tone Finish' solids seal, protect, and provide the correct
sheen adjustment to repaired areas.

Jet Spray & Tone Finish Clears are formulated to adjust repairs to the correct sheen
and to blend well into existing finishes.
For bare or stripped surfaces or to build a finish, the higher solids
FINISHER'S CHOICE™Top Coat aerosol lacquers are recommended.

Aerosol, PRE-CATALYZED CLEAR LACQUERS • UPS Ground Only •
PRE-CAT Clear LACQUERS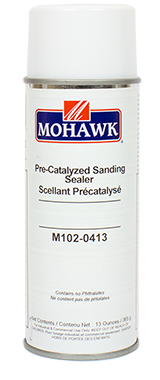 Pre-Cat lacquers feature excellent flow out for touch-up use.
The dry film is very durable and adheres where other finishes will not.
• Excels in flow-out, adhesion and hold-out.
• Fast-drying, resistant to yellowing.
• Leaves no halo on spot repairs.
• Very Good clarity and durability
Pre-Cat Lacquer aerosols have been tested and approved
for furniture factory touch-up on pre-catalyzed finishes.
An excellent choice for Kitchen and Bath cabinets.

Aerosols, WATER CLEAR Acrylic LACQUERS • UPS Ground Only •
WATER CLEAR Acrylic LACQUER
Aerosols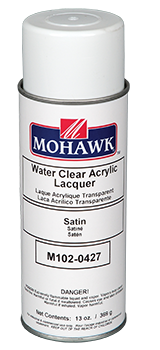 Acrylic coatings are crystal clear and non-yellowing.
Acrylic Lacquer is a water clear protective coating for furniture,
paper and plastic products.

Clear Acrylic lacquers may be sprayed on almost any surface (wood, metals, etc.).
Acrylic aerosols are compatible with Behlen & Mohawk touch-up products.

When a clear finish is needed over whites, bright colors, or light wood tones,


to retain clarity and color a Water Clear Acrylic is the answer.
Available: Gloss - Satin - Flatt