---
---
Shellac.net Wood Finish Supply & MeritIndustries.com
Home of: MohawkFinishSupply.com
Authorized Mohawk Distributor
Select Products for Traditional Furniture Finishing, Touch-Up, Repair and Maintenance
At this time we continue to ship & support our loyal customers
as COVID-19 virus continues to close businesses.
Our showroom is now open, Napa County Health Requirements -
Please Wear a Face Covering & Maintain 6 ft. of Physical Distance
Email or phone orders can still be picked up with 'Curbside Delivery'
at our NEW Location 2465 Second Street, Napa Ca 94559
For details about Pick-Up orders, or questions,
Phone: 877-245-5611 Monday - Friday - (Saturday by Appointment)
Your On-line Web Orders will be shipped promptly via Mail or UPS
Shellac.net Wood Finish Supply & Merit Industries
Thank You for your support, we appreciate your business
Ron, Pete & Shannon
---
---
Furniture COLOR TOUCH-UP & POWDERS
---
COLOR GRAINING PENCILS
Click Above for COLOR GUIDE
COLOR GRAINING PENCILS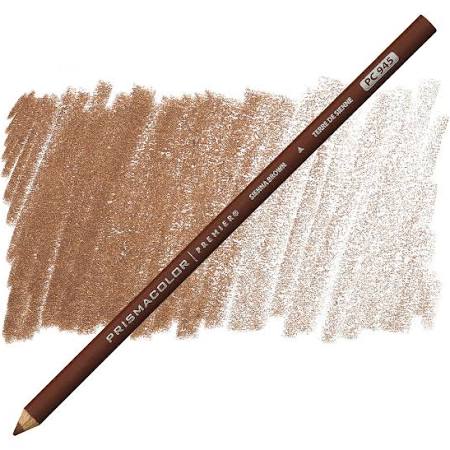 The Graining Pencil is an artist pencil with soft, thick cores
to create a
smooth color lay down for superior blending and shading.
The pencils can be used to add color or grain lines over raw wood,
finished wood, Epoxy Sticks and Wood Fillers.
The color of the pencils will not bleed or change when top coated.
Recommended for production line touch-up stations since color can be
replaced along a moving line. Absence of liquid usage eliminates drying time.
Ideal For Fine Delicate Work.
Manual sharpening is recommended for these pencils.
Each 3.8 mm core is enclosed in a round cedar casing, lacquered to match the color.
Color Reference Swatches created with heavy to light application applied on 100 lb drawing paper.
---
| | | | | | |
| --- | --- | --- | --- | --- | --- |
| BLACK | Mineral ORANGE | BURNT OCHRE | DARK BROWN | SANDBAR BROWN | LIGHT UMBER |
| WHITE | Dark Umber | SEPIA / Red Brown | OAK | MAHOGANY Lt. | MAHOGANY Red |
| BEIGE | ORANGE | TERRA COTTA | French GRAY 70% | French GRAY 90% | Warm GRAY 10% |
---
HIGH-DEF BRUSH TIP MARKER, SINGLES
Premier
High-Definition Brush Tip Marker
- Singles
P

remier's High-Definition Brush Tip Touch-Up Marker provides
high detail touch-ups and extremely fine line graining.


• Color coded label shows the exact color of each marker.
• Synthetic brush tip will apply fine lines or very long runs without loosing ink to the tip.
• Special dyes give perfectly crisp clear colors for easy matching and blending.
• Durable precision brush tip holds its shape indefinitely.
• Easy to use, simply remove cap and apply.
• 36 colors provide exact matches to most finish colors.

Click here:
Premier Color Chart
(HD Color is the last 2 numbers)
MOHAWK BLENDAL® STICKS - Sets of 12
Click Above for Set Color Listing

MOHAWK Blendal® Sticks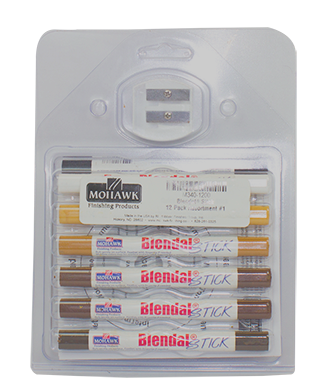 MOHAWK Blendal® Sticks are used to add or alter color
when
repairing and touching up wood. Blendal® Sticks allow

quick color replacement on raw or finished edges
and flat surfaces.
Note:

these are NOT a fill stick

. More like a soft crayon,
Blendal's are made to apply color.


We think of them as Touch-Up powders in a crayon format,




excellent for use on site, no brush or liquids needed.



Colors may be blended to accomplish a perfect match.
Top coat with appropriate sheen aerosol to lock-in the color repair.

Sharpener included in each assortment. -- $4.00 each in a set of 12
Click on a item line below to see the Color List for the set.

TWO MINUTE REPAIR LIQUID • UPS Only •
TWO MINUTE TOUCH-UP REPAIR Brushing Liquid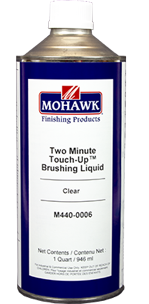 TWO MINUTE TOUCH-UP REPAIR Brushing Liquid
is a special formula, clear, quick drying, brush-on,
touch-up repair finish.
TWO MINUTE TOUCH-UP may be used to create
a permanent stain repair by mixing with Blendal Furniture Powders.

Create a quick drying graining liquid
by reducing the Touch-Up with Lacquer Thinner.



Brushes ROUND Kolinsky SABLE
ROUND Kolinsky SABLE Brushes
• 100% Pure RED Kolinsky SABLE Brushes.
• Short Wood Handles 5"-6" - Matte black lacquered handle,
glued, crimped to brush ferrules for no loose connections.
• Total brush length around 7" to 8.5" depending on size.
• Finest quality.
• Made in Germany.

[Our favorite brush for use with: Blendal Powders & 2 Minute Touch-Up Fluid, and NGR Dye or Aniline Dye]