---
---
Shellac.net Wood Finish Supply & MERIT Industries.com
An Authorized Mohawk Distributor

Select Products for Traditional Furniture Finishing, Touch-Up, Repair and Maintenance
---
---
Furniture COLOR TOUCH-UP & POWDERS
---
BLENDAL® Sticks - Sets of 12
Click Above for Set Color Listing

BLENDAL® Sticks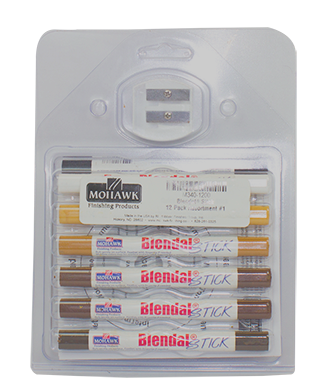 Mohawk BLENDAL® STICKS are used to add
or alter color when
repairing and touching up wood.
This product allows
quick color replacement on raw
or finished edges
and flat surfaces.
Colors may be blended to accomplish a perfect match.
Top coat with appropriate sheen aerosol to lock-in the color repair.

Sharpener included in each assortment. -- $4.00 each in a set of 12

Click on a item line below to see the Color List for the set.

BLENDAL Furniture TOUCH-UP POWDERS (MOB Powders)
Click above for the Color Guide
BLENDAL Furniture Powders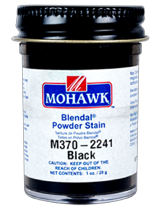 (
aka
Touch-Up Powders & MOB Powders)
Blendal touch-up powders are used with a touch-up brush
& Two Minute Repair Liquid, Qualasole, or Wipe on Water Base Urethane
to color correct and blend finish repairs.

••• See above Set Listings for colors included in each Set of 6
See:
COLOR THEORY for the Furniture Finisher & Woodworker
QUALASOLE (French Polish)
Click above for Product Data
QUALASOLE
™
-

The modern "
French Polish"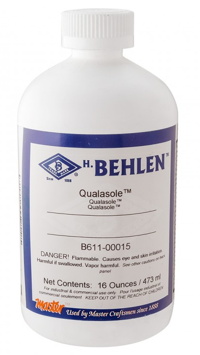 Qualasole™ fortified Fench polish is an valuable product in the cabinet finishing department.

No oil is required for French polishing, padding, touching up, or renovating.

Apply Qualasole™ with a pad to raw wood or over any cured shellac, varnish, lacquer,
paint or enamel finish in the same manner as French polishing. A superior and durable finish is obtained in a fraction of the time as compared to the old method.
Behlen Qualasole™ affects speedy, permanent, new finishes and renovations that do not show press marks after handling or transportation. Qualasole™ accentuates the wood grain and natural markings and produces a beautiful appearance that improves with age.

BRUSH, SABLE TOUCH-UP
Sable TOUCH UP BRUSHES
Touch-Up Brushes are used for for blending and color correcting spot background fill-ins and
touch-up repairs with Behlen Furniture Powders and 2 Minute Repair Liquid.
BRUSH, SABLE GRAINING
Sable GRAINING BRUSHES


A select brush for adding fine grain lines to spot finish repairs with Furniture Powders and the 2 Minute Repair Liquid.
FRENCH LAC (Shellac French Polish)
FRENCH LAC

Behlen French Lac, is a Shellac based French Polish, packaged in a ready to use formula.
French Lac is a Light Amber French Padding Finish,
suitable for use on the lightest of finishes.

French Lac, French Polish has been job tested for years
by professional repair restorers, to develop a complete surface or to spot repair a finish.