---
Shellac.net Wood Finish Supply & MeritIndustries.com
Home of: MohawkFinishSupply.com
Authorized Mohawk Distributor
Select Products for Traditional Furniture Finishing, Touch-Up, Repair and Maintenance
---
Our showroom is now open - New Location - 2465 Second Street, Napa Ca 94559
Thank You for your support, we appreciate your business. Ron, Pete & Shannon
---
---
Furniture COLOR TOUCH-UP & POWDERS
---
Aerosol, ULTRA® FLO CLEARS • UPS Only •
for More Information: Click Above

ULTRA® FLO CLEARS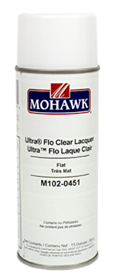 IDEAL for sealing in spot repairs

Formulated with special resins and solvents to provide a finish film free of orange peel.
Little or no over-spray when used over spot repairs on an existing lacquer finish.
Saves time, as the finish film will not require sanding or rubbing.

Net Wt. 13 oz.
COLOR GRAINING PENCILS
Click Above for COLOR GUIDE
COLOR GRAINING PENCILS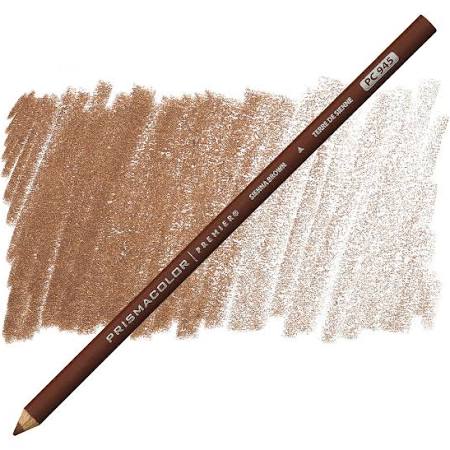 The Graining Pencil is an artist pencil with soft, thick cores
to create a
smooth color lay down for superior blending and shading.
The pencils can be used to add color or grain lines over raw wood,
finished wood, Epoxy Sticks and Wood Fillers.
The color of the pencils will not bleed or change when top coated.
Recommended for production line touch-up stations since color can be
replaced along a moving line. Absence of liquid usage eliminates drying time.
Ideal For Fine Delicate Work.
Manual sharpening is recommended for these pencils.
Each 3.8 mm core is enclosed in a round cedar casing, lacquered to match the color.
Color Reference Swatches created with heavy to light application applied on 100 lb drawing paper.
---
| | | | | | |
| --- | --- | --- | --- | --- | --- |
| BLACK | Mineral ORANGE | BURNT OCHRE | DARK BROWN | SANDBAR BROWN | LIGHT UMBER |
| WHITE | Dark Umber | SEPIA / Red Brown | OAK | MAHOGANY Lt. | MAHOGANY Red |
| BEIGE | ORANGE | TERRA COTTA | French GRAY 70% | French GRAY 90% | Warm GRAY 10% |
| Warm GREY 50% | SIENNA BROWN | DARK GREEN | CRIMSON RED | Sunburst YELLOW | METALLIC GOLD |
| CHESTNUT | CHOCOLATE | HENNA BROWN | CRIMSON LAKE | TUSCAN RED | YELLOW OCHRE |
---
HIGH-DEF BRUSH TIP MARKER, SINGLES
Premier
High-Definition BRUSH TIP MARKER
- Singles
P

remier's High-Definition Brush Tip Touch-Up Marker provides
high detail touch-ups and extremely fine line graining.


• Color coded label shows the exact color of each marker.
• Synthetic brush tip will apply fine lines or very long runs without loosing ink to the tip.
• Special dyes give perfectly crisp clear colors for easy matching and blending.
• Durable precision brush tip holds its shape indefinitely.
• Easy to use, simply remove cap and apply.
• 36 colors provide exact matches to most finish colors.

Click here:
Premier Color Chart
(HD Color is the last 2 numbers)
MOHAWK BLENDAL® STICKS - Sets of 12
Click Above for Set Color Listing

MOHAWK Blendal® Sticks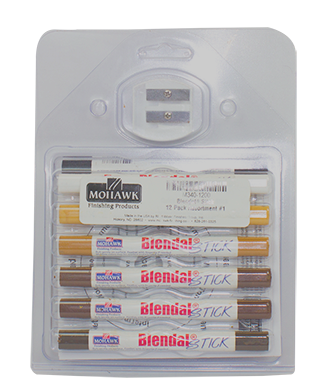 MOHAWK Blendal® Sticks are used to add or alter color
when
repairing and touching up wood. Blendal® Sticks allow

quick color replacement on raw or finished edges
and flat surfaces.
Note:

these are NOT a fill stick

. More like a soft crayon,
Blendal's are made to apply color.


We think of them as Touch-Up powders in a crayon format,




excellent for use on site, no brush or liquids needed.



Colors may be blended to accomplish a perfect match.
Top coat with appropriate sheen aerosol to lock-in the color repair.

Sharpener included in each assortment. -- $4.00 each in a set of 12
Click on a item line below to see the Color List for the set.

TWO MINUTE REPAIR LIQUID • UPS Only •
TWO MINUTE TOUCH-UP REPAIR Brushing Liquid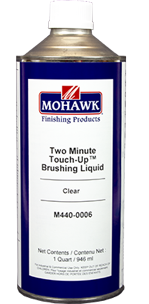 TWO MINUTE TOUCH-UP REPAIR Brushing Liquid
is a special formula, clear, quick drying, brush-on,
touch-up repair finish.
TWO MINUTE TOUCH-UP may be used to create
a permanent stain repair by mixing with Blendal Furniture Powders.

Create a quick drying graining liquid
by reducing the Touch-Up with Lacquer Thinner.



Brushes ROUND Kolinsky SABLE
ROUND Kolinsky SABLE Brushes
• 100% Pure RED Kolinsky SABLE Brushes.
• Short Wood Handles 5"-6" - Matte black lacquered handle,
glued, crimped to brush ferrules for no loose connections.
• Total brush length around 7" to 8.5" depending on size.
• Finest quality.
• Made in Germany.

[Our favorite brush for use with: Blendal Powders & 2 Minute Touch-Up Fluid, and NGR Dye or Aniline Dye]
LACOVER PADDING FINISH • UPS Only •
Click above for Data & Application Information

LACOVER PADDING FINISH

For spot color repair and refinishing.
The most widely used "French Polish" padding finish in the world.
Specially formulated for use with Mohawk Blendal® Powder Stains.
Compatible with most known finishes.
In one operation, the stain and finish can be replaced on worn or bare spots.
Available in two solids #30 & #50. Use the #30 Solids when a minimum build is desired.
The higher the solids #50, takes less time to build a finish and complete the job.
Also recommended for leather and vinyl. "Highlight" effects can be created
on wood, leather or vinyl materials with this method Lacover® Padding Finish
imparts new life to leather, prevents cracking and drying out.

COTTON WASTE
COTTON WASTE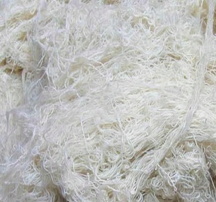 The classic traditional filler for French polishing pads.
The 'waste' comes from the cotton yarn left-over
ends of loom warp threads.
An excellent filler to make French Polishing pads
with our Trace cloth / French polishing cloth.

BLENDAL Furniture TOUCH-UP POWDERS (MOB Powders)
Click above for the Color Guide
BLENDAL Furniture Powders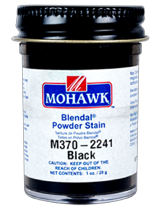 (
aka
Touch-Up Powders & MOB Powders)
Blendal touch-up powders are used with a touch-up brush
& Two Minute Repair Liquid, Qualasole, or Wipe on Water Base Urethane
to color correct and blend finish repairs.

Also; To color Epoxy
, mix the pigment into the A part then add the B part and mix well.
See:
COLOR THEORY for the Furniture Finisher & Woodworker
Brown Mahogany
M370-2291


Lt Walnut
M370-2061


Ex Dk Walnut
M370-2091

Cherry
M370-4081

White
M370-2025

Black
M370-2241

Blue
M370-4141

Green
M370-4131

Red
M370-2421

Yellow
M370-2031

Burnt Sienna
M370-4761

Raw Sienna
M370-4771

Raw Umber
M370-01431

Burnt Umber
M370-14351

Champagne
M370-3351

Med Brn Walnut
M370-2071

Van Dyck Brown
M370-14781

Rock Maple
M370-2251

Blonde
M370-2221

Dk Red Mahogany
M370-2271

Perfect Brown
M370-2491

Yellow Ochre
M370-3481

Lt Golden Oak
M370-4151

Pine
M370-15161

Colors shown for comparison only, color rendering subject to computer monitor limitations.

BRUSH, SABLE TOUCH-UP
Sable TOUCH UP BRUSHES
Touch-Up Brushes are used for for blending and color correcting spot background fill-ins and
touch-up repairs with Blendal Furniture Powders and 2 Minute Repair Liquid.
BRUSH, SABLE GRAINING
Sable GRAINING BRUSHES


A select brush for adding fine grain lines to spot finish repairs with Furniture Powders and the 2 Minute Repair Liquid.