---
---
Shellac.net Wood Finish Supply & MERIT Industries.com
An Authorized Mohawk Distributor

Select Products for Traditional Furniture Finishing, Touch-Up, Repair and Maintenance
---
---
SHOP / Finish Room Supplies & Reference
---
WAX WASH Cleaner & WAX REMOVER • UPS Only •
To: Info & Label Text
WAX WASH DE-WAXER WOOD CLEANER


WAX WASH / De-Waxer Wood & Finish CLEANER
& WAX REMOVER
is a specially formulated blend of solvents.
For best repair and rub-out results, first prepare and clean the surfaces with

WAX WASH / De-Waxer to remove waxes, oil and other foreign material
from bare woods, new finishes, and aged wood finishes.

Wax deposits that remain after the use of paint, lacquer, and varnish removers
can be eliminated with use of WAX WASH / De-Waxer
Available: Gallon - Quart & Aerosol M107-0190
NITRILE GLOVES HEAVY DUTY 8mil HD 12in
HEAVY DUTY Blue NITRILE GLOVES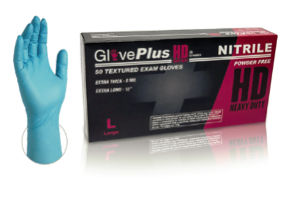 These extra strong (8 mil thick) and extra long (12") medical grade gloves provide added protection for the wrist and lower forearm.
GlovePlus Heavy Duty nitrile maintains excellent sensitivity while being twice as thick as standard nitrile gloves.
Perfect for furniture finishing and refinishing, machine repair,
automotive, industrial, manufacturing, janitorial, EMS, medical,
food preparation, and child care.
• Latex & Powder Free, Ambidextrous, Textured
• Micro-roughened for non-slip wet gripping power.
We love these gloves they wear well & can be reused. •
50 gloves per box.
Select: Ex-Large for larger hands - Large for medium sized hands & Medium for small hands.
FRENCH POLISHER'S HANDBOOK (1910 Reprint)
Click above for More Information
FRENCH POLISHER'S HANDBOOK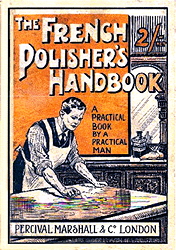 (1910 Reprint) 104 pages, 5.8 in. x 8.3 in.
This Reprint is spiral bound with a protective cover -
great for in-shop use, lays perfectly flat & folds back on itself.
Pagination and format is an exact facsimile of the original book.

A valuable resource for those working on antiques.
Several historic finishing recipes are included.
The book includes some fascinating 'lost' information and recipes for furniture stains.
3M 8511 PARTICULATE RESPIRATORS
3M 8511 Particulate Respirator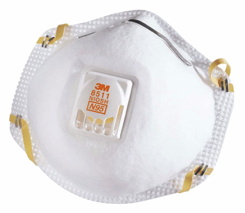 8511 N95 Particulate Respirator with Breather Valve

Recommended for preparation before finishing NIOSH Approved: N95.
Two-strap design with welded point attachment helps provide a secure seal.

Proprietary Cool Flow Valve reduces heat build up, moisture, and fogging.

Omega LILY VARNISHER'S / SHELLAC BRUSHES
More Info: Click Above
SHELLAC & VARNISHER'S
Brushes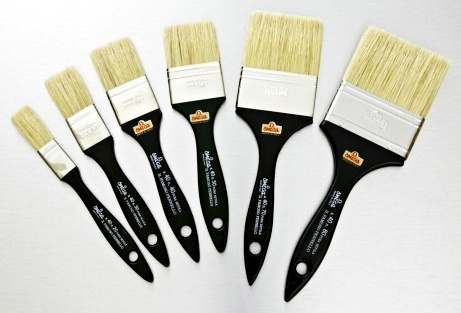 Natural Bristle Single fill,
Only (1/4 - 5/16 in) thick.
Classic glider design, ideal for Shellac & Varnish.
This brush will yield a thin, uniform application
of shellac or varnish.
The natural bristle brush is ideal for
shellac, varnish,
and faux finishing of woodwork and furniture.
Pictured Sizes 20 - 80 mm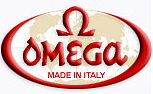 Genuine OMEGA, made in Italy.
CHIP BRUSHES (China Bristle brushes)
CHIP BRUSHES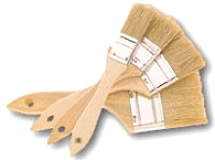 Chip Brushes are disposable utility brushes made with white China bristle.
Use for applying water or alcohol dye, stains, paint removers, glues, bleach, epoxies,
dusting wood and metal chips, and for cleaning machinery.
• Square trimmed white China natural hog bristle
• Natural bare wood handle
• Inexpensive enough to use as a one time throw away brush
Our favorite brush for all water or alcohol solvent dye materials.

POLY FOAM BRUSHES
FOAM BRUSHES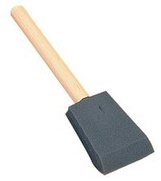 Inexpensive flexible (throw away) foam brush for the application of
enamel, latex, oil paint, stain and varnish.
Will smooth and cover evenly with fewer strokes, eliminating brush marks or loose bristles.
• Wood handle with polyurethane foam brush (A TOP QUALITY Foam Brush)
• NOT for use with shellac, lacquer or active solvents
BRUSH, SABLE TOUCH-UP
Sable TOUCH UP BRUSHES
Touch-Up Brushes are used for for blending and color correcting spot background fill-ins and
touch-up repairs with Behlen Furniture Powders and 2 Minute Repair Liquid.
BRUSH, SABLE GRAINING
Sable GRAINING BRUSHES


A select brush for adding fine grain lines to spot finish repairs with Furniture Powders and the 2 Minute Repair Liquid.
BRUSH, Sable GRAINER #3585 Series
Sable GRAINER Brush
(#3585 Series)
Round ferrule Dull Black Wood Handle, ideal for laying in missing grain.
Overall length ... 6.75 - 7in.
Brush, Badger 4004 GLAZE BRUSHES
Badger GLAZE BRUSHES
The 4004 series Glaze Brushes are the ultimate in glazing
brushes.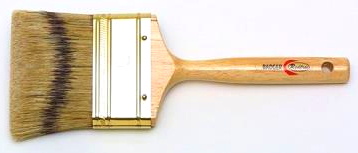 The 4004's are hand-assembled, badger and natural hair, flag bristled, cup chiseled brush. The bristles secured in a double epoxy setting (for less chance of hair loss), are attached by a durable brass ferrule to the natural finished thin wooden handle for better balance when flowing on finish.

(Photo: 3 inch brush)
Paper PAINT STRAINER CONES: MEDIUM & FINE
Medium & Fine Mesh STRAINER CONES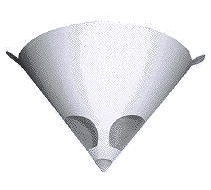 filter foreign matter or undissolved solid particles found in stains or finish coatings.

Paper Cone 6 in Dia., full flow cloth mesh tip leaves no finish in the strainer.

Seed, Button and Black shellacs benefit by filtering through layers
of medium Cheese Cloth first.

Use Fine Mesh for final straining of shellac, varnish, lacquers,

and most any furniture finish, especially when spraying.
Strain through Medium filter followed by FINE mesh straining for best results
TACK CLOTHS
TACK CLOTHS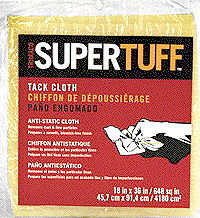 Remove dust, dirt, lint and sanding dust residue before and between sealer
and finish coats when shellacking, staining, varnishing, antiquing, and painting.

Use just before finishing to remove the very last bit of dust
from any surfaces that would be considered clean and ready to finish.
Tack Cloths are in individually sealed packages (and Reusable)

For reuse, and to protect from contamination, store cloth in a reclosable bag.

COTTON WASTE
COTTON WASTE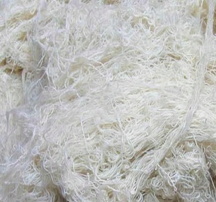 The classic traditional filler for French polishing pads.
The 'waste' comes from the cotton yarn
left-overs
or ends of loom warp threads.
An excellent filler to make pads with our
Trace cloth / French polishing cloth.
SEA SPONGES
Clink link above for more information

NATURAL SEA SPONGES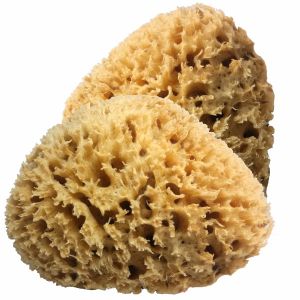 The perfect and preferred sponges for faux finishing.
Native to the waters of Florida, sea sponges are 100% natural and biodegradable.
Use for faux finishing, marbleizing, texturing, sponge painting, pottery, ceramics, staining, dye application, paint stippling and more.
Natural Sea Yellow Sponges are collected from the warm clear waters of Rock Island, Florida, Gulf coast. A durable and soft sponge of good quality. The divers collect these sponges with great care, preserving the ocean bed for lasting and fruitful harvest year after year.

Empty High Density PLASTIC BOTTLES / FLIP TOP CAP
Empty High Density PLASTIC BOTTLES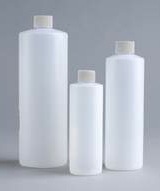 Cylinder Round Natural (translucent)
Plastic Bottles.
Includes the Flip-Top Spout Cap.
The 3mm spout orifice provides an easy and neat means
of measuring or dispensing small amounts of dye, solvent, or shellac.

---
---
Shellac.net Wood Finish Supply / MERIT Industries.com
An Authorized Mohawk Distributor
Visit our showroom at: 2325 #A First St. (east side of building) Napa CA 94559
Assistance in placing your order - (9:30am to 4:30pm Pacific Time) 877-245-5611
Email: orders@shellac.net ... to: Ordering Information ... Privacy Policy
rev. 8/16/19
---
---