---
---
Shellac.net Wood Finish Supply & MeritIndustries.com
Home of: MohawkFinishSupply.com
Authorized Mohawk Distributor
Select Products for Traditional Furniture Finishing, Touch-Up, Repair and Maintenance

---
---
CHAIR CASTERS

---
Selecting Replacement Chair Casters
1st - What type is the Caster Stem?
First determine length and diameter of the stem (the part that fits into the chair leg).
Remove the defective caster, and check the stem measurements with a ruler or tape measure.
It does not matter if the stem top is flat or round headed.
as long as the measurements match the drawing length and diameter the caster will fit.

Not Shown: Threaded Stems, 5/16-18 x 1 inch - & - 3/8-16 x 1 inch
2nd - Select Wheel Type
The floor surface where the chair is used will determine the type of caster wheel to order.
For hard surfaces like wood, chairs mats, tile or linoleum, Urethane Wheels are recommended.
For carpeted soft surfaces, order hard Nylon Wheels.
If the chair will be used on a combination of surfaces, order Urethane Wheels
(they will be kinder to wood and other smooth floor coverings, and quieter on tile floors).
---
Bell Glides
BELL Glides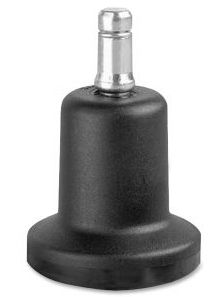 Change any chair with casters to a stationary chair using bell glides.

The 2-1/2" height makes sure you don't lose your chair height
and the 2-1/4" base diameter provides stability.

The nylon glides are equipped with B stems (7/16 x 7/8) made of chromed metal.

• Set of 4 for dining chairs
• Set of 5 for office chairs.

METAL CASTER BUSHINGS for WOOD
METAL CASTER BUSHINGS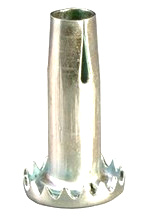 Used for Inserting Casters into wood.


1/4 inch metal socket accepts casters with a 5/16 inch diameter stem.
BED FRAME CASTERS (Rug Rollers)
BED FRAME CASTERS 'Rug Roller'
With or Without Brea

k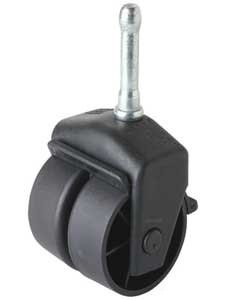 Casters (Rug Rollers)
• 2 1/4 in. wide x 2 in. Wheel
• For 3/8" Dia. Stem
Select:
Set of 2 or Set of 4 with Brake
Set of 2 or Set of 4 NO Brake
Set of 4, Two with Brakes & Two with No Brake