---
Shellac.net Wood Finish Supply & MeritIndustries.com
Home of: MohawkFinishSupply.com
Authorized Mohawk Distributor
Select Products for Furniture & Cabinet Finishes, Touch-Up, Repair, Maintenance
• • •
New Hours Visit Our Showroom 9:00 - 4:00 Monday - Thursday 2465 Second Street, Napa Ca 94559
Thank You for your support, we appreciate your business, Ron & Pete.
---
---
SPRAY LACQUERS
---
Guide to Solving Common Wood Finishing Problems
PLEASE View or Print: LACQUER SOLVENTS Information SHEET
---
Paper PAINT STRAINER CONES: MEDIUM & FINE
Medium & Fine Mesh STRAINER CONES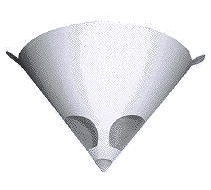 Filter foreign matter or undissolved solid particles found in stains or finish coatings.

Paper Cone 6 in Dia., full flow cloth mesh tip leaves no finish in the strainer.

Seed, Button and Black shellacs benefit by filtering through layers
of medium Cheese Cloth first.

Use Fine Mesh for final straining of shellac, varnish, lacquers,

and most any furniture finish, especially when spraying.
Strain through Medium filter followed by FINE mesh straining for best results.

Medium mesh is 226 microns • Fine mesh is 190 microns
One micron is equivalent to one one-thousandth of a millimetre.
Finishers Choice LACQUER SANDING SEALER • UPS Only •
Finisher's Choice™ LACQUER Sanding SEALER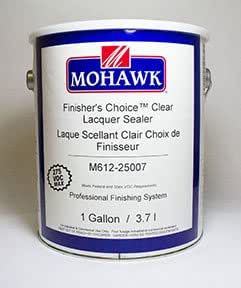 This Nitrocellulose sealer produces a smooth, hard, clear,
seal coat
as a foundation for lacquer topcoats.
Finisher's Choice™ Sanding Sealer is light in color and high in solids.
Formulated for maximum adhesion, superior hold-out,
and exceptional flow-out properties.
Finisher's Choice™ Sealer dries within forty-five minutes and may be used
under any lacquer topcoat
except the acrylics and shellacs.
5 Gallon Pails Available on Order. - Please Phone to Order.
Use Lacquer Reducer / Thinner for reduction (Not Over 15% recommended).
Finishers Choice CLEAR LACQUERS • UPS Ground Only •
Click above for Product Data Sheet & application information


Finisher's Choice™ CLEAR LACQUERS - 275 VOC compliant (Alcohol Resistant)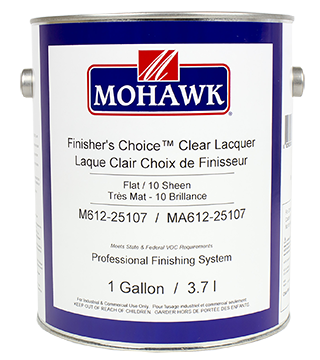 Mohawk's Finisher's Choice™ clear nitrocellulose lacquers are
highly resistant
to the strongest of alcohols, water, moderate heat,
abrasion, impact, and
are highly scratch resistant after a week's cure time.
Finisher's Choice™ lacquer forms a hard film designed to take
punishment that would normally ruin other lacquers.
It may be used on tabletops and other applications that require a tough finish.
Finisher's Choice™ Clear Lacquers are ready to spray, high solids, low viscosity formulas that enables users to achieve the best flow and build without reduction.
Apply in light, even coats of no more than 3-4 wet mils.
Clear WW Lacquers are 275 VOC compliant. --
Solids % (wt): 20.14
DURACOAT Pre-Catalyzed Lacquer • UPS Ground Only •
DuraCoat PRE-CATALYZED LACQUER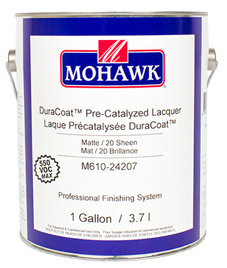 Mohawk DuraCoat® Pre-Catalyzed Lacquers are premium quality finishes
for furniture, kitchen and bath cabinets, and for mill-work.

DuraCoat® feature high solids, moisture resistance, good flexibility,
mar resistance, with more durability than regular nitrocellulose lacquers.

When used over our vinyl sealer or high solids pre-catalyzed sealer,
DuraCoat® produces an exceptional Cabinet finishing system and passes KCMA testing.


550 VOC Compliant. -- Solids 25%.




Apply in light, even coats of no more than 3-4 wet mils. If a second coat is desired; scuff sand with 320 grit stearated sandpaper apply in light, even coats. Total film build of the entire system, including topcoats, should not exceed 4 dry mils.


Excessive build may lead to poor adhesion, cracking or cold check problems.

CAB/ACRYLIC CLEAR TOPCOAT Lacquer
CAB/Acrylic CLEAR TOPCOAT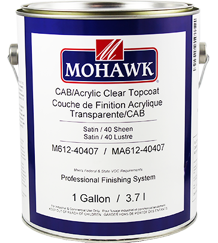 Mohawk CAB (Cellulose Acetate Butyrate) Acrylic Topcoat
is a 275 VOC
maximum compliant, self-sealing coating that provides a clear,

non-yellowing film that is perfect to topcoat interior wood surfaces.
It is the best choice for light colored stains and may be applied
over pigmented lacquer colors because it does not yellow with age.

• Passes KCMA standard testing and works great on cabinets
• Will not yellow or amber
• No re-coat window or pot life
• No mixing or reduction necessary
• Fast drying
E-Z VINYL Lacquer SEALERS - CLEAR, BLACK & WHITE • UPS Ground Only •
Click link above for Data Sheet
E-Z
VINYL LACQUER SEALERS - CLEAR, BLACK & WHITE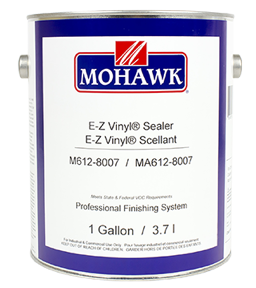 VINYL SEALERS develop an excellent moisture resistant barrier for the wood substrate, and provides a good tough, and flexible base for all lacquer finishes.
Vinyl Sealer is offered in a ready to use formulation
that needs no further reduction or catalyst.


• • •

5 Gallon Pails available on Order. Please Phone to order.



Note: Vinyl Sealer may be applied over raw wood or filled and stained substrates.

Clear also available for Aerosol applications
CLASSIC Stringed INSTRUMENT LACQUER • UPS Ground Only •
Click above:
Label Text & Application Information
CLASSIC Stringed INSTRUMENT Lacquer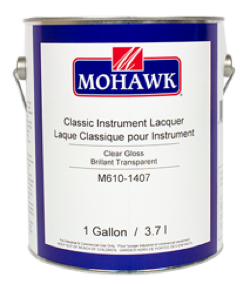 Classic Stringed Instrument Lacquer is a high quality
nitrocellulose lacquer specifically designed for wooden stringed instruments.

Stringed Instrument Lacquer allows for the special expansion and contraction
that occurs due to the unique construction of stringed instruments.
Note:
Stringed Instrument Lacquer must be applied over our Vinyl Sealer in order
to assure its unique film building and special finish characteristics.
Also available in Aerosol
BUFFCOTE™ LACQUER (Waxing Lacquer)
Click above: Product Data Shee
t & Application Information

BUFFCOTE™ LACQUER
(Satin & Matte)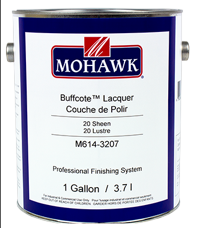 Buffcote™ (aka Waxing Lacquer) contains waxes that yields dazzling results for all types of fine furniture and interior woodwork. This unique lacquer delivers a very soft look and feel that will "wow" your customers and is formulated to give a hand rubbed effect right off the spray gun.
Buffcote Lacquer is used as a Top-Coat only over Finishers Choice gloss lacquer.
The slightly amber appearance of Buffcote Lacquer also adds to the patina and richness of the wood. Buffcote offers quick dry, quick build, and exceptional flow and leveling.
Buffcote looks great over stained wood or, alone as a beautiful natural finish.
Solids: 27% --- Satin (40) & Matte (20) sheens

MOHAWK Opaque COLORED LACQUERS
COLORED LACQUER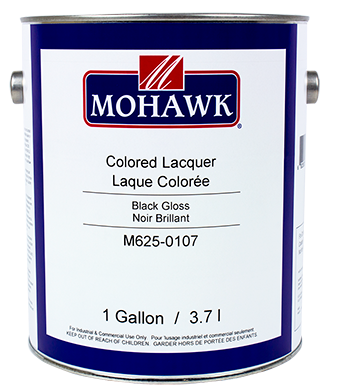 Mohawk Colored Lacquers are pigmented, nitrocellulose based coatings.
They are fast drying with excellent flow, build and hiding characteristics.
Colored Lacquers may be applied over a variety of interior wooden surfaces
including furniture, molding and musical instruments.
For best results apply over a freshly sanded E-Z Vinyl® Colored Sealer.
Reduce with Mohawk Lacquer Reducer 2255. No catalyst needed.
Warning:

Not recommended for use in high moisture areas such as kitchens and bathrooms.


Solids: 31%.
• LACQUER REDUCER / THINNER 2255 • UPS Only •
PLEASE Click Above for Additional Information
LACQUER REDUCER - MOHAWK / Finishes Edge Lacquer Thinner

2255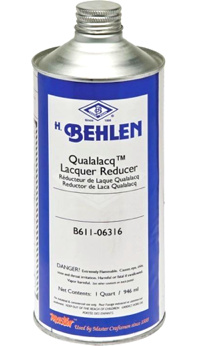 A special blend of solvents formulated for thinning nitrocellulose lacquers.

Use to thin:
• Lacquer Sanding Sealer
• Vinyl Lacquer Sanding Sealer
• Mohawk Nitrocellulose Lacquers
• Classic Stringed Instrument Lacquer.

Thinner improves flow of lacquers and adjusts viscosity for the spray equipment used.
(Avoid using more than 15 % by volume of the lacquer)
Note: 5 Gallon Pails are PICK-Up or DELIVERY Only - Please Phone ahead

Information Sheet, View or Print: Solvents For Your Lacquer Finishes

FLASH-OFF™ CONTROL SOLVENT, M716-500 / FE200-014-1 • UPS Only •
Product Data Sheet: PLEASE Click Above

FLASH-OFF™ CONTROL SOLVENT
(The Hot Weather Additive)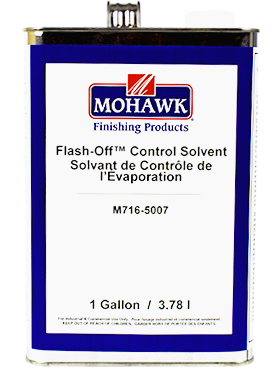 Flash-Off is used to improve the flow of lacquers
and lacquer sealers

without slowing the drying.


The addition of a

few ounces of Flash-Off Control Solvent per gallon


of lacquer will eliminate orange-peel and over-spray roughness.
Flash-Off will improve flow and overall film smoothness.


For Use:
Add 3 to 5 ounces per gallon in all Mohawk nitrocellulose,
pre-catalyzed lacquer and
post-catalyzed lacquer coatings. More
may be added up to10% by volume if needed but it will increase dry time.
Do Not add to water base lacquers or conversion varnishes. (NOT for use with Shellac)

Flash Off is NOT a Blush Retarder. Blush (the white haze due to humidity in the air or moisture
in the spray line) is common in rainy or high humidity weather. To control blush, use Blush Retarder.
PLEASE View or Print : LACQUER SOLVENT Information SHEET

NO BLUSH™ RETARDER • UPS Only •
Information sheet to Print or View: PLEASE Click Above

No Blush
&
Super Blush RETARDER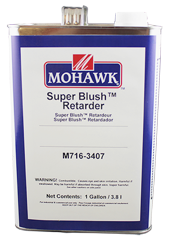 Corrects finish blushing common during high humidity or cool rainy weather.
MOHAWK Aerosol No Blush™ Retarder is a blend of slow evaporating
solvents to be used with all Mohawk nitrocellulose, pre-catalyzed lacquer,
and post-catalyzed lacquer coatings.
Small amounts may be applied to correct most flow, blushing
or leveling problems that occur during application in rain / humid environments.
• Improves leveling
• Extends flash and dry times
Super Blush™ Retarder is a premium, very slow solvent for use where
conditions of extremely high heat and humidity exist. Use in small amounts to eliminate blushing, and enhance flow and leveling of nitrocellulose, pre-catalyzed, and post-catalyzed lacquer coatings.
Note: To Control Orange peel & Over-spray, USE Flash Off Control Solvent.

CRACKLE LACQUER • UPS Ground Only •
CRACKLE LACQUER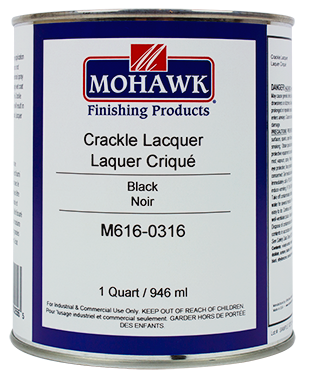 Crackle Lacquer creates a cracked, crazed, or antique looking finish.
A wet coat of Crackle Lacquer is sprayed over a dried nitrocellulose colored base coat.

The base color shows through when the crackle layer cracks.
For example, black over white yields white visible in the cracks
and clear over white simulates an antique white enamel finish.

Effective only when a wet coat is applied with a spray gun over a
conventional gloss lacquer finish. Crackle is offered in a ready to spray consistency.
The clear can be colored with lacquer colorants to create dynamic results.