---
---
Shellac.net Wood Finish Supply & MERIT Industries.com
An Authorized Mohawk Distributor

Select Products for Traditional Furniture Finishing, Touch-Up, Repair and Maintenance
---
---
SPRAY LACQUERS
---
See the Guide to: Solving Common Wood Finishing Problems
---
VINYL CLEAR LACQUER SEALERS • UPS Ground Only •
Click link above for Data Sheet
VINYL Clear LACQUER SEALER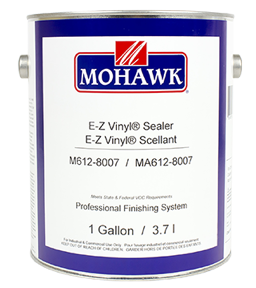 Vinyl develops an excellent moisture resistant barrier for the wood substrate,
and provides a good tough base for all lacquer finishes.
Vinyl Sealer is offered in a ready to use formulation
that needs no further reduction or catalyst.
• • •

5 Gallon Pails available on Order. Please Phone to order.



Note: Vinyl Sealer may be applied over raw wood or filled and stained substrates.

Also available for Aerosol applications
CLASSIC Stringed INSTRUMENT LACQUER • UPS Ground Only •
Click above:
Label Text & Application Information
CLASSIC Stringed INSTRUMENT Lacquer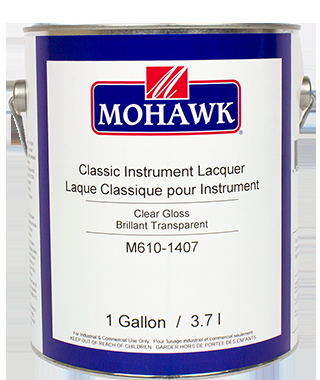 Classic Stringed Instrument Lacquer is a high quality
nitrocellulose lacquer specifically designed for wooden stringed instruments.

Stringed Instrument Lacquer allows for the special expansion and contraction
that occurs due to the unique construction of stringed instruments.
Note:
Stringed Instrument Lacquer must be applied over our Vinyl Sealer in order
to assure its unique film building and special finish characteristics.
Also available in Aerosol
Finisher's Choice LACQUER SANDING SEALER • UPS Only •
Finisher's Choice™ LACQUER Sanding SEALER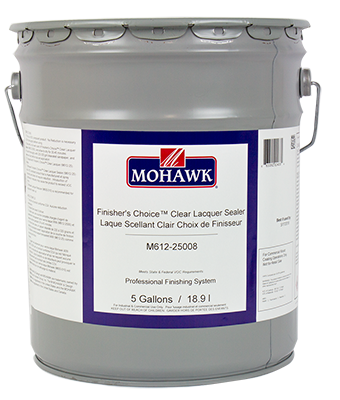 This Nitrocellulose sealer produces a smooth, hard, clear,
seal coat
as a foundation for lacquer topcoats.
Finisher's Choice™ Sanding Sealer is light in color and high in solids.
Formulated for maximum adhesion, superior hold-out,
and exceptional flow-out properties.
Finisher's Choice™ Sealer dries within forty-five minutes and may be used
under any lacquer topcoat
except the acrylics and shellacs.
5 Gallon Pails Available on Order. - Please Phone to Order.

Use Lacquer Reducer / Thinner for reduction (Not Over 15% recommended).
Finisher's Choice CLEAR LACQUERS • UPS Ground Only •
Finisher's Choice™ CLEAR
LACQUERS
-
275 VOC compliant
(Alcohol Resistant)
To:
Product Data Sheet --
PDF to download or print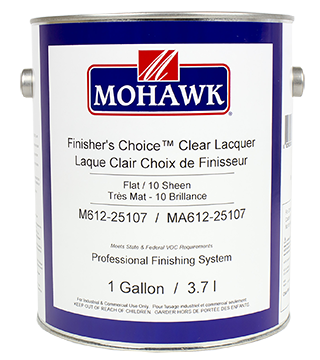 Mohawk's Finisher's Choice™ clear nitrocellulose lacquers are
highly resistant
to the strongest of alcohols, water, moderate heat,
abrasion, impact, and
are highly scratch resistant after a week's cure time.
Finisher's Choice™ lacquer forms a hard film designed to take
punishment that would normally ruin other lacquers.
It may be used on tabletops and other applications that require a tough finish.
Finisher's Choice™ Clear Lacquers are ready to spray, high solids, low viscosity formulas that enables users to achieve the best flow and build without reduction.
Apply in light, even coats of no more than 3-4 wet mils.
Clear WW Lacquers are 275 VOC compliant. --
Solids % (wt): 20.14
LACQUER REDUCER / THINNER 2255 • UPS Only •
LACQUER REDUCER 2255
(Lacquer Thinner)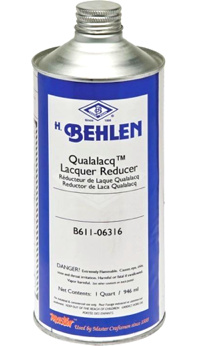 A special blend of solvents formulated for thinning nitrocellulose lacquers.

Use to thin:
• Lacquer Sanding Sealer
• Vinyl Lacquer Sanding Sealer
• Mohawk Nitrocellulose Lacquers
• Classic Stringed Instrument Lacquer.

Thinner improves flow of lacquers and adjusts viscosity for the spray equipment used.
M650-010 & B611-0631
(Avoid using more than 15 % by volume of the lacquer)

CRACKLE LACQUER (Clear) • UPS Ground Only •
CRACKLE LACQUER - CLEAR
Behlen Crackle Lacquer allows for the creation of a cracked, crazed, or antique looking finish.
A wet coat of Crackle Lacquer is sprayed over a dried nitrocellulose colored base coat.
The base color shows through when the crackle layer cracks.
Crackle is offered in a ready to spray clear consistency,
which can be colored with lacquer colorants to create dynamic results.