---
---
Shellac.net Wood Finish Supply & MeritIndustries.com
Home of: MohawkFinishSupply.com
Authorized Mohawk Distributor
Select Products for Traditional Furniture Finishing, Touch-Up, Repair and Maintenance
At this time we continue to ship & support our loyal customers
as COVID-19 virus continues to close businesses.
Our showroom is now open, Napa County Health Requirements -
Please Wear a Face Covering & Maintain 6 ft. of Physical Distance
Email or phone orders can still be picked up with 'Curbside Delivery'
at our NEW Location 2465 Second Street, Napa Ca 94559
For details about Pick-Up orders, or questions,
Phone: 877-245-5611 Monday - Friday - (Saturday by Appointment)
Your On-line Web Orders will be shipped promptly via Mail or UPS
Wood Finish Supply, Merit Industries & Shellac.net
Thank You for your support, we appreciate your business
Ron, Pete & Shannon
---
---
HARDWARE
HEADBOARD BOLT / HARDWARE
HEADBOARD BOLT / HARDWARE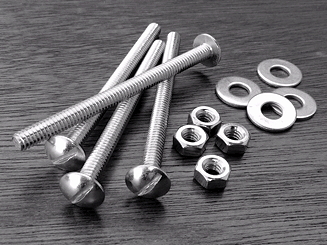 All hardware necessary for attaching headboard to bed frame.
Sealed bag SET includes:
4 Bolts, 4 Nuts, 4 Flat Washers

Two bolt styles available:
• Slotted Truss Head bolts, 1/4 x 20 (in photo)

• Carriage Bolts, 1/4 x 20

HANGER BOLTS
HANGER BOLTS

The pointed end of hanger bolt screws into a pilot hole
(of the screws minor diameter) in a wooden member.
Deep screw threads bite into the wood to eliminate stripping
and pull-out problems. The wood screw can be screwed into the leg
and the bolt is attached to the hanger plate which is fixed to the bottom of the wood frame of the furniture.
Many furniture legs are most easily attached with the use of hanger bolts and metal plates.

The machine threaded
end (5/16 x 18) accepts a Nut, T-Nut, or Threaded Insert.
DOWEL SCREWS