Shellac.net

Wood Finish Supply
/ MERIT Industries.com
Select Products for Traditional Furniture Finishing, Touch-Up, Repair and Maintenance
---
GLIDES for CHAIRS & Furniture

---
Bell Glides
BELL Glides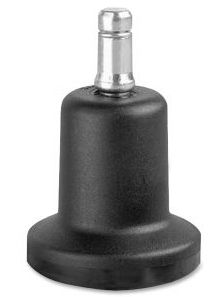 Change any chair with casters to a stationary chair using bell glides.

The 2-1/2" height makes sure you don't lose your chair height
and the 2-1/4" base diameter provides stability.

The nylon glides are equipped with B stems (7/16 x 7/8) made of chromed metal.

• Set of 4 for dining chairs
• Set of 5 for office chairs.

PLASTIC GLIDES, Nail On
PLASTIC GLIDES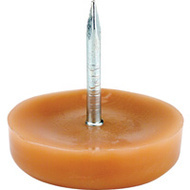 Plastic glides, made of self-lubricating materials, provide the best gliding properties.

Excellent strength, good abrasion resistance and non-rusting.
For use with any style or type of furniture.
Brown / tan color blends with most natural wood toned finishes.

NYLON Nail-On GLIDES
NYLON GLIDES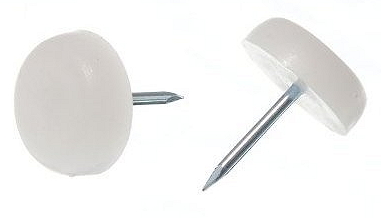 Best glide for heavy duty use
Extremely strong nylon, wears longer than ordinary plastic glides.


SINGLE PRONG Metal GLIDES
NAIL On GLIDES

• Single Prong

• Tough Steel

• Nickel Plated

THREE PRONG Metal FURNITURE GLIDES
Three Prong FURNITURE GLIDE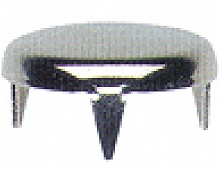 Tough Nickel Plated Steel.
3 Prong round, domed metal chair glides / slides for wood furniture.
INSULATED GLIDES
INSULATED Flexible NAIL-ON GLIDES

Highly polished hardened steel with cushioned rubber insert.
Flexible nail permits glide to remain flat on the floor.
INSULATED NYLON GLIDES
INSULATED 'Cushion' NYLON GLIDES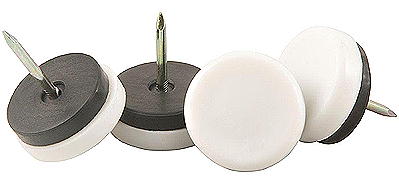 White Nylon Base nail-on cushioned glide.
For installation in wood furniture legs.
Best to pre-drill a small pilot hole for the nail especially on harder woods
ADJUSTABLE PLASTIC GLIDES - Beige
ADJUSTABLE PLASTIC GLIDES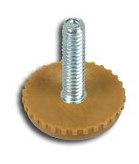 Beige, 1/4-20 x 1" long thread

ADJUSTABLE PLASTIC GLIDES, Black
ADJUSTABLE Black PLASTIC GLIDES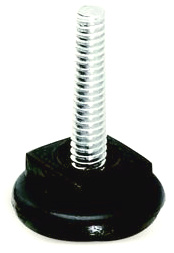 Black, 1 inch diameter foot.

5/16-18 x 1 inch long stem.
Moulded square wrench nut for ease of adjustment.
Adjustable PLASTIC GLIDES, Black Hexagonal Foot
Adjustable BLACK Nylon, Leveler GLIDES, Hexagonal Foot

Hexagonal BLACK NYLON Leveler GLIDES 5/16 - 18 x 1 1/2 inch long stem.


Hexagonal Base (1 inch) & slotted stem alows easy height adjustment.


T-Nut shown, NOT included.

FELT BOTTOM Tap-In SAFEGLIDES®
FELT BOTTOM Tap-In SAFEGLIDES

®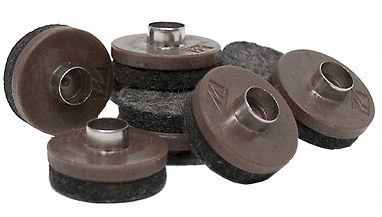 Select BROWN or WHITE color.

Easily taps into wood or wicker furniture.

Provides protection for hardwood, tile, terazzo, or vinyl floors.
SELF ADHESIVE FELT GLIDES
SELF ADHESIVE FELT GLIDES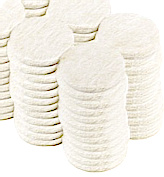 White or Brown.

F
or use on chairs and lighter weight furniture





Email: sales@meritindustries.com Or orders@shellac.net ... Ordering Information ... Privacy Policy

Shellac.net Wood Finish Supply / MERIT Industries.com
2325 #A First St. Napa CA 94559
rev. 1/25/17
---