---
Shellac.net Wood Finish Supply & MeritIndustries.com
Home of: MohawkFinishSupply.com
Authorized Mohawk Distributor
Select Products for Furniture & Cabinet Finishes, Touch-Up, Repair, Maintenance
• • •
New Hours Visit Our Showroom 9:00 - 4:00 Monday - Thursday 2465 Second Street, Napa Ca 94559
Thank You for your support, we appreciate your business, Ron & Pete.
---
---
GLIDES for CHAIRS & Furniture

---
Bell Glides
BELL GLIDES
-- Clearance SALE --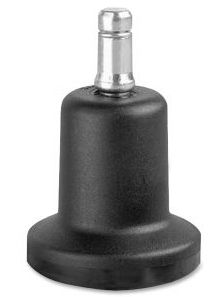 Change any chair with casters to a stationary chair using bell glides.

The 2-1/2" height makes sure you don't lose your chair height
and the 2-1/4" base diameter provides stability.

The nylon glides are equipped with B stems (7/16 x 7/8) made of chromed metal.

• Set of 4 for dining chairs
• Set of 5 for office chairs.



PLASTIC GLIDES, Nail On
PLASTIC GLIDES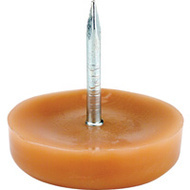 Plastic glides, made of self-lubricating materials, provide the best gliding properties.
Excellent strength, good abrasion resistance, and non-rusting.
For use with any style or type of furniture.
Brown / tan color blends with most natural wood-toned finishes.



GLIDE, CHAIR & FURNITURE - BROWN (HDPE)
CHAIR / FURNITURE GLIDE
-

HDPE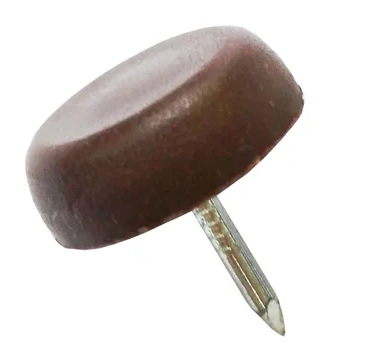 High Density (HDPE) Brown Nail-On Glide

For use on Chairs and Furniture Legs
A Durable Commercial Duty Glide
Glide with 3/4 inch Steel Nail.
To avoid splitting, drill a small pilot hole on smaller hardwood legs.


NYLON Nail-On GLIDES
NYLON GLIDES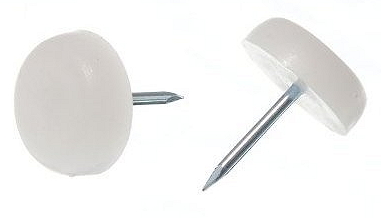 Best glide for heavy duty use
Extremely strong nylon, wears longer than ordinary plastic glides.



INSULATED NYLON GLIDES, White 7/8 Dia.
INSULATED 'Cushion' NYLON Chair GLIDES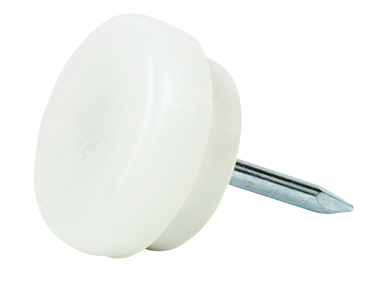 White Nylon Base nail-on cushioned glide.
For installation in wood furniture legs.




Nail is 13/16 long

.


Best to pre-drill a small pilot hole for the nail for harder woods
SINGLE PRONG Metal GLIDES
NAIL On GLIDES

• Single Prong

• Tough Steel

• Nickel Plated

THREE PRONG Metal FURNITURE GLIDES
Three Prong FURNITURE GLIDE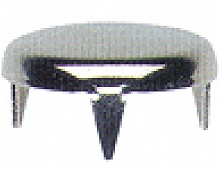 Tough Nickel Plated Steel.
3 Prong round, domed metal chair glides / slides for wood furniture.
INSULATED GLIDES
INSULATED Flexible NAIL-ON GLIDES


Highly polished hardened steel with cushioned rubber insert.
Flexible nail permits glide to remain flat on the floor.
ADJUSTABLE PLASTIC GLIDES - Beige
ADJUSTABLE PLASTIC GLIDES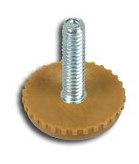 Beige Glide, Available Foot Diameters:
5/8 inch
3/4 inch
7/8 inch
1 1/16 inch
Threaded Stem,
1/4-20 x 1 inch long
Adjustable PLASTIC GLIDES, Round Black Foot
Adjustable BLACK Nylon, Leveler GLIDES, Round Foot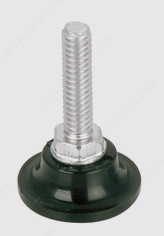 Round BLACK NYLON Leveler Glides
• 5/16 - 18 x 1 1/2 inch long stem
• Overall length 2 5/16 inch
• One inch diameter foot (with Hex Adjustment Nut)
• Slotted stem top to allow easy height adjustment


Adjustable PLASTIC GLIDES, Black Hexagonal Foot
Adjustable BLACK Nylon, Leveler GLIDES, Hexagonal Foot

• Hexagonal BLACK NYLON Leveler GLIDES 5/16-18 x 1 1/2 inch long stem.

• Hexagonal Base (1 inch) & slotted stem allows easy height adjustment.

T-Nut shown, NOT included in the bulk packages.
T-NUTS
T - NUTS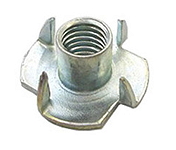 • For use when a flush surface is required
• Suitable for hard or soft wood, plastic and particle board
• Durable strong, zinc-coated steel
3 Sizes


Threaded INSERTS
THREADED INSERTS


Replacement
for T-nuts, screw into hole where T-nut was located.
The exterior surface is a t

apered interrupted thread design
ensures positive locking and good pull-out resistance.
Inside threaded is for adjustable glides or hanger bolts.

Hex Drive no flange in 1/4 -20 and 5/16-18 internal threads.
May be recessed for curved work, or to set the insert deep to accommodate over-long bolts.
FELT BOTTOM Tap-In SAFEGLIDES®
FELT BOTTOM Tap-In SAFEGLIDES

®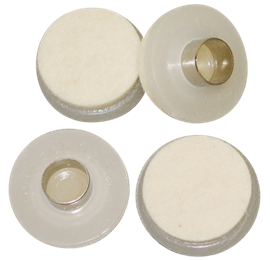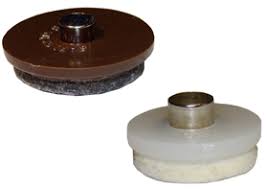 WHITE & Brown/Gray.

Easily taps into wood or wicker furniture.

Provides protection for hardwood, tile, terrazzo, or vinyl floors.

SELF ADHESIVE FELT GLIDES
SELF ADHESIVE FELT Furniture GLIDES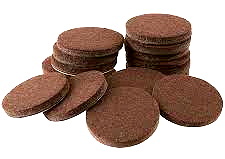 Thick Brown.

Felt Glides
Excellent for use on hardwood and engineered floors

F
or use on CHAIRS and lighter weight FURNITURE.