---
---
Shellac.net Wood Finish Supply & MeritIndustries.com
Home of: MohawkFinishSupply.com
Authorized Mohawk Distributor
Select Products for Traditional Furniture Finishing, Touch-Up, Repair and Maintenance
---
Our showroom is now open, Napa County COVID-19 Requirements -
Please Wear a Face Covering & Maintain 6 ft. of Physical Distance
New Location - 2465 Second Street, Napa Ca 94559
For information Phone: 877-245-5611 Monday - Friday - (Saturday by Appointment)
Your On-line Order will be shipped promptly via US Mail or UPS
Thank You for your support, we appreciate your business.
Ron, Pete & Shannon
---
---
BRUSHES
---
Omega LILY VARNISHER'S / SHELLAC BRUSHES
More Info: Click Above
SHELLAC & VARNISHER'S
Brushes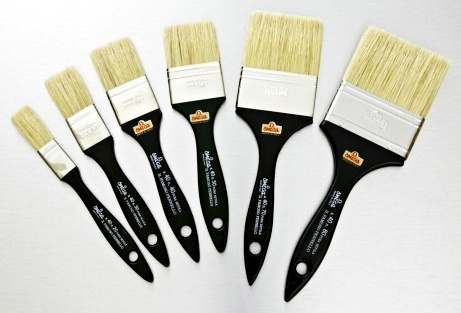 Natural Bristle Single fill,
Only (1/4 - 5/16 in) thick.
Classic glider design, ideal for Shellac & Varnish.
This brush will yield a thin, uniform application
of shellac or varnish.
The natural bristle brush is ideal for
shellac, varnish,
and faux finishing of woodwork and furniture.
Pictured Sizes 20 - 80 mm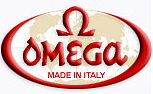 Genuine OMEGA, made in Italy.
Brush, Omega Ring Varnish Brushes
Omega Ring VARNISH / SHELLAC BRUSH

Round, versatile, natural nero bristle, varnish or shellac brush.

Brush, NATURAL OX HAIR #1775
NATURAL OX HAIR BRUSH
#1775


Tough durable quality brush of natural Ox hair.
• Overall Length: 7 - 8.5 inch depending on brush
• Lacquered Hardwood Handle
For SHELLAC, LACQUER and all oil / solvent based dyes, stains, glaze and finishes.
Brush, SHELLAC & LACQUER - 9743
SHELLAC & LACQUER BRUSH
#9743




Golden Taklon Synthetic Bristle
• Three sizes -- 1/2, 3/4 & 1 inch • Total brush length: 7" to 8.5
Excellent brush for small moldings, carvings, and detail work.

Brush, Golden Taklon - 2700 series
BRUSH, Golden Taklon
- 2700 series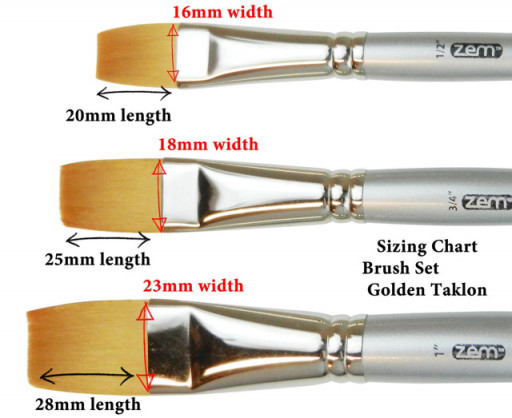 • Wood Handles 5"- 6" - Metallic lacquered silver color.


• Glued, and crimped to brush ferrules for no loose connections.
• Total brush length 7" to 8..55" depends on size.
• Set of 3 = 1/2, 3/4 & 1 inch
• Set of 4 includes Set 3 & the NEW 1.5 inch wide bush
--- The New 1.5 inch wide is not shown ---


Brushes ROUND Kolinsky SABLE
ROUND Kolinsky SABLE Brushes
• 100% Pure RED Kolinsky SABLE Brushes.
• Short Wood Handles 5"-6" - Matte black lacquered handle,
glued, crimped to brush ferrules for no loose connections.
• Total brush length around 7" to 8.5" depending on size.
• Finest quality.
• Made in Germany.

[Our favorite brush for use with: Blendal Powders & 2 Minute Touch-Up Fluid, and NGR Dye or Aniline Dye]
Brush, Badger 4004 GLAZE BRUSHES
Badger GLAZE BRUSHES
The 4004 series Glaze Brushes are excellent glazing
brushes.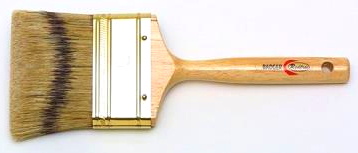 4004's are hand-assembled, badger and natural hair, flag bristled,
cup chiseled brush. The bristles secured in a double epoxy setting
(for less chance of hair loss), are attached by a durable brass ferrule
to the natural finished thin wooden handle for better balance|
when flowing on finish.
(Photo: 3 inch brush)
Brush, Omega POINTED SASH
Omega POINTED SASH Brush



The Omega S203 Sash Brush is the perfect brush for windows, sash,
and smaller moldings or any application where a clean edge is desired.
For use with alkyd (oil / solvent) paints, varnishes and oil based urethane coatings.
Although this brush is seldom seen outside of western Europe, we can't imagine
painting windows without it. Its firmly packed bristles and hand-trimmed nose enable
even beginner to cut in a flawless edge on sash or trim. Paint is applied evenly.
Window scraping after painting is virtually eliminated. White hog bristle.
Brush, Omega Domed Sash
Omega DOMED SASH Brush


The Domed Sash Brush is also a useful tool for moldings and detail work
SEA SPONGES
Clink link above for more information

NATURAL SEA SPONGES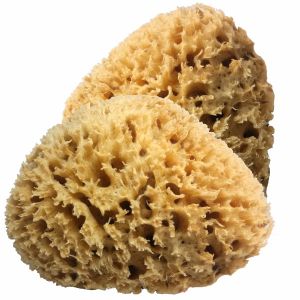 The perfect and preferred sponges for faux finishing.
Native to the waters of Florida, sea sponges are 100% natural and biodegradable.
Use for faux finishing, marbleizing, texturing, sponge painting, pottery, ceramics, staining, dye application, paint stippling and more.
Natural Sea Yellow Sponges are collected from the warm clear waters of Rock Island, Florida, Gulf coast. A durable and soft sponge of good quality. The divers collect these sponges with great care, preserving the ocean bed for lasting and fruitful harvest year after year.

POLY FOAM BRUSHES
FOAM BRUSHES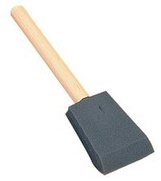 Inexpensive flexible (throw away) foam brush for the application of
enamel, latex, oil paint, stain, varnish and waterborne finishes.
Will smooth and cover evenly with fewer strokes, eliminating brush marks or loose bristles.
• Wood handle with polyurethane foam brush (A TOP QUALITY Foam Brush)
• NOT for use with shellac, lacquer or active solvents
CHIP BRUSHES (China Bristle brushes)
CHIP BRUSHES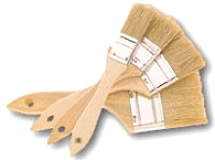 Chip Brushes are disposable utility brushes made with white China bristle.
Use for applying water or alcohol dye, stains, paint removers, glues, bleach, epoxies,
dusting wood and metal chips, and for cleaning machinery.
• Square trimmed white China natural hog bristle
• Natural bare wood handle
• Inexpensive enough to use as a one time throw away brush
Our favorite brush for all water or alcohol solvent dye materials.

BRUSH, SABLE TOUCH-UP
Sable TOUCH UP BRUSHES
Touch-Up Brushes are used for for blending and color correcting spot background fill-ins and
touch-up repairs with Blendal Furniture Powders and 2 Minute Repair Liquid.
BRUSH, SABLE GRAINING
Sable GRAINING BRUSHES


A select brush for adding fine grain lines to spot finish repairs with Furniture Powders and the 2 Minute Repair Liquid.
Brushes ROUND LACQUERING
Round LACQUERING BRUSHES


Finest quality brown camel hair.
Overall length approximately 8". Bristles set in solvent resistant cement.
GLUE BRUSHES
GLUE BRUSHES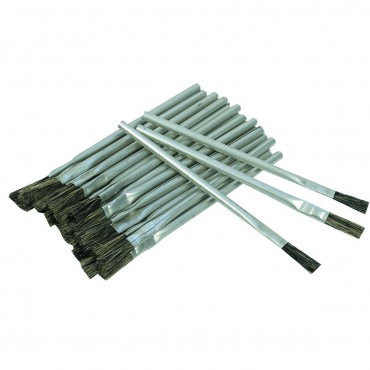 Use for applying glue or adhesives to small areas,
dovetails, dowel pins and mortises.
Round open seam polished metal handle; 4 5/8" long.

Machine pressed setting of Black Chinese hog bristles
The 1/4 inch brush is excellent for dowel holes & small mortises
Round Bridled GLUE BRUSHES
Round BRIDLED GLUE BRUSHES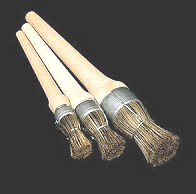 | | | |
| --- | --- | --- |
| Size | Diameter | Bristle Length |
| 4 | 1/4 in. | 1.5 in. |
| 8 | 1/2 in. | 1.75 in. |
| 12 | 3/4 | 2 in. |
| 18 | 1 in. | 2.25 in. |
| 20 | 1.25 in. | 2.25 in. |
Sorry, the #12, 3/4in Diameter Brush is the only size currently in stock
These 100% pure gray hog bristle brushes feature plain wood handles
and seamless metal ferrules. For all hot or cold glue applications.
Wire bridled construction for added strength and to extend the brushes life.
When the brush wears down, remove the bridle, you now have a 'new' glue brush!