Shellac.net

Wood Finish Supply
/ MERIT Industries.com
Select Products for Traditional Furniture Finishing, Touch-Up, Repair and Maintenance
---
UPHOLSTERY

---
TWIST PINS
TWIST PINS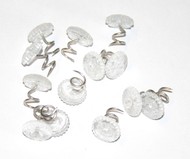 • Hold sales tags
• Keeps arm protectors and slip covers securely in place on upholstered furniture.
Twist Pins can also be used to install a bed skirt on a box springs mattress frame. Screw the twist pins into the box spring to keep the bed skirt in place.
• Clear plastic head, 3/8 inch diameter, nickel plated steel pin, 1/2 inch long

• Leaves no holes - Simply twist into fabric.

SMALL SCRATCH AWL
Small SCRATCH AWL


Fits nicely in the hand, excellent for small work applications.
Use to scribe lines, and for layout, upholstery and a variety of uses.
• Finished hardwood handle
• Sharp pointed tempered blade
• Blade length - 2 inches
• Overall Length 3 7/8 in.

HOLLOW UPHOLSTERY TUFTING CLASPS
UPHOLSTERY TUFTING CLASPS


Clasps used with The "Time Saver" Needle
SPRING CLIPS
SPRING CLIPS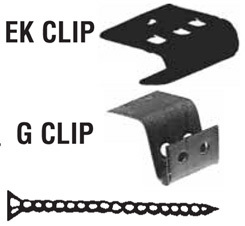 • Hold Zig Zag (No-Sag) springs securely.

• Plastic insulation prevents squeaks.
• G-Clip drops spring 7/8 in. below frame top

• Attach with Spring Clip Nails
METAL UPHOLSTERY TACK STRIPS
METAL UPHOLSTERY TACK STRIPS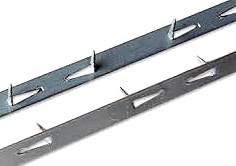 METAL Upholstery TACK STRIPS with Vinyl cover
METAL UPHOLSTERY TACK STRIPS
with
Vinyl Cover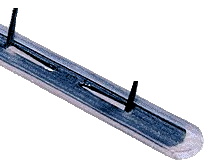 • Metal tack strip with Vinyl Tack Strip Cover

• prevents tacking strip from cutting fabric

• 30 inch long

Shellac.net Wood Finish Supply / MERIT Industries.com
2325 #A First St. Napa CA 94559
Assistance in placing your order: 877-245-5611
rev 7/14/18
---





Email: sales@meritindustries.com Or orders@shellac.net ... Ordering Information ... Privacy Policy