---
Shellac.net Wood Finish Supply & MeritIndustries.com
Home of: MohawkFinishSupply.com
Authorized Mohawk Distributor
Select Products for Furniture & Cabinet Finishes, Touch-Up, Repair, Maintenance
• • •
New Hours Visit Our Showroom 9:00 - 4:00 Monday - Thursday 2465 Second Street, Napa Ca 94559
Thank You for your support, we appreciate your business, Ron & Pete.
---
---
UPHOLSTERY

---
TWIST PINS
TWIST PINS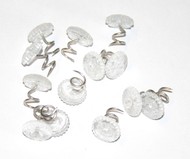 • Hold sales tags
• Keeps arm protectors and slip covers securely in place on upholstered furniture.
Twist Pins can also be used to install a bed skirt on a box springs mattress frame.
Screw the twist pins into the box spring to keep the bed skirt in place.
• Clear plastic head, 3/8 inch diameter, nickel plated steel pin, 1/2 inch long

• Leaves no holes - Simply twist into fabric.

SMALL SCRATCH AWL
Small SCRATCH AWL


Fits nicely in the hand, excellent for small work applications.
Use to scribe lines, and for layout, upholstery and a variety of uses.
• Finished hardwood handle
• Sharp pointed tempered blade
• Blade length - 2 inches
• Overall Length 3 7/8 in.

HOLLOW UPHOLSTERY TUFTING CLASPS
UPHOLSTERY TUFTING CLASPS


Clasps for use with the #417 "Time Saver" Needle


SPRING CLIPS
SPRING CLIPS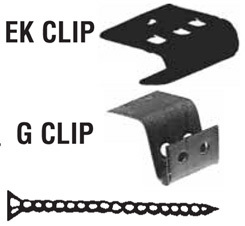 • Hold Zig Zag (No-Sag) springs securely.
• Plastic insulation prevents squeaks.
• G-Clip drops spring 7/8 in. below frame top

• Attach with Spring Clip Nails

HANGER BOLTS
HANGER BOLTS
-- ON SALE --

The pointed end of hanger bolt screws into a pilot hole
(of the screws minor diameter) in a wooden member.
Deep screw threads bite into the wood to eliminate stripping
and pull-out problems. The wood screw can be screwed into the leg
and the bolt is attached to the hanger plate which is fixed to the bottom of the wood frame of the furniture.
Many furniture legs are most easily attached with the use of hanger bolts and metal plates.

The machine threaded
end (5/16 x 18) accepts a Nut, T-Nut, or Threaded Insert.
METAL UPHOLSTERY TACK STRIPS
METAL UPHOLSTERY TACK STRIPS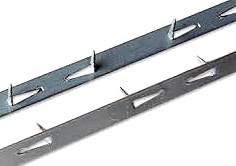 Used for: Upholstery Closures & Securing Fabric

Upholstery tack strips are used in upholstery and re-upholstery
to secure the fabric and make a clean, straight edge.
They create a professional look. No stapling is required.

METAL Upholstery TACK STRIPS with VINYL Cover
METAL UPHOLSTERY TACK STRIPS
with
VINYL Cover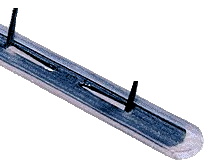 • Metal tack strip with Vinyl Tack Strip Cover

• Vinyl prevents tacking strip from cutting fabric

• 30 inch long