---
---
Shellac.net Wood Finish Supply & MERIT Industries.com
Home of: MohawkFinishSupply.com
An Authorized Mohawk Distributor
Select Products for Traditional Furniture Finishing, Touch-Up, Repair and Maintenance
---
---
SHELLAC Flake, Button & SeedLac
---
See: Shellac Mixing & Usage Notes • Pound Cut Mixing Chart (Printable version) • Guide To French Polishing (PDF)
Please Read: Denatured Alcohols & Shellac Solvents - All Denatured Alcohols are NOT the Same
See: Questions, Facts & Myths about Shellac for Wood Finishing

News Blog

Subscribe to our News & Notes
---
SEEDLAC is the least processed shellac. All other shellacs are made from this raw seedlac resin.
The insect feeds on the sap of the tree and secretes the Lac as a protective shell in which the female lay their eggs.
Seedlac is made from the branches that are covered by the Lac resin left by the lac bug, known as sticklac.
The sticklac is crushed to yield the seedlac. The Seedlac is sieved to remove organic materials, washed and dried in open a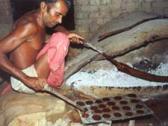 ir.

Arrived 7/19 - NEW Button Crop now available
our DARK JETHWA & BYSAKHI BUTTON is 100% Pure Button Shellac
10/7/19 New Crop NOW Shipping -- SUPER GOLDEN Kusmi Button Shellac
BUTTON Shellac has toughness and mar resistance that makes it the preferred shellac
for finishing floors, interior woodwork, and French polishing musical instruments.
WAXY Shellac: Wax content provides some flexibility & moisture resistance.
'Waxy' shellacs are a good choice when the finish will be shellac only.
Use a DEWAXED Shellac for a universal sealer / primer and as a transitional coating between dissimilar finishes.
Use a Dewaxed Shellac when the topcoat, for extra water & alcohol resistance, will be a varnish, lacquer or urethane.

Scroll down for a Shellac Variety Descriptions by Category, Photos, & related materials.
The 4 Oz. (1/4 Lb.) Sample Packs are listed with each Shellac variety.
---
Shellac Reducer - DENATURED ALCOHOL (Behkol) • UPS Only •
Shellac Reducer DENATURED ALCOHOL Shellac Solvent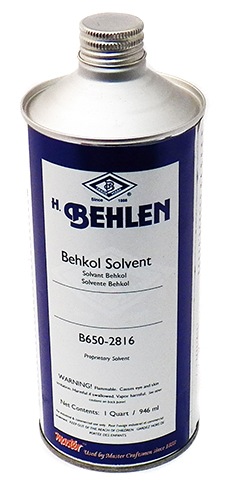 Mohawk Shellac Reducer / (Behlen Behkol),
a Denatured Alcohol Blend, is formulated specifically to
dissolve shellac flakes
and dilute or 'cut' liquid Shellacs.
See the Pound Cut Mixing Chart

Shellac Reducer (Behkol Denatured Alcohol) will make a shellac that has
a little more open or 'working time', a good solvent choice in warmer weather
and when brushing larger areas such as woodwork.
Also used to dissolve Behlen Aniline Dyes for use as an Alcohol Dye.
SAVE $6.00 by the case of 6 = $10.90 per Qt.

Select (190 proof) DENATURED ALCOHOL Quarts • UPS Only •