---
Shellac.net Wood Finish Supply & MeritIndustries.com
Home of: MohawkFinishSupply.com
Authorized Mohawk Distributor
Select Products for Traditional Furniture Finishing, Touch-Up, Repair and Maintenance
• • •
Visit Our Showroom, 2465 Second Street, Napa Ca 94559
Thank You for your support, we appreciate your business. Ron, Pete & Shannon
---
---
SUPER GOLDEN Kusmi Button Shellac
---
SUPER GOLDEN Kusmi Button Shellac
••• New Shellac variety •••
Use Super Golden Button on light toned woods,
or on any wood where a light Rich Golden Amber tone is desired.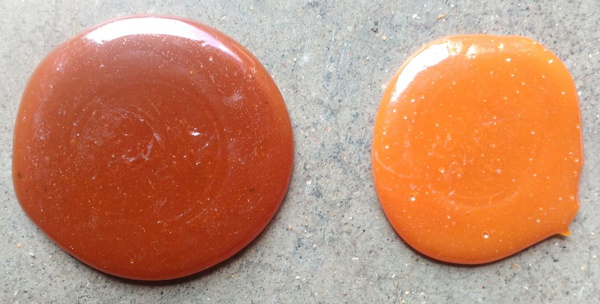 Comparison of Kusmi #1 Button & Super Golden
Note: The photo shows the button color only. Working solution tones will be much lighter.
---