Shellac.net

Wood Finish Supply
/ MERIT Industries.com
Select Products for Traditional Furniture Finishing, Touch-Up, Repair and Maintenance
---
PREMIER Markers & Fill Sticks - Listed by Color
---
Premier Touch-Up Markers & Fill Sticks

by Wood Tones and Color Range
Useful when ordering by color name.
PREMIER 100 Series Touch-Up Markers / FILL STICKS by Color group
PREMIER FILL STICKS

Click here:

Premier Color Selector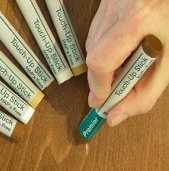 The wax touch-up stick is simple to use product for making a cosmetic repair to damage on fine furniture or cabinetry. Premier sticks are manufactured for the industry using the finest waxes and pigments available.
To use the product, simply rub the stick back and forth over the void until the void is completely filled. Then remove the excess by either scraping off with a plastic putty knife (credit card) or you can buff of with a soft cotton cloth.
• for making cosmetic repairs on finished furniture or cabinetry
• small dings or damage
• staple and nail holes
• small cracks and splits
PREMIER 200 Series MARKERS by Color Grouping
200 Series TOUCH-UP MARKERS

Click Here: Color Selector Chart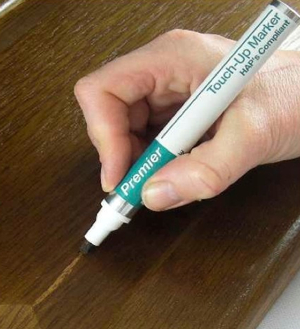 The PREMIER 200 series Valve Action Stain marker stains and seals scratches and worn spots on furniture, wall paneling, picture frames, and leathers.

Available in 32 colors

and an
Assortment #AP12 of One Dozen popular furniture colors
• P237 Black, • P281 Pure White, • P216 Light Walnut,
• P220 Medium Walnut, • P231 Dark Walnut,
• P229 Brown Red Mahogany, • P227 Traditional Mahogany,
• P209 Light Oak, • P221 Oak, • P208 Light Pine,
• P215 Universal Cherry, • P212 Fruitwood.
PREMIER 700 TOUCH-UP MARKERS - BY COLOR Range
PREMIER 700 Series TOUCH-UP MARKERS

Click here:

Color Selector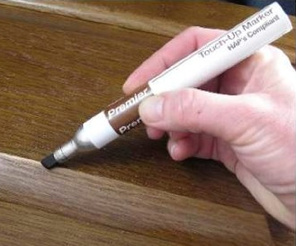 Stain and finish in a marker


24 Wood-tone colors.
Shellac.net Wood Finish Supply / MERIT Industries.com
2325 #A First St. Napa CA 94559
Assistance in placing your order: 877-245-5611
rev 6/6/18
---