Shellac.net

Wood Finish Supply
/ MERIT Industries.com
Select Products for Traditional Furniture Finishing, Touch-Up, Repair and Maintenance
---
TACK Cloths, RAGS, WIPERS
---
NEWS Blog - Subscribe to our News & Notes

---
TACK CLOTHS
TACK CLOTHS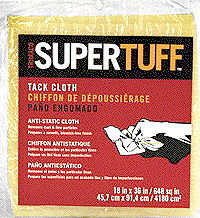 Remove dust, dirt, lint and sanding dust residue before and between sealer
and finish coats when shellacking, staining, varnishing, antiquing, and painting.

Use just before finishing to remove the very last bit of dust from any surfaces that would be considered clean and ready to finish.
Tack Cloths are individually packaged (and Reusable)

For reuse, & to protect from contamination, store cloth in a reclosable bag.

Shellac.net Wood Finish Supply / MERIT Industries.com
2325 #A First St. Napa CA 94559
rev. 4/22/17
---
---





Email: orders@shellac.net ... to: Ordering Information ... Privacy Policy
---
---