Shellac.net

Wood Finish Supply
&

MERIT Industries.com




Select Products for Traditional Furniture Finishing, Touch-Up, Repair and Maintenance
---
MIRROR FRAME & PICTURE Hanging

---
MIRROR HANGERS, Small
MIRROR HANGERS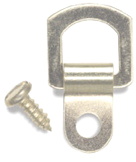 D-Ring Strap Hangers for Pictures and Mirrors
• Narrow-Base Strap Hangers for one screw.
• Use on narrow lighter weight mirrors or photo frames

D-Ring 5/8 wide - Strap 3/8 wide - Overall Length 1 3/16 inch - Screw Hole 3/16 Dia.
One Pair (Set of 2, includes 2 screws)

MIRROR HANGERS, Medium
MIRROR HANGERS
, Medium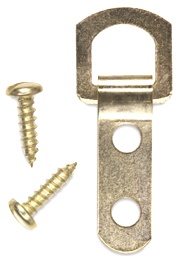 • Solid D-Ring Strap Hangers for Pictures and Mirrors
• Narrow-Base Wire Strap Hangers
• 2 screw hole base

D-Ring 5/8 wide - Strap 7/16 wide - Overall Length 13/4 inch - Screw Hole 3/16

One Pair (Set of 2 with 4 Screws)

MIRROR HANGERS, Large
MIRROR HANGERS, Large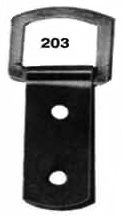 Hangers for larger Pictures and Mirrors

• Wide Base, Solid D-Ring, Doubled Strap
• 2-hole strap for securing medium weights with two support screws

Width: Strap 5/8 - D-Ring One Inch - Overall Length 2 9/16 - Screw Holes 3/16 Dia.

One Pair (Set of 2 with 4 Screws)

MIRROR HANGERS, X-Large
MIRROR HANGERS
, X-Large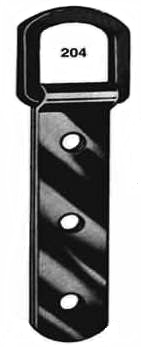 Use the 204 Hanger for Large Pictures or Mirrors
• Solid Stamping One Piece Steel D-Ring

• Wide-Base Strap Hangers.
• 3-hole base.
• Use three screws (each side) for weight support.

Width: Strap 5/8 - D-Ring One Inch & Overall Length 37/16 - Screw Holes 3/16 Dia.

One Pair (Set of 2, includes 6 screws)

MIRROR HANGERS, ADJUSTABLE
MIRROR HANGERS, Adjustable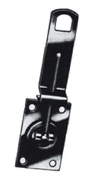 • A safe, secure, Heavy Duty Adjustable Hanger
for leveling mirrors and large frames
• Used in Pairs, one on each side of the frame
• Frame plate allows hanger strap to pivot, requires 4 screws (Not included)
• Requires 2 wall hooks (Not included)

Frame Plate = 2 x 113/16 inch high, 4 holes 3/16, Hanger Strap = 5/8 wide x 2 5/16 inch long,
Overall Length = 4 1/8 inches --- Adjusts 5/8 inch up or down

One Pair (Set includes 2 frame plates & 2 hanger straps)

PICTURE HANGING
Click above to see Hanging Wire Tension

PICTURE FRAME HANGING HOOKS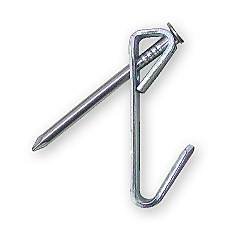 For safety, use a hanger hook rated
for a higher weight than the item being hung.
All hanger packs include proper size nails

Size "5O Lb." pictured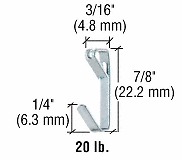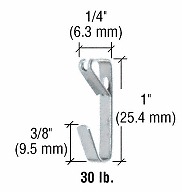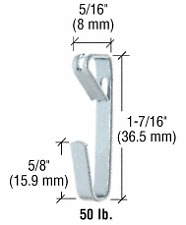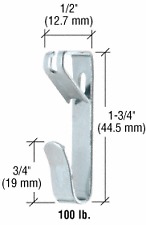 PICTURE HANGERS (Sawtooth)
PICTURE HANGERS,
Self Leveling
(Sawtooth)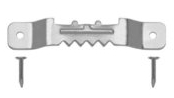 Sawtooth picture hangers are used on pictures where screw eyes and hanging
wire will not work, such as smaller pictures, plaques, or long narrow pictures.
• For use on Wood frames or plaques. • Attach with Small nails or screws

FRAME HANGING WIRE
Calculate Hanging Wire Tension & Required Weight

Frame & Mirror HANGING WIRE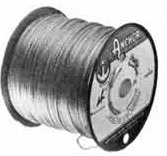 • Durable, Tinned, Flexible Wire.
• Braided for strength.
• For hanging mirrors and pictures.
•
Use 4 times the weight of picture or mirror.
5 Lb. Spools


CRYSTAL CLEAR BUMPERS - Self Adhesive
CRYSTAL CLEAR ADHESIVE BUMPERS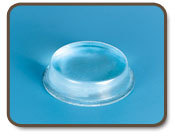 Self-adhesive crystal-clear bumpers in non-skid butyrate.
Use as glass door buffers, under glass tops and on shelf-rests for glass panels.

For Frame Hanging:
Bumpers (applied to the back bottom corners)
resist movement to keep frames level on the wall
Minimize any marring of the wall surface behind
the frame
Allows air to circulate between frame and wall
1/2 Inch Diameter