---
---
Shellac.net Wood Finish Supply & MERIT Industries.com
Home of: MohawkFinishSupply.com
An Authorized Mohawk Distributor
Select Products for Traditional Furniture Finishing, Touch-Up, Repair and Maintenance
---
---
GUITAR & STRINGED INSTRUMENT Finishing
---
Guitar

&

Stringed Instrument


Finishing Materials
---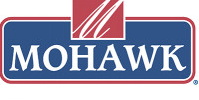 GUITAR FINISHING Supplies

---
AQUA COAT CLEAR Wood Grain & Pore FILLER
Click above for Application and Use Directions


AQUA COAT Clear Wood Grain & Pore Filler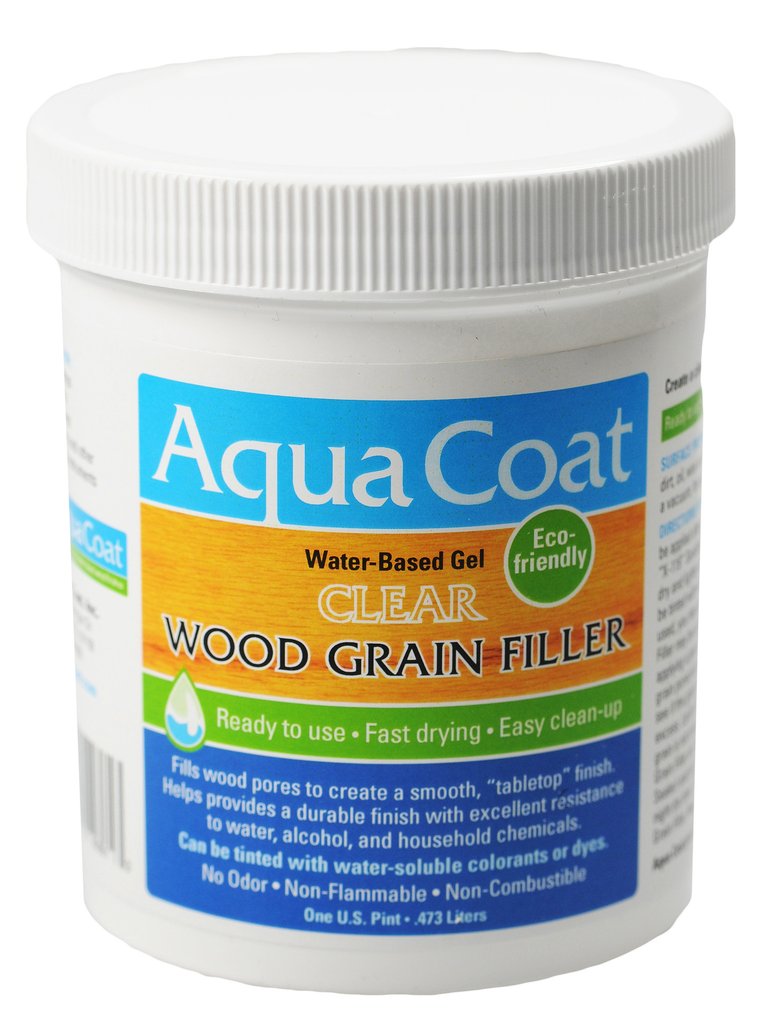 Easy-to-sand clear gel wood grain filler for filling the grain and pores
in woods (such as oaks, ash, and hard-to-fill woods).

Aqua Coat Clear Grain Filler is a completely transparent paste filler.
The slick paste goes on easily, scrapes off cleanly, and dries clear for a
glass smooth guitar or piano style finish. Clear Grain Filler is ideal for
filling grain & pores without adding color to the wood.
Used by:
• Furniture Crafters
• Luthiers / Guitar Makers
• Gun Stock Finishers
• Piano Restoration
• Furniture Refinishing
• Cabinet Makers & Re-finishers
Aqua Coat Wood Grain & Pore Filler
is the ideal CLEAR filler on:
• Tabletops
• Pianos
• Cabinets
• Guitars and Wood Instruments

Cle
ar Wood Grain Filler Advantages


• Crystal Clear when dry
• Grain Filler dries in 30-45 minutes for a faster build

•
Easy sanding
• Minimal shrinkage
• Low odor and low VOC •
Non-flammable
• Tint with water-soluble colorants or dyes •
Thin with water •
Water clean-up
"For a clear glass smooth finish, use Aqua Coat Wood Grain & Pore Filler to maintain the color, clarity,
and beauty of the wood. It works better and faster than trying to fill the grain or pores with coats of finish."
See: PRODUCT DESCRIPTION & RECOMMENDED USES

VINYL CLEAR LACQUER SEALERS • UPS Ground Only •
Click link above for Data Sheet
VINYL Clear LACQUER SEALER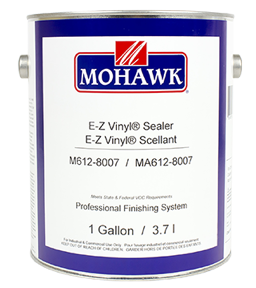 Vinyl develops an excellent moisture resistant barrier for the wood substrate,
and provides a good tough base for all lacquer finishes.
Vinyl Sealer is offered in a ready to use formulation
that needs no further reduction or catalyst.
• • •

5 Gallon Pails available on Order. Please Phone to order.



Note: Vinyl Sealer may be applied over raw wood or filled and stained substrates.

Also available for Aerosol applications
CLASSIC Stringed INSTRUMENT LACQUER • UPS Ground Only •
Click above:
Label Text & Application Information
CLASSIC Stringed INSTRUMENT Lacquer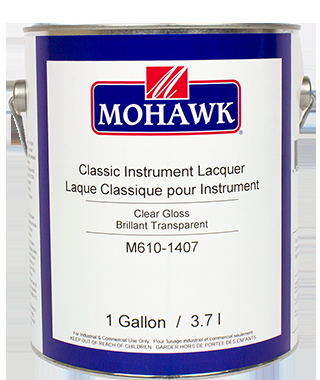 Classic Stringed Instrument Lacquer is a high quality
nitrocellulose lacquer specifically designed for wooden stringed instruments.

Stringed Instrument Lacquer allows for the special expansion and contraction
that occurs due to the unique construction of stringed instruments.
Note:
Stringed Instrument Lacquer must be applied over our Vinyl Sealer in order
to assure its unique film building and special finish characteristics.
Also available in Aerosol
LACQUER REDUCER / THINNER 2255 • UPS Only •
LACQUER REDUCER 2255
(Lacquer Thinner)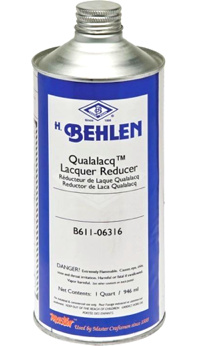 A special blend of solvents formulated for thinning nitrocellulose lacquers.

Use to thin:
• Lacquer Sanding Sealer
• Vinyl Lacquer Sanding Sealer
• Mohawk Nitrocellulose Lacquers
• Classic Stringed Instrument Lacquer.

Thinner improves flow of lacquers and adjusts viscosity for the spray equipment used.
M650-010 & B611-0631
(Avoid using more than 15 % by volume of the lacquer)

Aerosol, GUITAR TONER Lacquers • UPS Ground Only •
GUITAR TONER Lacquers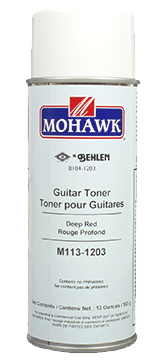 Aerosol colors shown for comparison only,
color rendering subject to computer monitor limitations.
M113-1201
Encore Brown
B104-1202
Starcast Amber

M113-1203
Deep Red
Toners are used to add shading effects to the guitar. Made from fade resistant dyes in lacquer,
they apply transparent color so the beauty of the wood shows through, yet they are strong
enough that several coats will create the dark sunburst effect that is so popular on guitars.
Starcast Amber applies the basic light tone colors of the guitar. Encore Brown is used to tone
the body sides of acoustic guitars, which are typically darker than the soundboard.
The new DEEP RED M113-1203 is used on guitars, stringed, and percussion instruments;
use to tone edges or create a solid opaque Red color with a few more coats.

Ground HIDE GLUE
Ground

HIDE GLUE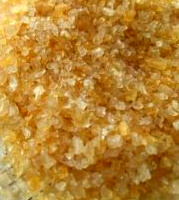 Ground hide glue is the traditional luthier's glue. It creates stronger wood joints than bottled liquid hide glues. Ground glue granules are mixed approximately 50 / 50 with hot water
and kept warm during use.
Although this glue has a quick grab it still allows
you to re-position
the piece for an extended period prior to setting.
Ground Hide Glue is used extensively in wood veneering, chair making, guitar manufacture,
stringed instrument making and repair, antique repair and restoration,
and in cabinet making.

Hide Glue can also be used to create a crackle effects over oil
or latex based under coats.
Grade:

"192" gram strength.

Made in the USA
TACK CLOTHS
TACK CLOTHS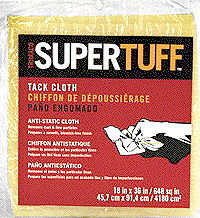 Remove dust, dirt, lint and sanding dust residue before and between sealer
and finish coats when shellacking, staining, varnishing, antiquing, and painting.

Use just before finishing to remove the very last bit of dust
from any surfaces that would be considered clean and ready to finish.
Tack Cloths are in individually sealed packages (and Reusable)

For reuse, and to protect from contamination, store cloth in a reclosable bag.

PUMICE STONE (Powdered Abrasives)
Click above for Label Text & Directions
PUMICE STONE Abrasives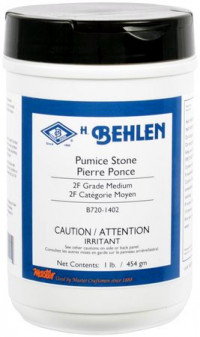 PUMICE Stone - 2F Powdered (Medium Fine, #00)
Powered Pumice is used as an abrasive and in abrasive compounds for rubbing down
wood finishes. When used for rubbing down finishes use water or rubbing oil
as a lubricant to control the finish rubbing.

PUMICE Stone - 4F - Powdered (Fine, #0000)
4F Pumice is used after the medium pumice rubbing and prior to rubbing
with rottenstone or fine rubbing and polishing compounds. Add water,
or rubbing oil, as a lubricant to control the cutting rate during final finish polishing.

PARAFFIN OIL 'Rub Cut™' Lubricant • UPS Ground Only •
PARAFFIN OIL 'Rub Cut™' RUBBING Lubricant
Paraffin Oil is used as a lubricant for rubbing a finish to sheen
with abrasive papers, steel wool, synthetic pads,
pumice or rottenstone.
Saves both time and effort and yields a more even rubbing result.