Shellac.net

Wood Finish Supply
&

MERIT Industries.com




Select Products for Traditional Furniture Finishing, Touch-Up, Repair and Maintenance
---
BURN-IN STICKS & Supplies
---
BURN-IN Sticks & Supplies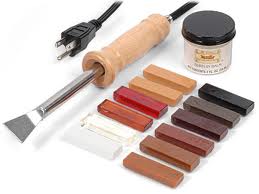 H.BEHLEN Burn-In Sticks (aka Hot Melt sticks) are manufactured from the finest colorants and resins. Distinctly superior in every respect. Will not lift out and accepts any type of finish. May be leveled using traditional hot knife methods or by using Wool Lube™, sandpaper, and a rubbing block.
Burn-In Sticks may be used on virtually any type of surface including marble.

When used on marble, the surface should be preheated to assist adhesion.

View Video - Burn-In Procedure

---
BURN-IN KNIVES - FLARED ANGLE (Sharp Ends)
BURN-IN KNIFE - Sharp Edged

- Wood Handle
Beveled Sharp End


The beveled knife edge is used for fine details and inserting grain detail into burn-in repairs.
Blades: • Small
(shown above)
= 3/8 in. wide x 3-3/8 • Large = 3/4 in.wide x 4

--

Made in the USA
H. BEHLEN BURN-IN STICKS (Hot Melt Lacquer Sticks)
Click link above for Colors & More Info
See the Burn-In Instructional Video
BEHLEN BURN-IN STICKS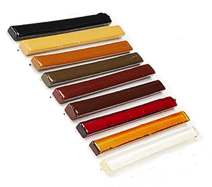 are a hot melt resin stick for dent, gouge, and damage repairs on wood,
also for chip & void repairs on marble. (aka, Lacquer Sticks)
full size 7" sticks
18 Colors

available individually, Sets of 6, or a Master Set of all 18.
See the MERIT Burn-In / Patch Stick 24 color assortment
TRANSPARENT Burn-In STICKS
TRANSPARENT BURN-IN STICKS
(Made in the USA by Merit Industries) - - - - 7 in x 1/2 x 3/8

To order One Dozen of a Color, See: MERIT Burn-In Stick Master Number Listing
QUICK FILL® BURN-IN Sticks (Low Heat)
Click Above for Color Guide
QUICK FILL® BURN-IN STICKS
make filling defects quick and easy.
The Quick Fill Low Sheen filler is designed to fill nicks, dents, and scratches,
it's the perfect filler for floors, cabinetry, vinyl wrapped products and photo processed laminates.
Quick Fill® is applied using the Micro Therm™ Flameless Heat Gun, B900-3215
Level without the use of burn-in knives or sandpaper,
simply scrape away excess with a leveler (credit) card.

• Low sheen
• Quick simple application.
• Use for floor nail holes and other small defect repairs.
• Perfect for production, field service technicians, cabinet & floor installers.


LEVELER CARDS for QuickFill
LEVELER CARDS
The Leveler Card is used with Behlen Quick Fill® Burn-In Sticks to level the burn-in
or to scrape away any excess. Also used to level fill sticks.
(One Card included with the Heat Gun & the QuickFill Set of 12)
Shellac.net Wood Finish Supply / MERIT Industries.com
2325 #A First St. Napa CA 94559

Assistance in placing your order - 9:30am to 4:30pm Pacific Time: 877-245-5611
rev 9/21/18
---


Email: orders@shellac.net ... to: Ordering Information ... Privacy Policy
---