---
---
Shellac.net Wood Finish Supply & MeritIndustries.com
Home of: MohawkFinishSupply.com
Authorized Mohawk Distributor
Select Products for Traditional Furniture Finishing, Touch-Up, Repair and Maintenance
At this time we continue to ship & support our loyal customers
as COVID-19 virus continues to close businesses.
Our showroom will be closed to protect staff and customers.
Email or phone orders can be picked up with 'Curbside Delivery'
For details about Pick-Up orders, or questions,
Phone 707-391-4042 Monday - Saturday

Your On-line Web Orders will be shipped promptly via Mail or UPS
Wood Finish Supply, Merit Industries & Shellac.net
Thank You for your support, we appreciate your business
Ron, Pete & Shannon
---
---
BURN-IN STICKS & Supplies
---
BURN-IN Sticks & Supplies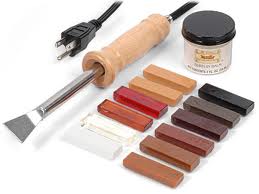 H.BEHLEN Burn-In Sticks (aka Hot Melt sticks) are manufactured from the finest colorants and resins. Distinctly superior in every respect. Will not lift out and accepts any type of finish. May be leveled using traditional hot knife methods or by using Wool Lube™, sandpaper, and a rubbing block.
Burn-In Sticks may be used on virtually any type of surface including marble.

When used on marble, the surface should be preheated to assist adhesion.

View Video - Burn-In Procedure

---
BURN-IN KNIVES - FLARED ANGLE (Sharp Ends)
BURN-IN KNIFE - Sharp Edged -
Wood Handle Beveled Sharp End

This beveled knife edge is used for fine details and inserting grain detail into burn-in repairs.
The shorter, narrower blade of the Small B900-SFA makes it the best choice (and our favorite)
for placing grain marks in open grain woods such as Ash and Oak

Blades: • Small
(Shown)
= 3/8 in. wide x 3-3/8in, long • Large = 3/4 in.wide x 4in. long --

Made in the USA
BURN-IN Balm / Hot Patch Lubricant
BURN-IN Balm™ Hot Patch LUBRICANT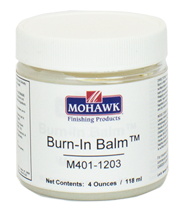 BURN-IN Balm is a heat resistant paste used to prevent damage
to the surrounding surface area as the excess Burn-In material
is removed while completing a burn-in repair.
Patch balm / Lubricant prevents unwanted spread of excess Burn-In Stick


T
he Burn-In Balm (patch lubricant) is applied to the surface
surrounding the burn in repair,
AFTER the Burn-In stick is applied.
The 1 Oz jar is ideal for on-site repair kits.
BURN-IN STICKS (Hot Melt Lacquer Sticks)
Click link above for Colors & More Info

Behlen / Mohawk BURN-IN STICKS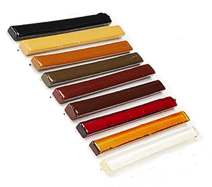 See the

Burn-In Instructional Video
Behlen / Mohawk Burn-In Sticks are a hot melt resin stick for dent,
gouge, and damage repairs on wood,
also for chip & void repairs
on stone and marble. (aka, Lacquer Sticks & Patch Sticks)

Colors available individually,
Sets of 6, or a
Master Set of all 18
full size 7" sticks
See the MERIT Burn-In / Patch Stick 24 color assortment
Click Here: SEE Additional Burn-In Colors from MERIT
MERIT Burn-In Sticks, Assortment of 18
MERIT Burn-In Sticks
,
Assortment of 18

Set of 18 -
full length
7 inch sticks (includes Sets #'s 1, 2, & 3)

Set 1 -

T

ransparents , Black, White
102 - Clear, 550 Transparent Honey Amber, 13 - Light Transparent Amber,
12 - Dark Transparent Amber, 1 - White, 27 - Black

Set 2 - Wood Tones Cherry - Mahogany - Rosewood
15 - Cherry, 65 - Medium Light Brown Mahogany, 32 - Rosewood / Dark Cherry,
37 - Red Mahogany, 38 - Dark Mahogany, 46 - Transparent Red - Brown Mahogany

Set 3 - Walnuts, Maple, Fruitwood
73A - Fruitwood / Maple / Pine, 5 - Light Golden Oak, 82- Dark Oak,
79 - Natural Walnut, 84 - Medium Brown Walnut, 54 - Extra Dark Walnut
Click Here to See : MERIT Burn-In Sticks by Color Category

GRAY Burn-In Sticks & Black
Merit Burn-In Sticks
,
GRAY
Tones & BLACK
Burn-In / Patch Sticks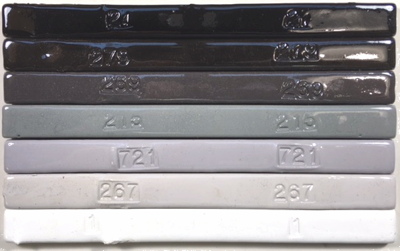 New !
Gray Tones
The range of gray MERIT Burn-In patch sticks,
when melted, may be intermixed or blended
with white or black to achieve intermediate tones.



Gray Tone Set ($3.32 each) of 6, includes 5 Grays & Black



To order by the Dozen -
Select Color Number
on the Color Number List
Note: #1 Pure WHITE shown for reference



Colors: Top To Bottom:
27 - BLACK, 279 - DEEP SHADOW (Almost Black),
269 - MEDIUM GRAY (Nebulus),
215 - LIGHT STORM GRAY
, 721 - PALE LIGHT GRAY (Pebble), 267 - LIGHT ASH GRAY, (reference 1 - White)
TRANSPARENT Burn-In STICKS
Merit Burn-In Sticks,
TRANSPARENT Burn-In / Patch STICKS
(Made in the USA by Merit Industries) - - - - 7 in x 1/2 x 3/8

To order One Dozen of a Color
, See: MERIT Burn-In St

ick Master Number Listing
QUICK FILLฎ BURN-IN Sticks (Low Heat)
Click Above for Color Guide and Application Information
Mohawk

QUICK FILL® BURN-IN STICKS
make filling defects quick and easy.
The Quick Fill Low Sheen filler is designed to fill nicks, dents, and scratches,
it's the perfect filler for floors, cabinetry, vinyl wrapped products and photo processed laminates.
Quick Fill® is applied using the Battery Powered Burn-In Knife or Micro Therm™ Flameless Heat Gun
Level without the use of burn-in knives or sandpaper,
simply scrape away excess with a leveler (credit) card.

• Low sheen
• Quick simple application.
• Use for floor nail holes and other small defect repairs.
• Perfect for production, field service technicians, cabinet & floor installers

Lt Red Mahogany
M320-0001

Deep Mahogany
M320-0002

True Brown
M320-0003


Ex Dark Walnut
M320-0004

Cherry
M320-0005

Red Brn Mahogany
M320-0006


Lt Golden Oak
M320-0007

Nutmeg
M320-0008

Heartwood Cherry
M320-0009

Cinnamon Sugar
M320-0010

Black
M320-0011

White
M320-0012
LEVELER CARDS for QuickFill
LEVELER CARDS
The Leveler Card is used with Behlen Quick Fill® Burn-In Sticks to level the burn-in
or to scrape away any excess. Also used to level fill sticks.
(One Card included with the Heat Gun & the QuickFill Set of 12)