---
Shellac.net Wood Finish Supply & MeritIndustries.com
Home of: MohawkFinishSupply.com
Authorized Mohawk Distributor
Select Products for Furniture & Cabinet Finishes, Touch-Up, Repair, Maintenance
• • •
New Hours Visit Our Showroom 9:00 - 4:00 Monday - Thursday 2465 Second Street, Napa Ca 94559
Thank You for your support, we appreciate your business, Ron & Pete.
---
---
MERIT Burn-In Sticks by Color Number
---


Merit BURN-IN Sticks are ideal for repairs of chips, dings
and dents on antique furniture and other wood surfaces finished with shellac.
The Shellac 'Hot-Melt' or 'Burn-In' stick is the preferred (reversible) repair material
for conservation and restoration studios working with traditional wood finishes.
Stone & Marble chip and void repairs:
Clean the repair spot of any dust, oils, waxes or other care products.
Carefully heat the repair area to assure the best flow and adhesion.

See: MERIT Burn-In Sticks Master Listing by Name
Or: MERIT Burn-In Sticks Listed By Color Category

Made in the USA by Merit Industries - - - - 7 in x 1/2 x 3/8
---
MERIT BURN-IN STICKS (Hot Patch Sticks) Listed By NUMBER

BURN-IN STICKS
Listed by Number
A traditional Shellac Burn-In (hot melt) Stick made from the finest shellacs and resins.
Ideal for use on older shellac finishes and for fine antique repairs.
Used for chip, dent, and hole repairs on wood, stone, & marble.
Accepts any type of topcoat, low heat will not lift or swell the repair.

(Made in the USA by Merit Industries)
- - - -
7 in x 1/2 x 3/8
• • • •

Only $5.00 each in packs of 12

• • • •

For a listing sorted by COLOR CATEGORIES (Click Here)
BURN-IN Balm / Hot Patch Lubricant
BURN-IN Balm™ Hot Patch LUBRICANT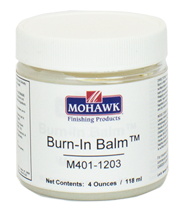 BURN-IN Balm is a heat resistant paste used to prevent damage
to the surrounding surface area as the excess Burn-In material
is removed while completing a burn-in repair.
Patch balm / Lubricant prevents unwanted spread of excess Burn-In Stick


T
he Burn-In Balm (patch lubricant) is applied to the surface
surrounding the burn in repair,
AFTER the Burn-In stick is applied.
The 1 Oz jar is ideal for on-site repair kits.