Shellac.net

Wood Finish Supply
/ MERIT Industries.com
Select Products for Traditional Furniture Finishing, Touch-Up, Repair and Maintenance
---
General Finishes WATERBORNE Stains, Dyes, Coatings
---

Professional Waterborne Topcoats, Dyes, Wood Stains, and Glazes

General Finishes manufactures the country's finest Water Base Wood Finish Products.
As a finishing PROFESSIONAL, look no further for fine water-based, eco-friendly furniture finishes,
dyes, chalk style paints, wood stains, cabinet finishes and superior green wood coating products.
These premium quality water-based liquid dyes, wood stains, glazes and waterborne topcoats
yield rich beautiful finishes limited only by your imagination.
Made in America

Water Based Wood Stains and Dyes
Water Based Dyes and Wood Stains allow you to create the truest, deepest colors possible on any wood species.

Water Based Topcoats and Sanding Sealers


Formulated to be durable and consumer friendly,

these "green" wood finishes
earn high marks in the wood finishing world.




View:

General Finishes Oil Based Finishing Materials


---
General Finishes Water Based DYE Stains
Click Above for Data & Application Information
Water Based DYES
General Finishes DYE Stains penetrate deep into the wood to magnify the grain beautifully.


Water Based DYES provide more depth and color vibrancy than any stain.

DYES are excellent for highly figured woods like mahogany, walnut, or maple.
Dye stains can also be used as a toner when mixed into Water Based Topcoats.


Interior applications only. Available: Pints, Quarts, Gallons
DYE Colors:
Amber, Light Brown, Medium Brown, Dark Brown, Cinnamon, Vintage Cherry,
Merlot (dark wine red), Empire Red, Yellow, Orange, Blue, Green, Ebony, Reducer - DO NOT Add Water.
To maintain the DYE working characteristics, use the dye REDUCER to extend or lighten the color.

General Finishes Water Based WOOD STAINS
Click Above for Data & Application Information
Water Based WOOD STAINS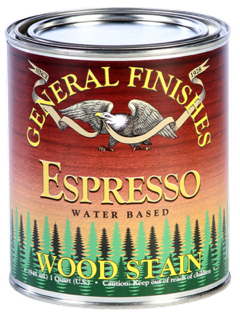 GENERAL FINISHES Water Based Wood Stains have all the advantages
of oil based stains: they spread easily, can be repaired,
blend effortlessly and have plenty of open time.
The thicker formula allows controlled penetration, which will reduce blotching
on softer woods such as Aspen, Pine, and Soft Maples.
For Interior applications Only.
Available: Pints, Quarts, (& on order Gallons)

Colors:
White Wash, Natural, Country Pine, Golden Oak, Antique Oak, Pecan, Shaker Maple,
Early American, Antique Cherry, Black Cherry, Rosewood, Walnut, Brown Mahogany, Espresso
Not Pictured: Weathered Gray, Black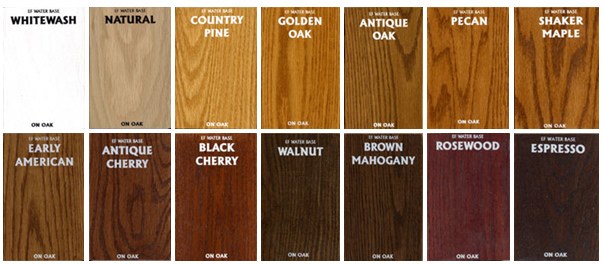 Enduro EXTENDER
Click Above for Data & Application Information

General Finishes Water Base EXTENDER / Retarder
(The Hot Weather Additive)

General Finishes Enduro Extender (retarder) is a wetting additive
used to increase the drying time of any water based stain, topcoat or glaze.

This additive is extremely helpful in managing too rapid drying
of waterborne finishing materials in very warm, dry or drafty conditions.
Interior & Exterior (can be mixed into any water base product)
Helps eliminate overspray and ensure a smooth finish film.
Extender allows more working time and helps penetration for better adhesion in hot weather.

Available sizes:
Pint Bottle (16 Oz.), 4 Ounce, Gallon

ENDURO Water Base SANDING SEALER
Click Above for Data & Application Information

ENDURO Waterborne SANDING SEALER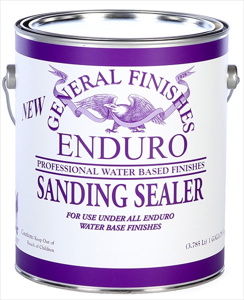 Enduro Waterborne Sanding Sealer is a clear undercoat
that forms an easily sandable foundation for any interior finish.
Use under all Enduro topcoats, to provide improved water
and chemical resistance. The high solids content builds a fast film.
Dries tack free in 10-20 minutes.
Water CLEAR
Brushable or Sprayable
Coverage: Quart, 150 Sq. Ft. -- Gallon, 600 Sq. Ft.

ENDURO-VAR Water Borne Urethane Varnish
Click Above for Data & Application Information
Enduro-Var Urethane Varnish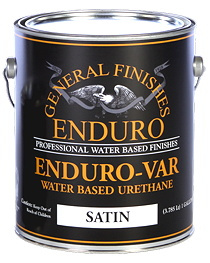 GENERAL FINISHES Enduro-Var is a self cross-linking polyurethane
that looks more like an oil varnish than a water coating.
Enduro-Var is durable is a sprayable and brushable slightly amber varnish
suitable for INTERIOR residential projects such as cabinets and millwork.

Enduro-Var ADHERES WELL only over WATER STAINS, DYE STAINS,
and RAW WOOD. Use Enduro-Var over any other surfaces at your own risk.
It will adhere over an oil stain, ONLY IF the stain is completely dry
(minimum 4 days drying).

Available Sheens: GLOSS, SEMI-GLOSS, SATIN, and FLATT -- Application: BRUSH, ROLL or SPRAY

HIGH PERFORMANCE Interior Polyurethane Topcoat
Click Above for Data & Application Information

HIGH-PERFORMANCE
™
Interior Top Coat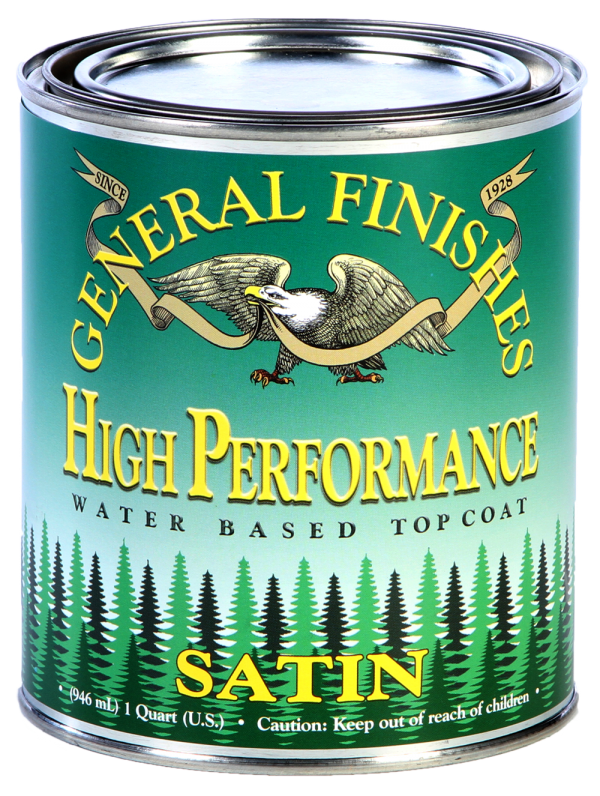 "High-Performance™ Interior Top Coat was voted as the hardest,
most durable consumer polyurethane top coat."
Winner of Fine Woodworking's 'Best Overall' Choice Award.
Application: Brush, Roller, or Spray
High-Performance Top Coat contains a UV Stabilizer to retard finish breakdown in sunlight.
With its pure polyurethane durability, this is the most durable product.
Color: Water White (Dries CLEAR).
Note: Water topcoats can pull tannin, stains, and dyes from surfaces that are not properly prepared.

Enduro ACCELERATOR
Click Above for Data & Application Information
Enduro ACCELERATOR

General Finishes Enduro Accelerator is an additive
that shortens the dry time for water base wood finishes.
Use to accelerate drying of waterborne finishes in humid and damp conditions.
Available:
PINT (16 Oz) Bottle, and Gallon

Shellac.net Wood Finish Supply / MERIT Industries.com
2325 #A First St. Napa CA 94559
Assistance in placing your order: 877-245-5611
rev.3/10/18
---