Shellac.net

Wood Finish Supply
/ MERIT Industries.com
Select Products for Traditional Furniture Finishing, Touch-Up, Repair and Maintenance
---
BRUSH, WIPE / PAD On Finishes
---
Oil Based SEAL-A-CELL (Clear)
Click Above for Data & Application Information

Oil Based SEAL-A-CELL
(Clear)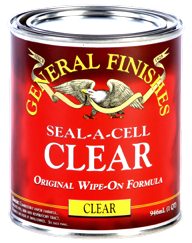 A time-tested formulation of oils, urethanes, and waxes, Seal-A-Cell Clear for decades has served craftsman as the best way to get that "natural" look on beautiful woods that aren't to be stained.
The oils penetrate deep within the wood to highlight the warm natural look and the urethane ensures a deep hardness. Follow with multiple coats of Arm-R-Seal topcoat.

Seal-A-Cell can be wiped on or applied with a natural bristle or foam brush.
Use as a wood conditioner; to control penetration of stains, to dilute other stains,
and as a base to add universal tints to achieve custom colors.
Seal-a-Cell has a very slight ambering quality, the least ambering of GF's oil based sealers.
Arm-R-Seal Oil Based Urethane Topcoat
Click Above for Data & Application Information

ARM-R-SEAL Oil Based Urethane Interior Topcoat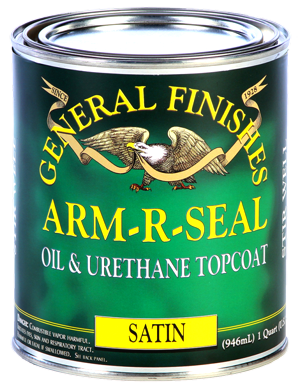 Arm-R-Seal topcoats are made with only the highest quality urethane resins,
making them extremely hard, durable, and long lasting.
Traditional Warm Amber Tone.
Application: Brush, Roller, or Spray.
Available Sheens: Gloss, Semi-Gloss, Satin
Coverage: Quart, 100 Sq. Ft. -- Gallon, 400 Sq. Ft.


Pure Raw TUNG OIL (China Wood Oil)
Pure Raw TUNG OIL
aka
China Wood Oil or China Nut Oil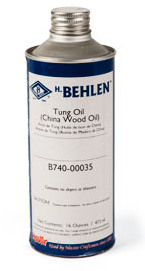 Tung Oil is the most water, caustic acid, heat and mildew resistant
of all the oil finishes,
it is also the most durable.
Tung Oil is also used to manufacture many different types of varnish.
Use only on new bare wood or on wood that is fully striped, clean and ready to be refinished.
Apply with a small rag.
Due to Behlen's Pure Tung Oils' concentration,
a ratio of 4 parts Mineral Spirits to one part Tung Oil is suggested,
(especially for penetration on hard woods and first coats).


Avoid Spontaneous Combustion - Dispose of rags properly.
SALAD BOWL FINISH CLEAR • UPS Ground Only •
Click
above for Application Information
SALAD BOWL FINISH
Clear
Behlen Salad Bowl Finish has been specially formulated to allow the following statement. "This product contains FDA regulated ingredients complying with
21 CFR 175.300." and therefore achieves a non-toxic, safe for food contact
(in its cured state) finish.
Behlen Salad Bowl Finish has the application ease of an oil finish (just use a clean white cloth) and the film building and sheen producing (up to a satin) qualities of a varnish. Wooden bowls, wooden utensils, butcher block counters
when finished with Salad Bowl Finish may be used in contact with foods.

Child safe for use on toys, recreational related objects (games, puzzles), and infant furniture.

(NOT intended for use on cutting boards or cutting blocks)

SealCoat Universal Sanding SEALER (Shellac) • UPS Ground Only •
Click above for Product Data
SealCoat
™
Universal Sanding Sealer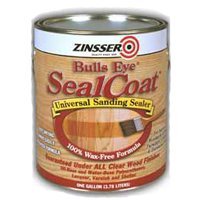 SealCoat
offers the time-saving versatility of a
refined Dewaxed Shellac in a pre-mixed 2 lb. cut 100% wax-free formula.
It's the perfect sanding sealer because it penetrates the surface, dries quickly,
gives a rich tone to wood surfaces and since it contains no waxes or stearates.
SealCoat is guaranteed to be compatible with oil-base polyurethanes,
acrylic finishes, lacquers, catalyzed finishes, and varnishes.
SealCoat™ won't raise the grain and dries quickly.

Deft Brushing Lacquer Clear Wood Finish • UPS Ground Only •
Deft Brushing Lacquer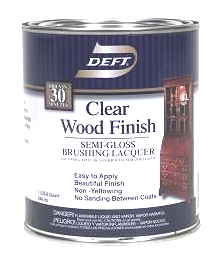 • Dries in 30 minutes
• Recoat two hours
• No need to sand between coats
• Dries crystal clear
• Self leveling formula means no brush marks
• Easy touch up - new coat melts into previous coats
• Resists water, alcohol, fruit juice, and other common household spills
• Solvent/Oil based formula. Clean brushes with lacquer thinner.
Rockhard™ TABLE TOP Urethane VARNISH • UPS Ground Only •
Click link for Product Data
Rockhard™ TABLE TOP Urethane VARNISH
(Gloss & Satin)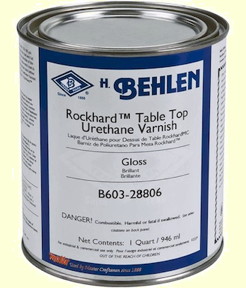 Rockhard™ Table Top Urethane Varnish is the coating of choice when you want
a hard finish that will deliver maximum resistance to water, alcohol, food stains, chemicals, detergents, and other damaging liquids.
Its toughness also makes Rockhard suitable for many other uses like wooden chairs, benches, desks, dressers, chests of drawers, vanities, bookcases, and many more.

REDUCER and for cleaning brushes or tools use Mineral Spirits.

WATERBORNE Rockhard™ Brushing Varnish
New !
H. Behlen WATERBORNE Rockhard™ Brushing Varnish
i

s a high quality, non-yellowing acrylic / urethane top coat
that
provides a beautiful finish that will enhance the beauty of wood projects.
Rockhard™ WATERBORNE Brushing Varnish is low odor, fast drying
and low VOC. It is easy to apply and has excellent leveling properties.
It is a high solids, self-sealing finish that provides faster build with
fewer coats for superior results. Available in Semi-Gloss, Satin, & Flatt sheen.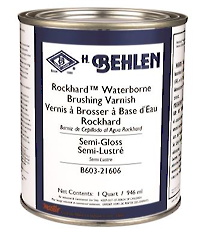 Rockhard™ WATERBORNE Brushing Varnish Highlights:
• Urethane / Acrylic blend
• Low odor
• Easy to use
• Can be applied with brush
• Dries quickly
• High solids
• Excellent leveling properties

!
B603-21606 -- Semi-Gloss (Sealer & build coats)
B603-21406 -- Satin
B603-21206 -- Flatt
NOTE: Please Click Here For the Original BEHLEN ROCKHARD TABLETOP VARNISH

QUALASOLE (French Polish)
Click above for Product Data
QUALASOLE
™
-

The modern "
French Polish"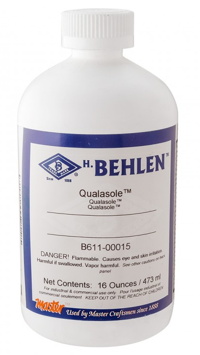 Qualasole™ fortified Fench polish is an valuable product in the cabinet finishing department.

No oil is required for French polishing, padding, touching up, or renovating.

Apply Qualasole™ with a pad to raw wood or over any cured shellac, varnish, lacquer,
paint or enamel finish in the same manner as French polishing. A superior and durable finish is obtained in a fraction of the time as compared to the old method.
Behlen Qualasole™ affects speedy, permanent, new finishes and renovations that do not show press marks after handling or transportation. Qualasole™ accentuates the wood grain and natural markings and produces a beautiful appearance that improves with age.

FRENCH LAC (Shellac French Polish)
FRENCH LAC



French Lac

, a Shellac French Polish, is packaged in a ready to use formula.
French Lac is a Light Amber French Padding Finish,
suitable for use on the lightest of finishes.

French Lac, French Polish has been job tested for years
by professional repair restorers, to develop a complete surface or to spot repair a finish.


BEHLEN MASTER GEL FINISH
Click above for Label Text
BEHLEN MASTER GEL FINISH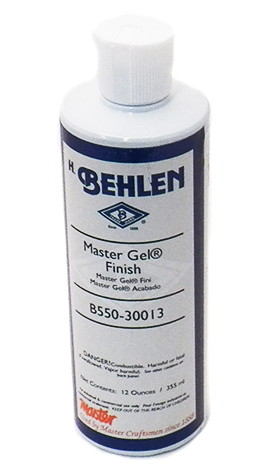 A top coat for bare, dyed or stained wood.
• Unique gel form
• Easy-to-apply
• No mess, no brush marks
• Excellent as a wood turning finish.
Master-Gel is self-sealing (no sealer coat is required) and virtually colorless when dry.
Imparts a lustrous urethane finish to wood, protecting it against water and alcohol staining.
Master-Gel® Finish can be applied with a lint free cloth.
Dries overnight.
Allow to dry 4 hours prior to re-coating.
Omega LILY VARNISHER'S / SHELLAC BRUSHES
More Info: Click Above
SHELLAC & VARNISHER'S
Brushes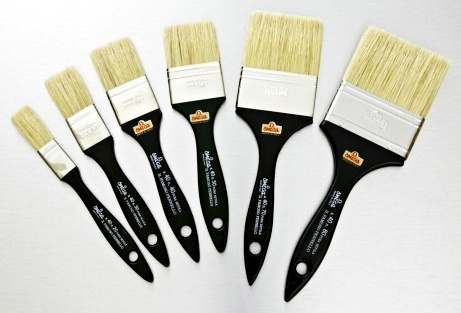 Natural Bristle Single fill,
Only (1/4 - 5/16 in) thick.
Classic glider design, ideal for Shellac & Varnish.
This brush will yield a thin, uniform application
of shellac or varnish.
The natural bristle brush is ideal for
shellac, varnish,
and faux finishing of woodwork and furniture.
Pictured Sizes 20 - 80 mm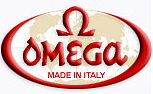 Genuine OMEGA, made in Italy.
Shellac.net Wood Finish Supply / MERIT Industries.com
2325 #A First St. Napa CA 94559

Assistance in placing your order - 10am to 5pm Pacific Time: 877-245-5611
rev 8/14/18
---
---





Email: orders@shellac.net ... to: Ordering Information ... Privacy Policy
---
---