Shellac.net

Wood Finish Supply
&

MERIT Industries.com




Select Products for Traditional Furniture Finishing, Touch-Up, Repair and Maintenance
---
MERIT Burn-In Sticks by Color Name
---


Merit BURN-IN Sticks are ideal for repairs of chips, dings
and dents on antique furniture and other wood surfaces finished with shellac.
The Shellac 'Hot-Melt' or 'Burn-In' stick is the preferred (reversible) repair material
for conservation and restoration studios working with traditional wood finishes.
Stone & Marble chip and void repairs:
Clean the repair spot of any dust, oils, waxes or other care products.
Carefully heat the repair area to assure the best flow and adhesion.

See: MERIT Burn-In Sticks Master Listing by Number
Or: MERIT Burn-In Sticks Listed By Color Category

Made in the USA by Merit Industries - - - - 7 in x 1/2 x 3/8

---
MERIT Burn-In Sticks, Assortment of 18
MERIT Burn-In Sticks
,
Assortment of 18
Contains 18
full length
7 inch sticks:
Set 1 - Transparents , Black, White
102 - Clear, 550 Transparent Honey Amber, 13 - Light Transparent Amber,
12 - Dark Transparent Amber, 1 - White, 27 - Black

Set 2 - Cherry - Mahogany Wood Tones
15 - Cherry, 65 - Medium Light Brown Mahogany, 32 - Rosewood / Dark Cherry,
37 - Red Mahogany, 38 - Dark Mahogany, 46 -
Transparent Red - Brown Mahogany

Set 3 - Walnuts, Maple, Fruitwood
73A - Fruitwood / Maple / Pine, 5 - Light Golden Oak, 82- Dark Oak,
79 - Natural Walnut, 84 - Medium Brown Walnut, 54 - Extra Dark Walnut

to:
MERIT
B
urn-In Sticks
by Color Category
Merit BURN-IN STICKS (Hot Melt Sticks)
Merit SHELLAC BURN-IN Sticks
Listed by Color Name
A traditional Shellac Burn-In (hot melt) Stick made from the finest shellacs and resins.
Ideal for use on older shellac finishes and for fine antique repairs.
Used for chip, dent, and hole repairs on wood, stone, & marble.
Accepts any type of topcoat, low heat will not lift or swell the repair.

(Made in the USA by Merit Industries)
- - - -
7 in x 1/2 x 3/8
For a listing by Stick COLOR NUMBER (Click Here)
For a listing sorted by COLOR CATEGORIES (Click Here)
TRANSPARENT Burn-In STICKS
TRANSPARENT BURN-IN STICKS
(Made in the USA by Merit Industries) - - - - 7 in x 1/2 x 3/8

To order One Dozen of a Color, See: MERIT Burn-In Stick Master Number Listing
STICK SHELLACS
STICK Shellac
(Hot Melt Instrument Repair Sticks)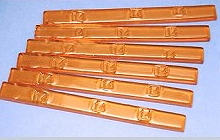 STICK Shellacs ('hot melt sticks') are made from select shellacs and resins.
Stick Shellac is the classic adhesive for woodwind pad installation.
Some musicians find a more favorable tonal quality as a result of using Stick Shellac, and the firm, defined tactile response on key closure with the harder shellac as compared to more pliable thermoplastic adhesives.
The #14 Medium Amber is made to blend with tan leather pads.
This adhesive formula is manufactured specifically for instrument repairs.
(Made in the USA by Merit Industries) - - - - 7 in x 1/2 x 3/8

BURN-IN KNIVES - FLARED ANGLE (Sharp Ends)
BURN-IN KNIFE - Sharp Edged -
Wood Handle Beveled Sharp End

This beveled knife edge is used for fine details and inserting grain detail into burn-in repairs.
The shorter, narrower blade of the Small B900-SFA makes it the best choice (and our favorite)
for placing grain marks in open grain woods such as Ash and Oak

Blades: • Small
(Shown)
= 3/8 in. wide x 3-3/8in, long • Large = 3/4 in.wide x 4in. long --

Made in the USA