---
Shellac.net Wood Finish Supply & MeritIndustries.com
Home of: MohawkFinishSupply.com
Authorized Mohawk Distributor
Select Products for Furniture & Cabinet Finishes, Touch-Up, Repair, Maintenance
• • •
New Hours Visit Our Showroom 9:00 - 4:00 Monday - Thursday 2465 Second Street, Napa Ca 94559
Thank You for your support, we appreciate your business, Ron & Pete.
---
---
SOLVENTS, Thinners, Reducers
---
WAX WASH Cleaner & WAX REMOVER • UPS Only •
To: Info & Label Text
WAX WASH DE-WAXER WOOD CLEANER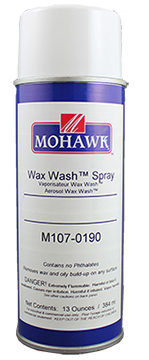 WAX WASH / De-Waxer Wood & Finish CLEANER
& WAX REMOVER
is a specially formulated blend of solvents.

For best repair and rub-out results, first prepare and clean the surfaces with

WAX WASH / De-Waxer to remove waxes, oil and other foreign material
from bare woods, new finishes, and aged wood finishes.

Wax deposits that remain after the use of paint, lacquer, and varnish removers
can be eliminated with use of WAX WASH / De-Waxer
Available: Quart M712-1906 & Aerosol M107-0190
DENATURED ALCOHOL (Behkol) Shellac Reducer • UPS Only •
Click above for more info About Denatured Alcohols:
DENATURED ALCOHOL
Shellac Reducer / Solvent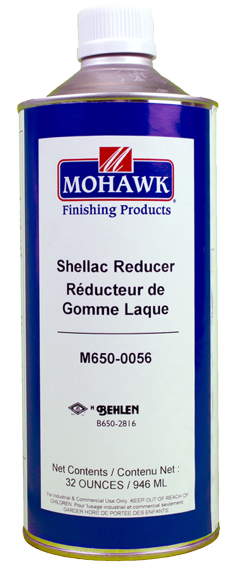 DENATURED ALCOHOL, Mohawk Shellac Reducer (formerly Behlen Behkol),
is formulated specifically to dissolve shellac flakes
and dilute or 'cut' liquid Shellacs.
See the: Shellac Pound Cut Mixing Chart
Denatured Alcohol, Shellac Reducer (formerly labeled Behkol) will make a shellac that has
a little more open or 'working time', a good solvent choice for mixing your own shellac.
Also used to dissolve alcohol Aniline Dyes.

• • 5 Gallon pails are Pick-Up, or North Bay & Bay Area Delivery Only. Call to arrange details.

Note: The SAME PRODUCT in 1 & 5 Gallon packaging now carries the Mohawk 'Finishers Edge' label.

• LACQUER REDUCER / THINNER 2255 • UPS Only •
PLEASE Click Above for Additional Information
LACQUER REDUCER - MOHAWK / Finishes Edge Lacquer Thinner

2255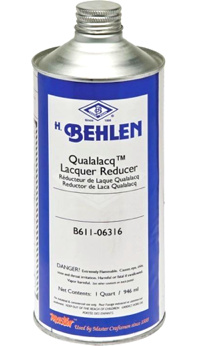 A special blend of solvents formulated for thinning nitrocellulose lacquers.

Use to thin:
• Lacquer Sanding Sealer
• Vinyl Lacquer Sanding Sealer
• Mohawk Nitrocellulose Lacquers
• Classic Stringed Instrument Lacquer.

Thinner improves flow of lacquers and adjusts viscosity for the spray equipment used.
(Avoid using more than 15 % by volume of the lacquer)
Note: 5 Gallon Pails are PICK-Up or DELIVERY Only - Please Phone ahead

Information Sheet, View or Print: Solvents For Your Lacquer Finishes

FLASH-OFF™ CONTROL SOLVENT, M716-500 / FE200-014-1 • UPS Only •
Product Data Sheet: PLEASE Click Above

FLASH-OFF™ CONTROL SOLVENT
(The Hot Weather Additive)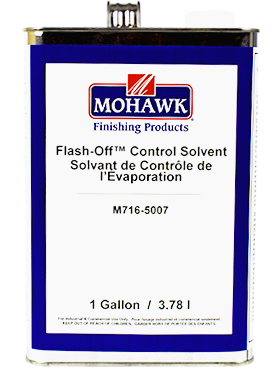 Flash-Off is used to improve the flow of lacquers
and lacquer sealers

without slowing the drying.


The addition of a

few ounces of Flash-Off Control Solvent per gallon


of lacquer will eliminate orange-peel and over-spray roughness.
Flash-Off will improve flow and overall film smoothness.


For Use:
Add 3 to 5 ounces per gallon in all Mohawk nitrocellulose,
pre-catalyzed lacquer and
post-catalyzed lacquer coatings. More
may be added up to10% by volume if needed but it will increase dry time.
Do Not add to water base lacquers or conversion varnishes. (NOT for use with Shellac)

Flash Off is NOT a Blush Retarder. Blush (the white haze due to humidity in the air or moisture
in the spray line) is common in rainy or high humidity weather. To control blush, use Blush Retarder.
PLEASE View or Print : LACQUER SOLVENT Information SHEET

NO BLUSH™ RETARDER • UPS Only •
Information sheet to Print or View: PLEASE Click Above

No Blush
&
Super Blush RETARDER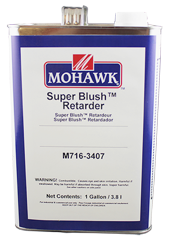 Corrects finish blushing common during high humidity or cool rainy weather.
MOHAWK Aerosol No Blush™ Retarder is a blend of slow evaporating
solvents to be used with all Mohawk nitrocellulose, pre-catalyzed lacquer,
and post-catalyzed lacquer coatings.
Small amounts may be applied to correct most flow, blushing
or leveling problems that occur during application in rain / humid environments.
• Improves leveling
• Extends flash and dry times
Super Blush™ Retarder is a premium, very slow solvent for use where
conditions of extremely high heat and humidity exist. Use in small amounts to eliminate blushing, and enhance flow and leveling of nitrocellulose, pre-catalyzed, and post-catalyzed lacquer coatings.
Note: To Control Orange peel & Over-spray, USE Flash Off Control Solvent.

ACETONE
ACETONE

MOHAWK

Finishers Edge


FE200-001-1 Gallon Acetone is a virgin quality VOC exempt solvent
used for clean up, and reducing many types of stains and some
coatings without increasing the VOC content of the product.
Users should consult the manufacturer's label or test to insure solvent compatibility.


• Virgin quality, Not reclaimed. • Fast dry, zero VOC
MINERAL SPIRITS • UPS Only •
MINERAL
SPIRITS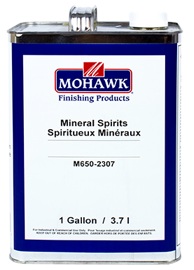 Mineral Spirits are a petroleum distillate;
used for reducing oil base color concentrates,
stains, and varnishes.
5 Gallon Pails Pick-Up or Delivery Only,
To Place Order, Phone 877-245-5611



NAPHTHA Solvent / Thinner • UPS Only •
NAPHTHA --- Solvent & Thinner

aka:

Varnish Makers and Painters Naphtha (VMP Naphtha)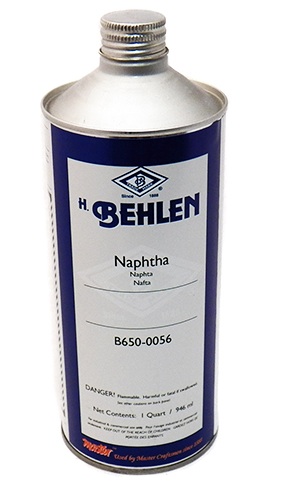 Naphtha is used to thin the viscosity and improve brushing of solvent / oil based
varnishes, paints, enamels and for general cleaning of these solvent based finishes.
A Petroleum distillate; used for reducing Paste Wood Fillers, and some stains.
Naphtha can replace mineral spirits or paint thinner and
will help accelerate drying time of oil based paints, enamels and varnishes.
Naphtha is Also used as a clean-up solvent.

Note: Do Not use for thinning or reducing: lacquers, shellac or latex paint.

TWO MINUTE REPAIR LIQUID • UPS Only •
TWO MINUTE TOUCH-UP REPAIR Brushing Liquid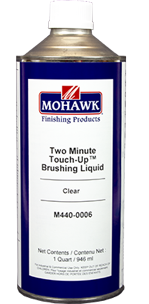 TWO MINUTE TOUCH-UP REPAIR Brushing Liquid
is a special formula, clear, quick drying, brush-on,
touch-up repair finish.
TWO MINUTE TOUCH-UP may be used to create
a permanent stain repair by mixing with Blendal Furniture Powders.

Create a quick drying graining liquid
by reducing the Touch-Up with Lacquer Thinner.



Ultra Penetrating & Solar-Lux NGR RETARDER • UPS Only •
Ultra Penetrating & Solar-Lux NGR DYE RETARDER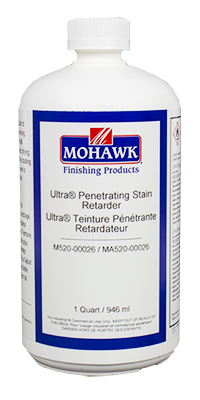 NGR (non grain raising) DYE RETARDER
slows evaporation and drying of NGR Dyes to give more working time
and improve penetration, especially on hard dense woods.

With the newer Dye VOC Compliant formulation,
use of the NGR DYE RETARDER is HIGHLY RECOMMENDED
especially for dye application by hand.


VULPEX, Non-Foaming, Acid-Free, Germicidal CLEANER
Click above for Instructions

Click Here to:

Print or View VULPEX Instruction Sheet
VULPEX CLEANER Liquid Soap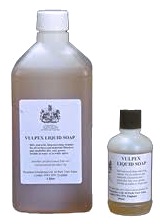 Vulpex is a safe cleaner for leather, furniture, carpets, oil paintings,
armour, precious metals, shell, marble, feathers, costumery, and stone.
Vulpex rinses away completely. Not harmful to health or property.

Since its introduction in 1970, its extraordinary versatility has made
Vulpex a popular and indispensable medium in all branches of professional
restoration and conservation of fine arts and historic items.

Vulpex is supplied as a concentrate & Must be mixed with water
or Stoddard's solvent (or mineral spirit) prior to use.
Renaissance METAL DE-CORRODER
Click above for De-Corroder Information
- - See:

Printer Friendly Information Sheet
METAL DE-CORRODER
i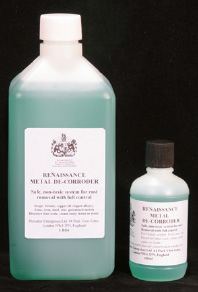 s a Safe, Non-Toxic System for Rust Removal with Full Control

.
Amine complex of hydro-oxycarboxilic acid in aqueous solution
pH: Approximately 4.0

Use on: Iron, bronze, copper and copper alloys, brass, steel, zinc and galvanized materials. Also effectively cleans scale and rusty water stains.

Treatment selectively ruptures the bond between base metal and corrosion layer, reducing rust to a sludge, which is easily wiped or brushed away.
Clean-water rinse stops the process.


Enduro EXTENDER, Hot Weather Additive
Click Above for Data & Application Information

Water Base EXTENDER / Retarder
(The Hot Weather Additive)


General Finishes Enduro Extender (retarder) is a wetting additive
used to slow & increase the drying time of any water based stain, topcoat or glaze.

This additive is extremely helpful in managing too rapid drying
of waterborne finishing materials in very warm, dry or drafty conditions.
Interior & Exterior (can be mixed into any water base product)
Helps eliminate over-spray and ensure a smooth finish film.
Extender allows more working time and helps penetration for better adhesion in hot weather.

Available sizes: Pint Bottle (16 Oz.), 4 Ounce, Gallon

Enduro ACCELERATOR
Click Above for Data & Application Information
Enduro ACCELERATOR
for waterborne finishes

General Finishes Enduro Accelerator is an additive
that shortens the dry time for water base wood finishes.
Use to accelerate drying of waterborne finishes
in cool, humid and damp conditions.

Available:
PINT (16 Oz) Bottle, and Gallon