---
---
Shellac.net Wood Finish Supply & MERIT Industries.com
An Authorized Mohawk Distributor

Select Products for Traditional Furniture Finishing, Touch-Up, Repair and Maintenance
---
---
Aerosol, Jet Spray & Tone Finish LACQUER TONERS • UPS Ground Only •
Aerosol JET SPRAY Pigmented Toners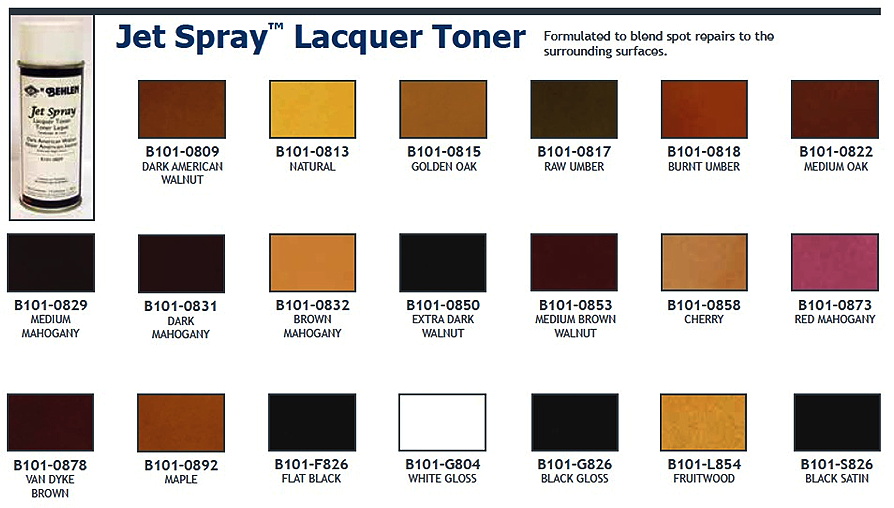 Aerosol toner colors are shown for comparison only, color rendering subject to computer monitor limitations.
These translucent colors will yield their final color based on the tone of the finish on which they are applied.
Note: The White & Black are Opaque Lacquers, Not Translucent.
Lacquer toners may be inter-layered to adjust a final tonal result.
They may be used as a final finish, however for better protection
and to achieve the correct sheen, they should be top coated with a clear aerosol of the desired sheen.
To assure correct and even color during a spray session
PLEASE SHAKE WELL for 2 Minutes to blend the pigments and dyes. Aerosols work best around 70° F.

Please See: The Importance of Agitating and Clearing the Aerosol tube
For dye based Clea / translucent colors and to for color corrections, use the Ultra Classic / Master Toners.