---
---
Shellac.net Wood Finish Supply & MeritIndustries.com
Home of: MohawkFinishSupply.com
Authorized Mohawk Distributor
Select Products for Traditional Furniture Finishing, Touch-Up, Repair and Maintenance
At this time we continue to ship & support our loyal customers
as COVID-19 virus continues to close businesses.
Our showroom will be closed to protect staff and customers.
Email or phone orders can be picked up with 'Curbside Delivery'
For details about Pick-Up orders, or questions,
Phone 707-391-4042 Monday - Saturday

Your On-line Web Orders will be shipped promptly via Mail or UPS
Wood Finish Supply, Merit Industries & Shellac.net
Thank You for your support, we appreciate your business
Ron, Pete & Shannon
---
---
GLAZES & Wiping STAINS
---
See: Deep Dark Finishes for Light Toned Woods
COLOR THEORY for the Furniture Finisher & Woodworker
---
Wiping WOOD STAIN • UPS Only •
Click Above for application information

WIPING WOOD STAIN
- The same formula previously labeled BEHLEN 15 Min Stain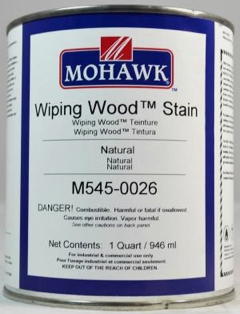 Mohawk Pigmented Wiping Wood Stains are semi-transparent, pigmented,
solvent-based stains that are non-grain raising, fade resistant, easy to stir,

soft-settling formulas. Allow 30 minutes drying time before a lacquer sealer or topcoat can be sprayed.
Apply by spray, brush or cloth. Pigmented Wiping Stains are easier to control because there's less lapping.
An ideal uniforming stain when applied over NGR Dye stains prior to sealing.

A dark color tone may be lightened with use of Wood Stain Reducer S-15.

This stain will not bleed through the finish. Virtually any finish can be applied
over Wiping Wood™ Stain: lacquer, shellac, varnish, polyurethane, acrylics and many others.
-
One Quart -
Also Available In Gallons
(Please Phone gallon orders)
Note:
Maintain the working characteristics of the stains by using the M545-0106 - STAIN BASE
to lighten or extend the stain color.
Avoid thinning Wiping Wood Stains with solvents.

Ex. Dark Walnut
M545-2096


Med Brown Walnut
M545-2076


Medium Walnut
M545-02056


Burnt Umber
M545-14356


Raw Umber
M545-01436


Black
M545-2246


Natural
M545-0026


Light Golden Oak
M545-4156


Dark Golden Oak
M545-2206


Jacobean (Oak)
M545-10046


Weathered Oak
M545-10036


Shale Grey
M545-10016


Dk Red Mahogany
M545-2276


Brown Mahogany
M545-2296


Perfect Brown
M545-2496


Brown Maple
M545-2366


Cherry
M545-4086


Antique White
M545-2026

SHADING GLAZING STAIN • UPS Ground Only •
Click above for Information & Color Chart
H.Behlen / Mohawk SHADING & GLAZING STAINS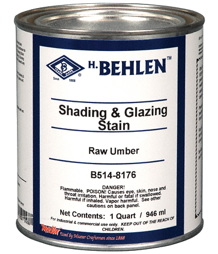 SHADING & GLAZING STAINS are a special blend of
concentrated colorants and topcoat friendly resins

(to ensure good adhesion between sealing and finishing coats)
in a medium viscosity base.
The formula allows the finisher to create unique toning
and highlight effects over almost any sealed surface.
Use on a sealed surface, when using as a glaze.
Concentrate colors shown for comparison only, color rendering subject to computer monitor limitations.
Raw Umber
B514-8176

Burnt Umber
B514-8186

Black
B514-8266

Raw Sienna
B514-8486

Burnt Sienna
B514-8476

Van Dyck Brown
B514-8786

Dk Rd Mahogany
M504-2276

---
Brush, Badger 4004 GLAZE BRUSHES
Badger GLAZE BRUSHES
The 4004 series Glaze Brushes are excellent glazing
brushes.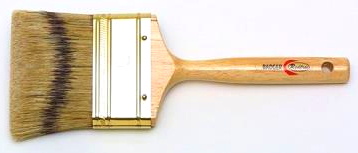 The 4004's are hand-assembled, badger and natural hair, flag bristled, cup chiseled brush. The bristles secured in a double epoxy setting (for less chance of hair loss), are attached by a durable brass ferrule to the natural finished thin wooden handle for better balance when flowing on finish.

(Photo: 3 inch brush)
General Finishes OIL BASED Wipe-On GEL STAINS
Click Above for Data & Application Information
Oil Based Wipe-On GEL STAINS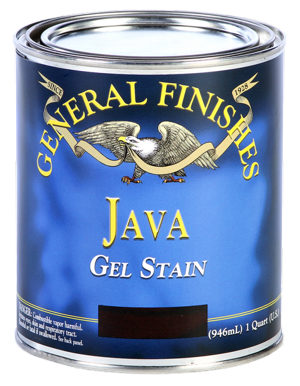 See: General Finishes GEL STAIN Brochure
General Finishes Oil Gel Stains are heavy-bodied and do not
penetrate as deeply into the wood as liquid oil based stains do.
Oil Gel Stains provide the richest colors of any oil based stain available.
"General Finishes make the professional standard in Gel Stains."
The popular color Java Gel Stain (Dark Roast Coffee color) has been featured
in social media for upcycling and refurbishing of furniture and cabinets.
Colors: Golden Pine, New Pine, Prairie Wheat, American Oak, Colonial Maple,
Candelite, Nutmeg, Antique Walnut, Brown Mahogany, Georgian Cherry, Java, Gray, Black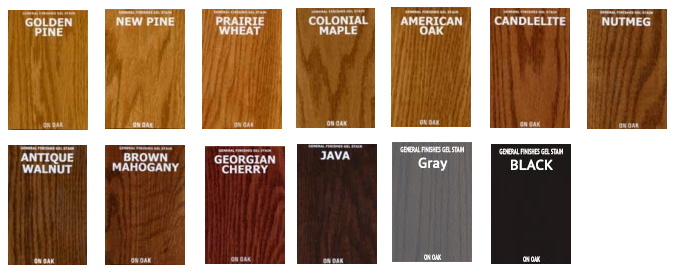 Digitized colors shown are for reference purposes only.
Always test stain on a piece of the same wood or a hidden area of the project to verify your desired color.

Oil Based Liquid Wipe-On Penetrating WOOD STAINS
Click Above for Data & Application Information

OIL Based PIGMENTED WIPING STAIN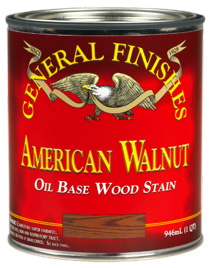 General Finishes Liquid Penetrating Wipe or Brush on Pigmented Wood Stains
have been the professional finishers favorite for over 50 years.
General Finishes Oil Based Wood Stains are made from the highest quality oils.
This traditional pigmented wiping stain has good predictable working characteristics.
A traditional formulation for use on raw wood (new or stripped).
Blend stains and Natural Stain Base to make additional colors, tints, or shades.
To make Custom Colors, add the stains, UTC or oil colorants to the Natural Stain Base.
Colors:
Natural -- Pre-Stain Conditioner / Stain Base
Honey, Honey Maple, Pecan, Salem, Danish Teak, American Walnut,
Antique Cherry, Candlelight, Warm Cherry, Mahogany, Spiced Walnut
• • • PINT SALE -- Limited to stock on hand -- all Pints $4.95 ea.

General Finishes Water Based WOOD STAINS
Click Above for Data & Application Information
Water Based Pigmented Wiping WOOD STAINS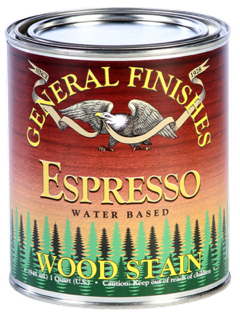 GENERAL FINISHES Water Based Wood Stains have all the
advantages
of oil based stains: they spread easily, can be repaired,
blend effortlessly and have plenty of open working time.
The thicker formula allows controlled penetration, which will reduce blotching
on softer woods such as Aspen, Pine, and Soft Maples.
• For Interior applications Only. • Apply by brush or spray.
Available: Pints, Quarts, (& on order Gallons)
Colors:
White Wash, Natural, Country Pine, Golden Oak, Antique Oak, Pecan, Shaker Maple,
Early American, Antique Cherry, Black Cherry, Rosewood, Walnut, Brown Mahogany, Espresso
Not Pictured: Weathered Gray, Black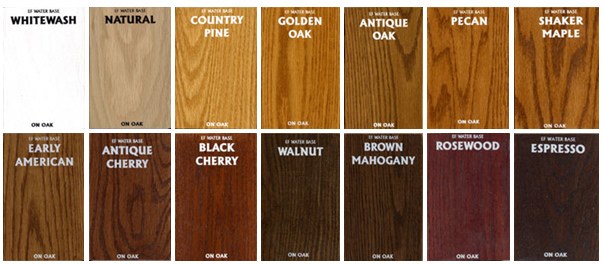 NITRILE GLOVES HEAVY DUTY 8mil HD 12in
HEAVY DUTY Blue NITRILE GLOVES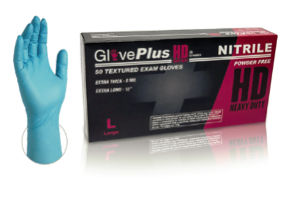 These extra strong (8 mil thick) and extra long (12") medical grade gloves provide added protection for the wrist and lower forearm.
GlovePlus Heavy Duty nitrile maintains excellent sensitivity while being twice as thick as standard nitrile gloves.
Perfect for furniture finishing and refinishing, machine repair,
automotive, industrial, manufacturing, janitorial, EMS, medical,
food preparation, and child care.
• Latex & Powder Free, Ambidextrous, Textured
• Micro-roughened for non-slip wet gripping power.
We love these gloves they wear well & can be reused. •
50 gloves per box.
Select: Ex-Large for larger hands - Large for medium sized hands & Medium for small hands.