---
Shellac.net Wood Finish Supply & MeritIndustries.com
Home of: MohawkFinishSupply.com
Authorized Mohawk Distributor
Select Products for Furniture & Cabinet Finishes, Touch-Up, Repair, Maintenance
• • •
Visit Our Showroom, 2465 Second Street, Napa Ca 94559
Thank You for your support, we appreciate your business, Ron & Pete.
---
---
Wood CONDITIONER, Clear STAIN BASE, Qt. • UPS Only •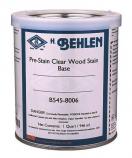 ---

Pre-Stain Conditioner
Clear WOOD STAIN BASE (to make custom colors)
M545-0106 / B545-8006

The Can Label Text --
For application to bare wood prior to staining with Oil Stain
(or with any pigmented wiping stains) to help eliminate unevenness of 'blotchy' spots in soft porous woods.

Apply Pre-stain, wipe off excess,
and then apply a stain in 3-5 minutes.

Also:
As a Stain, add Oil Colors
(or Pigments in Oil) to create your own custom color wiping wood stains.

Pre-Stain Directions:
Preparation:
Surface must be clean, dry and sanded to 180 - 220 grit smoothness.

Application of Pre-stain
Wood Conditioner:
• Use Spray, Brush, or Rag
to apply a uniform wet coat
to the wood surface.
• Allow the Pre-stain to soak into
the wood for 3-5 minutes.
• Wipe off excess.
• Allow the surface to dry
30-60 minutes, and then apply
the pigmented wiping stain.

Mix Clear Stain Base into 545
Wiping Stains to reduce or lighten color intensity. Avoid thinning Wiping Wood Stains with solvents.

use the CLEAR STAIN BASE
to make your own
Custom Color Stains

To make Custom Color
Pigmented Wiping Stains:

Mix well into the Clear Stain Base
up to 20% (6 oz. per quart)
Oil Color (or pigments in oil).

• Apply a uniform wet coat.
• Let set (to penetrate) 3-5 minutes.
• Wipe off excess.
• Allow at least 30 minutes to dry
prior to application of a sealer and topcoat.
Note: Evaluate final color result
with a topcoat in place.

Clean Up:
Mineral Spirits

Safety:
Danger Extremely Flammable
Protect Eyes and Skin.
Read all label cautions.



Keep Out of The Reach
of Children

Additional Tips and Guidelines:

Note: Pre-Stain is not intended for use under Dyes

Use as a Pre-Stain on bare wood or on dyed wood or, as a stain base
to make Custom Color Stains for use on bare wood or on dyed wood.

For Deep Rich Colors:
FIRST use a NGR or Aniline dye on the bare wood
(especially on light toned or dense woods). A similar toned dye
will make obtaining the desired color with the stain much easier.

Remember,
the most important color in a wood finish is the wood itself !

For consistent repeatable results:
1 - Maintain Penetration and Drying times.
2 - Use the Same type of Cloth & wiping technique!
(different cloth fiber content will absorb differently
& yield uneven unpredictable results)
3 - Keep Shop Notes for each finishing schedule:
As a pre-stain or a custom color stain, result will differ
depending on wood density, porosity & application technique.