---
Shellac.net Wood Finish Supply & MeritIndustries.com
Home of: MohawkFinishSupply.com
Authorized Mohawk Distributor
Select Products for Furniture & Cabinet Finishes, Touch-Up, Repair, Maintenance
• • •
New Hours Visit Our Showroom 9:00 - 4:00 Monday - Thursday 2465 Second Street, Napa Ca 94559
Thank You for your support, we appreciate your business, Ron & Pete.
---
---
General Finishes OIL Based Stains & Topcoats
---
Professional Finishes for Professional Results
Oil Based Pigmented Liquid Wiping Stains, Gel Stains & Topcoats

General Finishes finishing materials are recognized by cabinet shops,
the millwork industry, furniture makers, finishers, and refinishing shops as
the finest available for workability, and durability, with predictable results time after time.
Made in America for over 60 years.

Oil Based Wood Stains & Sealers
General Finishes oil/solvent based finishes have been foolproof products for over 60 years.
As a testimony to General Finishes Wood Stains' overall excellence, several woodworking
magazines have awarded General Finishes their highest recommendations in national competitions.

Oil Based Topcoats
General Finishes superior Finishing Coats include Wipe-on Oil-based Wood Top Coats in liquid or gel,
pre-stain conditioners, urethanes, and oil & urethane combinations.


View: General Finishes Waterborne Finishes


---
Oil Based SEAL-A-CELL (Clear)
Click Above for Data & Application Information

Oil Based SEAL-A-CELL
(Clear)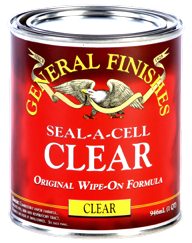 A time-tested formulation of oils, urethane, and waxes; Seal-A-Cell for decades has served craftsman as the best way to get that "natural" look on beautiful woods that aren't to be stained.
The oils penetrate deep within the wood to highlight the warm natural look and the urethane ensures a deep hardness.
For a gloss finish follow with multiple coats of Arm-R-Seal topcoat.

Seal-A-Cell can be wiped on or applied with a natural bristle or foam brush.
Use as a wood conditioner; to control penetration of stains, to dilute other stains,
and as a base to add universal tints to achieve custom colors.
Seal-a-Cell has a very slight ambering quality, the least of GF's oil based sealers.
Arm-R-Seal Oil Based Urethane Topcoat
Click Above for Data & Application Information

ARM-R-SEAL Oil Based Urethane Interior Topcoat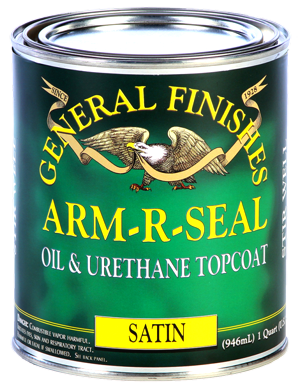 Arm-R-Seal topcoats are made with only the highest quality urethane resins,
making them extremely hard, durable, and long lasting.
Traditional Warm Amber Tone.
Application: Brush, Roller, or Spray.
Available Sheens: Gloss, Semi-Gloss, Satin
Coverage: Quart, 100 Sq. Ft. -- Gallon, 400 Sq. Ft.


Oil Based GEL Urethane TOPCOAT
Click Above for Data & Application Information

Oil Based GEL, Wipe-On Urethane Topcoat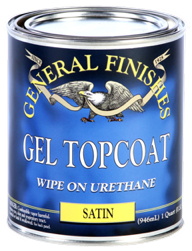 General finishes Gel Topcoat Satin is a heavy duty oil and urethane based top coat,
which produces a beautiful hand rubbed quality finish.
Gel satin is a thicker consistency, eliminating drips, runs or spills.
Wipe on with a lint free cloth, natural bristle brush, foam brush, or paint pad applicator.

Gel Topcoat is available in Satin.
For semi-gloss or gloss sheens, use Arm-R-Seal Topcoat.
General Finishes SALAD BOWL FINISH
Oil Based SALAD BOWL FINISH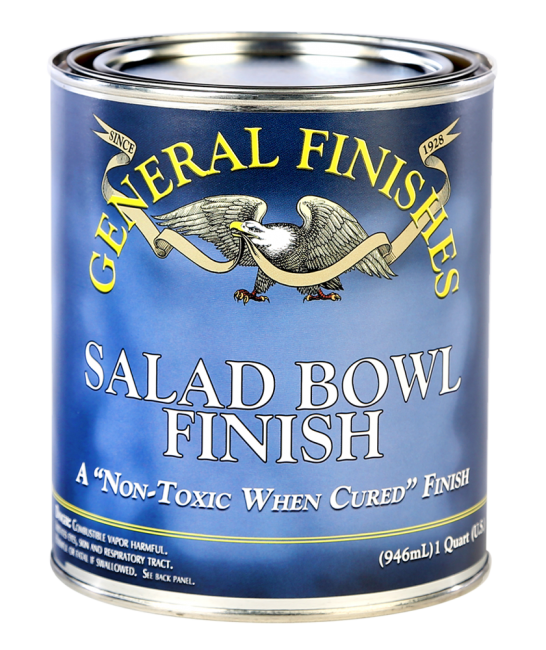 Salad Bowl Finish is a durable oil-and-urethane oil-based finish
and can be used as a beautiful and safe topcoat on wooden bowls, cups, spoons, decorative wood countertops or other wood surfaces that come into contact with food.

For butcher block countertops actively used for chopping and cutting,
we recommend Butcher Block Oil.
Pint

NATURAL, Oil Based Pre-Stain Wood Conditioner / STAIN BASE
Click above for More Information

NATURAL - Oil Based Pre-Stain Conditioner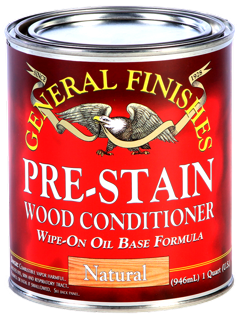 Pre-Stain Wood Conditioner is formulated for use before application
of liquid wiping stains on new or bare soft and porous wood surfaces
such as with Aspen or Pine.
The Conditioner penetrates the grain of the wood to promote uniform acceptance
of the stain and helps prevent streaking and blotching to help ensure an even stain.
Color: NATURAL - Can Sizes: 1/2 Pints, Quarts - Coverage: 200 Sq.Ft. / Qt
Recommended Uses:
• Natural pre-stain primer to control penetration of stains.
• May be used to lighten or reduce the color intensity other stains.
• Use as a Stain Base, add universal tints or oil colorants to make custom colors.
Oil Based Liquid Wipe-On Penetrating WOOD STAINS
Click Above for Data & Application Information

OIL Based PIGMENTED WIPING STAIN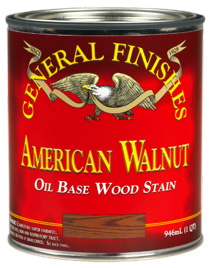 General Finishes Liquid Penetrating Wipe or Brush on Pigmented Wood Stains
have been the professional finishers favorite for over 50 years.
General Finishes Oil Based Wood Stains are made from the highest quality oils.
This traditional pigmented wiping stain has good predictable working characteristics.
A traditional formulation for use on raw wood (new or stripped).
Blend stains and Natural Stain Base to make additional colors, tints, or shades.
To make Custom Colors, add the stains, UTC or oil colorants to the Natural Stain Base.
Colors:
Natural -- Pre-Stain Conditioner / Stain Base
Honey, Honey Maple, Pecan, Salem, Danish Teak, American Walnut,
Antique Cherry, Candlelight, Warm Cherry, Mahogany, Spiced Walnut

General Finishes OIL BASED Wipe-On GEL STAINS
Click Above for Data & Application Information
Oil Based Wipe-On GEL STAINS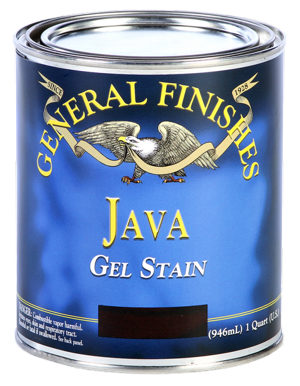 See: General Finishes GEL STAIN Brochure
General Finishes Oil Gel Stains are heavy-bodied and do not
penetrate as deeply into the wood as liquid oil based stains do.
Oil Gel Stains provide the richest colors of any oil based stain available.
"General Finishes make the professional standard in Gel Stains."
The popular color Java Gel Stain (Dark Roast Coffee color) has been featured
in social media for upcycling and refurbishing of furniture and cabinets.
Colors: Golden Pine, New Pine, Prairie Wheat, American Oak, Colonial Maple,
Candelite, Nutmeg, Antique Walnut, Brown Mahogany, Georgian Cherry, Java, Gray, Black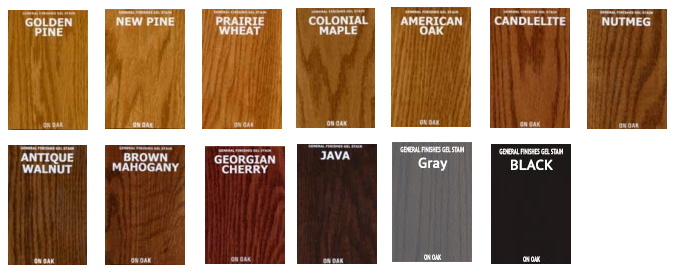 Digitized colors shown are for reference purposes only.
Always test stain on a piece of the same wood or a hidden area of the project to verify your desired color.