---
Shellac.net Wood Finish Supply & MeritIndustries.com
Home of: MohawkFinishSupply.com
Authorized Mohawk Distributor
Select Products for Traditional Furniture Finishing, Touch-Up, Repair and Maintenance
---
Our showroom is now open - New Location - 2465 Second Street, Napa Ca 94559
Thank You for your support, we appreciate your business. Ron, Pete & Shannon
---
---
FINISH REMOVERS PAINT STRIPPERS
---
GOOF OFF - Aerosol, 12Oz • UPS Only •
Click above for How to
Use



GOOF OFF

- PRO STRIPPER -
Aerosol --

Clearance

SALE --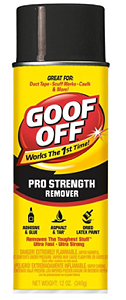 • Perfect for refinishing furniture and floors
• Cuts through old paint, stains, varnishes, UV coatings and adhesives
• Breaks down the toughest materials to make removal quick, easy, and complete
Removes: adhesives & glue, crayon, pen & marker, gum, scuff marks, stickers & decals,
asphalt & tar, dried latex paint, duct tape, caulk, tree sap, candle wax and more
Ideal for all kinds of hard surfaces such as metals, glass, brick, wood, concrete,
grout, fiberglass, hand tools and most automotive surfaces.

Goof Off works faster and better than other removers – use it when all else fails.
Note: on Fabrics & Rugs, Test for color fastness.

12Oz Aerosol Only $1.00 each by the case of 6 (Limited to stock on hand)


CHIP BRUSHES (China Bristle brushes)
CHIP BRUSHES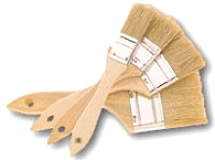 Chip Brushes are disposable utility brushes made with white China bristle.
Use for applying water or alcohol dye, stains, paint removers, glues, bleach, epoxies,
dusting wood and metal chips, and for cleaning machinery.
• Square trimmed white China natural hog bristle
• Natural bare wood handle
• Inexpensive enough to use as a one time throw away brush
Our favorite brush for all water or alcohol solvent dye materials.

LIBERON Oil Free STEEL WOOL
#0000, Ultra Fine STEEL WOOL
- 1 Kg. (2.2 Pound) Roll & 250g. Sleeve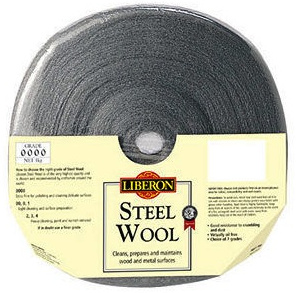 Liberon Steel Wools
are produced using a high quality steel
to create crumble and dust resistant wool that is virtually oil free.
Use Liberon

#0000 'Ultra Fine'

steel wool for cleaning, preparing and maintaining wood and metal finishes, for polishing and cleaning delicate surfaces, including metals such as bronze, copper, chrome, stainless steel and aluminum, or with soapy water to clean and polish porcelain, marble and glass without marking. Cut back between coats of Shellac, French Polishes, Varnishes and paint or oil finishes.
The flexible #0000 ultra fine steel wool abrasive is ideal for applying wax polishes.

(Apply all waxes sparingly, in thin coats, and allow solvents to evaporate prior to buffing with a soft cotton cloth.)
---
Grades:
Use #0000 'Ultra Fine' steel wool for cleaning, preparing and maintaining wood and metal finishes, for polishing
and cleaning delicate surfaces including metals such as bronze, copper, chrome, stainless steel and aluminum.
#00 Fine is used for light cleaning and surface preparation & to cut back between coats of varnish, paint or oil finishes.
Coarser Grades ON SALE
#0 Fine/Medium is suitable for cleaning, smoothing and preparing wood or metal surfaces before re-polishing, waxing, varnishing or painting. Grade #0 is recommended to use it with a suitable solvent for light to medium cleaning of all metals,
and Wax and Polish Remover to get rid of built-up wax polish, smoke and dirt on wood.
#1 Medium Fine steel wool is suitable for cleaning, smoothing and preparing wood or metal surfaces before re-polishing, waxing, varnishing or painting. It is recommended to use it with a suitable solvent for light to medium cleaning of all metals,
and Wax and Polish Remover to get rid of built-up wax polish, smoke and dirt on wood.
#2 Medium Coarse steel wool used for stripping and cleaning work. It can be used to remove rust, and is recommended
for use with Wood Strippers to remove softened polishes, varnishes, lacquers and paints from wood and metal surfaces.
#3 Coarse is excellent for use with finish remover on thick layers of finish and removal of heavy rust corrosion
#4 Very Coarse steel wool used for heavy stripping and cleaning work. It is used to remove rust, and is used with Paint Removers & Wood Strippers to remove heavy build up of polishes, varnishes, lacquers and paints from wood and metal surfaces.
CAUTION: Never tear steel wool. Cut to size with scissors or shears.
Always protect hands with gloves when handling the Liberon Steel wool.
KEEP AWAY from all sources of fire, sparks, and electricity including static electricity.
In the event of fire Extinguish steel wool with water. KEEP OUT OF REACH OF CHILDREN

WAX WASH Cleaner & WAX REMOVER • UPS Only •
To: Info & Label Text
WAX WASH DE-WAXER WOOD CLEANER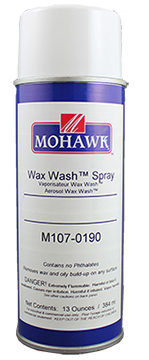 WAX WASH / De-Waxer Wood & Finish CLEANER
& WAX REMOVER
is a specially formulated blend of solvents.

For best repair and rub-out results, first prepare and clean the surfaces with

WAX WASH / De-Waxer to remove waxes, oil and other foreign material
from bare woods, new finishes, and aged wood finishes.

Wax deposits that remain after the use of paint, lacquer, and varnish removers
can be eliminated with use of WAX WASH / De-Waxer
Available: Quart M712-1906 & Aerosol M107-0190