Shellac.net

Wood Finish Supply
/ MERIT Industries.com
Select Products for Traditional Furniture Finishing, Touch-Up, Repair and Maintenance
---
SANDPAPER & ABRASIVES

---
LIBERON Oil Free STEEL WOOL
#0000, Ultra Fine STEEL WOOL
- 1 Kg. (2.2 Pound) Roll & 250g. Sleeve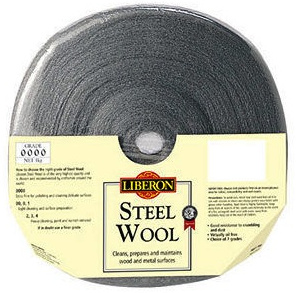 Liberon Steel Wool
is produced using a high quality steel to create crumble and dust resistant wool that is virtually oil free. Use Liberon 'Ultra Fine' 0000 steel wool for cleaning, preparing and maintaining wood and metal finishes. Cut back between coats of Shellac, French Polishes, Varnishes and paint or oil finishes.
This flexible ultra fine abrasive is ideal for applying wax polishes.
(Apply all waxes sparingly, in thin coats, and allow the solvent to evaporate prior to buffing with a soft cotton cloth.)
The #3 Coarse Wool is excellent for use with finish remover on thick layers of finish and removal of heavy rust corrosion.
SCOTCH BRIGHT PADS
SCOTCH BRIGHT PADS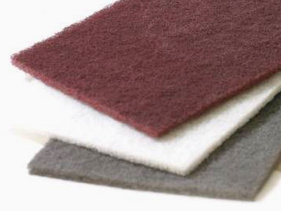 • Long lasting 3M pads.
• Large size 6" x 9".
SANDING SPONGES
SANDING SPONGES
Aluminum Oxide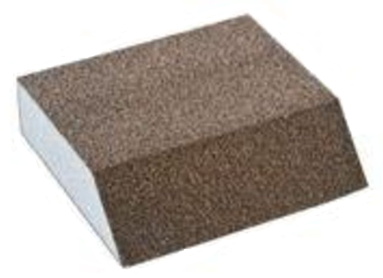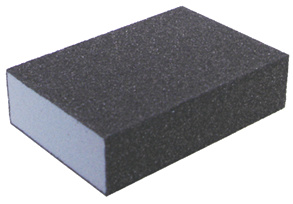 Flexible to sand edges, in corners and grooves
Use wet or dry -- Rinse and reuse
Angled Sanding Sponge
4-7/8 in. x 3-1/2 in. x 1 in.
Beveled edges for tight corners
Sanding Sponge - 3-7/8 in. x 2-3/4 in. x 1 in.

SAND-O-FLEX - 350RP WHEEL
SAND-O-FLEX - 350RP Wheel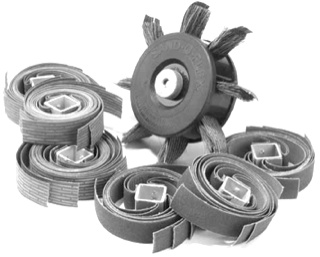 6" overall diameter wheel with 4" plastic body, 8 brushes and 1" wide abrasive strip.
1/4" shank fits most electric hand drills.

Operating speed MAX. 2400 RPM
3M WET/DRY - 9x11 - 320A
3M WET/DRY 320A



Wet or Dry Sanding Sheets, 320A-Grit, 9-Inch x 11-Inch
3M WET/DRY 9x11 - 600A
WET/DRY 600A


Wet orDry Sanding Sheets, 600A-Grit, 9-Inch x 11-Inch





Email: sales@meritindustries.com Or orders@shellac.net ... Ordering Information ... Privacy Policy

Shellac.net Wood Finish Supply / MERIT Industries.com
2325 #A First St. Napa CA 94559
rev.12/2/17
---