---
---
Shellac.net Wood Finish Supply & MeritIndustries.com
Home of: MohawkFinishSupply.com
Authorized Mohawk Distributor
Select Products for Traditional Furniture Finishing, Touch-Up, Repair and Maintenance
---
Our showroom is now open, Napa County COVID-19 Requirements -
Please Wear a Face Covering & Maintain 6 ft. of Physical Distance
New Location - 2465 Second Street, Napa Ca 94559
For information Phone: 877-245-5611 Monday - Friday - (Saturday by Appointment)
Your On-line Order will be shipped promptly via US Mail or UPS
Thank You for your support, we appreciate your business.
Ron, Pete & Shannon
---
---
TOUCH-UP MARKERS & FIL-STICKS
---
Premier
---
'Scratch Remover' TOUCH-UP MARKERS
incorporate a capillary chisel style felt tip. Touch Up Markers permanently color blemishes,
minor scratches, and stain wood and other substrates.
VALVE Style MARKERS
Valve Action Stain markers stain and seal scratches, worn spots on furniture, wall paneling,
picture frames, and leathers.The valve also allows the dispensing of thicker pigmented fluids
which are necessary in the whites, off-whites and opaque colors. Shake Well for use.

FIL-STICKS hide scars, scratches, gouges, and deep abrasions on furniture,
picture frames, hard leather surfaces, plastics and paneling.
Fil-sticks are rub-on wax & resin filler formulated to accept any type of top coat finish.
A slight warming of the stick helps application especially in cool environments.
---
Ultra® Bond Waterborne CLEAR FINISH MARKER
Ultra® Bond Waterborne CLEAR FINISH MARKER




Mohawk Ultra® Bond Waterborne Clear Finish Marker produces a durable,
chemical resistant, water clear finish for use on flooring, cabinets, furniture and many other surfaces.
Has excellent adhesion on most hard to adhere to finishes such as urethane, UV and aluminum oxide.
Blends well into the surrounding area providing a nearly invisible repair.
A truly multi-purpose topcoat for those small repairs and finishing needs.
Low odor and fast drying.

Aerosol, ULTRA® FLO CLEARS • UPS Only •
for More Information: Click Above

ULTRA® FLO CLEARS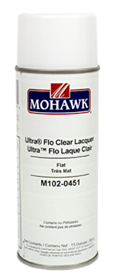 IDEAL for sealing in spot repairs

Formulated with special resins and solvents to provide a finish film free of orange peel.
Little or no over-spray when used over spot repairs on an existing lacquer finish.
Saves time, as the finish film will not require sanding or rubbing.

Net Wt. 13 oz.
---
---
Shellac.net Wood Finish Supply / MeritIndustries.com
Authorized Mohawk Distributor
Visit our New Location: 2465 Second Street (green building, end of Second St.) Napa CA 94559
Assistance for placing your order - (8:30am to 3:30pm Pacific Time) 707-299-8016 - toll free 877-245-5611

Email: orders@shellac.net ... to: Ordering Information ... Privacy Policy
rev. 4/10/21 & Updated Daily
---
---