---
Shellac.net Wood Finish Supply & MeritIndustries.com
Home of: MohawkFinishSupply.com
Authorized Mohawk Distributor
Select Products for Furniture & Cabinet Finishes, Touch-Up, Repair, Maintenance
• • •
New Hours Visit Our Showroom 9:00 - 4:00 Monday - Thursday 2465 Second Street, Napa Ca 94559
Thank You for your support, we appreciate your business, Ron & Pete.
---
---
Aqua Coat CLEAR GRAIN FILLER
---

Aqua Coat Water-based Environmentally Friendly Wood Finishing Products
Professionally-Proven, Environmentally-Friendly Water Based Filler
• Easy application and clean-up • Non-toxic • Non-flammable • Non-combustible

Aqua Coat Clear Grain Filler, the secret to smooth finish on open pore and coarse grain woods!
Click Here for More Information:
---
AQUA COAT CLEAR Wood Grain & Pore FILLER
Click above for Application and Use Directions


AQUA COAT Clear Wood Grain & Pore Filler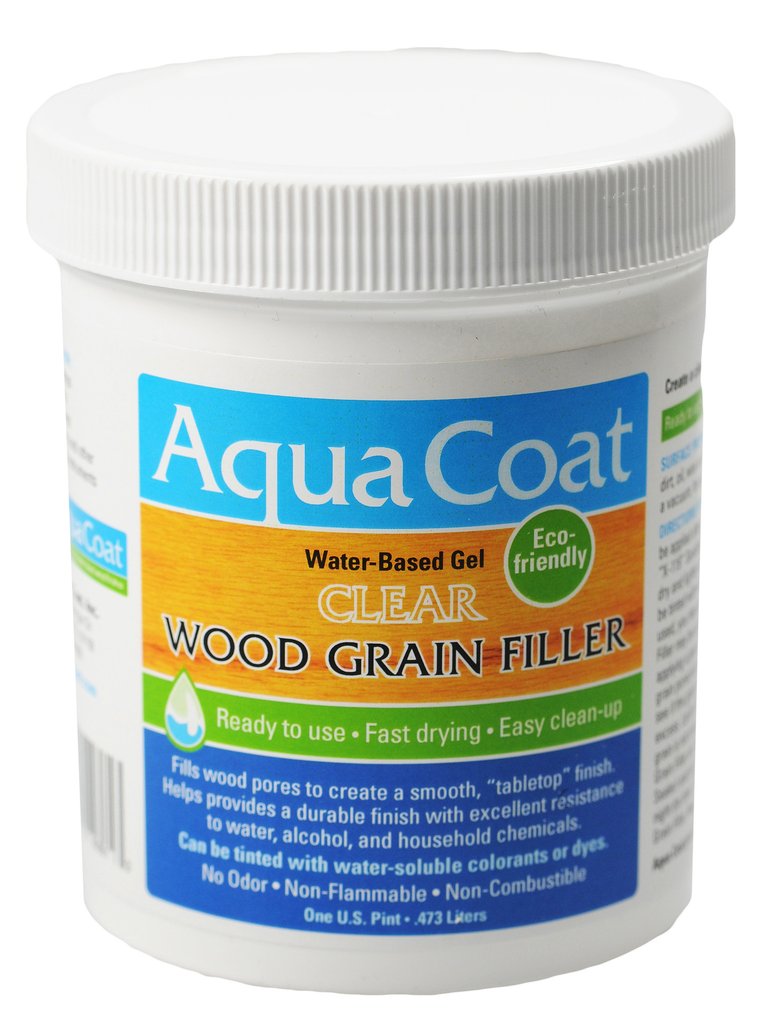 Easy-to-sand clear gel wood grain filler for filling the grain and pores
in woods (such as oaks, ash, and hard-to-fill woods).

Aqua Coat Clear Grain Filler is a completely transparent paste filler.
The slick paste goes on easily, scrapes off cleanly, and dries clear for a
glass smooth guitar or piano style finish. Clear Grain Filler is ideal for
filling grain & pores without adding color to the wood.
Used by:
• Furniture Crafters
• Luthiers / Guitar Makers
• Gun Stock Finishers
• Piano Restoration
• Furniture Refinishing
• Cabinet Makers & Re-finishers
Aqua Coat Wood Grain & Pore Filler
is the ideal CLEAR filler on:
• Tabletops
• Pianos
• Cabinets
• Guitars and Wood Instruments

Cle
ar Wood Grain Filler Advantages


• Crystal Clear when dry
• Grain Filler dries in 30-45 minutes for a faster build

•
Easy sanding
• Minimal shrinkage
• Low odor and low VOC •
Non-flammable
• Tint with water-soluble colorants or dyes •
Thin with water •
Water clean-up
"For a clear glass smooth finish, use Aqua Coat Wood Grain & Pore Filler to maintain the color, clarity,
and beauty of the wood. It works better and faster than trying to fill the grain or pores with coats of finish."
See: PRODUCT DESCRIPTION & RECOMMENDED USES

---