---
Shellac.net Wood Finish Supply & MeritIndustries.com
Home of: MohawkFinishSupply.com
Authorized Mohawk Distributor
Select Products for Traditional Furniture Finishing, Touch-Up, Repair and Maintenance
• • •
Visit Our Showroom, 2465 Second Street, Napa Ca 94559
Thank You for your support, we appreciate your business. Ron, Pete & Shannon
---
---
Creating Historic Furniture Finishes - DVD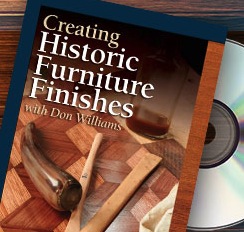 Creating Historic Furniture Finishes
DVD by
Don Williams

Create a Classic Finish!
You can give your reproduction and new furniture the look of a priceless antique.
Creating Historic Furniture Finishes demonstrates the simple tools and techniques
neededto finish furniture like artisans used hundreds of years ago.
Join Don Williams and get the answers to your curiosities about historic finishing.
You'll learn to prepare your tools and materials and will have the opportunity
to apply your newfound knowledge.
Learn from the historic finishing professional in this 2+ hour DVD.

Order your copy today to learn:
All about shellacs and plant-based finishes.
How to burnish to a final sheen.
The expert techniques for French polishing.
How to use wax as a filler and a final finish, and so much more!
Follow Don Williams' expert advice and you'll be well on your way to creating historic furniture finishes.
Don will take you step-by-step through the techniques he developed while restoring some of America's
finest antiquesat the Smithsonian Institution!
About the Author:
Don Williams is a conservator, educator, and scholar, having worked almost three decades
as a Senior Furniture Conservator at the Smithsonian Institution.