---
---
Shellac.net Wood Finish Supply & MERIT Industries.com
An Authorized Mohawk Distributor

Select Products for Traditional Furniture Finishing, Touch-Up, Repair and Maintenance
---
---
MOHAWK & BEHLEN FINISHING PRODUCTS
---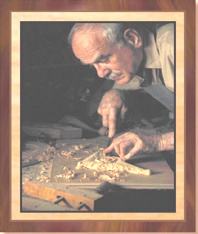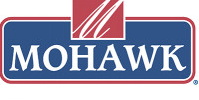 WOOD FINISHING PRODUCTS
An Authorized Mohawk Distributor
Materials Listed by Category & Product #

NEWS Blog

Subscribe to our News & Notes
For Mohawk & H.Behlen in Canada, Please Visit

Ardec Wood Finishing Products
---
Aerosol, 'Tone Finish' CLEAR LACQUERS
Please See
Aerosol Application Tips
(Click Above)
Tone Finish CLEAR
LACQUER Aerosols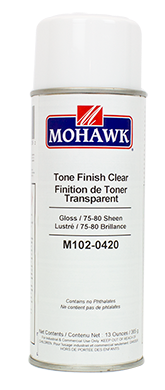 Clear Nitrocellulose based Lacquers are recommended as topcoats for wood grain finishes.
Use for the touch-up and repair of existing furniture and cabinet finishes.
The lower 'Tone Finish' solids seal, protect, and provide the correct
sheen adjustment to repaired areas.

Jet Spray & Tone Finish Clears are formulated to adjust repairs to the correct sheen
and to blend well into existing finishes.
For bare or stripped surfaces or to build a finish, the higher solids
FINISHER'S CHOICE™Top Coat aerosol lacquers are recommended.

Aerosol, TOP COAT CLEAR LACQUER • UPS Ground Only •
FINISHER'S CHOICE / TOP COAT CLEAR LACQUER Aerosols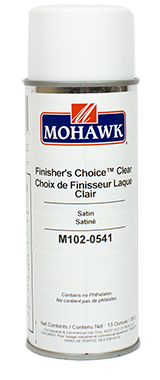 FINISHER'S CHOICE™ lacquers are water resistant, high solids nitrocellulose lacquer.
'
Top Coats' are a higher solids lacquer for use on bare wood or to build finish thickness.
FINISHER'S CHOICE™ lacquers and sanding sealer perform like a spray gun applied finish.
Use these aerosols when applying a new finish or on bare wood spot repairs
when rubbing out will be necessary.
Finisher's Choice aerosols are compatible with solvent base stains and
other H.Behlen / Mohawk aerosol lacquers.
For a Dead Flatt sheen, build finish with Top Coat Gloss for clarity and
then apply a final coat or two of the Jet Spray DEAD FLATT.
For Touch-Up, and to blend Lacquers into the surrounding finish, use the Jet Spray™ Aerosols.
Aerosol, PRE-CAT LACQUERS • UPS Ground Only •
PRE-CAT LACQUERS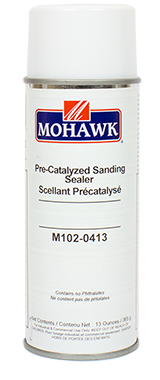 Pre-Cat lacquers feature excellent flow out for touch-up use.
The dry film is very durable and adheres where other finishes will not.
• Excels in flow-out, adhesion and hold-out.
• Fast-drying, resistant to yellowing.
• Leaves no halo on spot repairs.

Pre-Cat Lacquer aerosols have been tested and approved
for furniture factory touch-up on pre-catalyzed finishes.
A good choice for kitchen and bath cabinets.

Aerosol - WATER CLEAR Acrylic LACQUERS • UPS Ground Only •
WATER CLEAR Acrylic LACQUER
Aerosols


Acrylic coatings are crystal clear and non-yellowing.
When a clear finish is needed over whites, bright colors, or light wood tones,
to retain clarity and color a Water Clear Acrylic is the answer.

Clear Acrylics may be sprayed on almost any surface (wood, metals, etc.).
Acrylic aerosols are compatible with Behlen & Mohawk touch-up products.
Available: Gloss & Satin & Flatt

Aerosol, GUITAR TONER Lacquers • UPS Ground Only •
GUITAR TONER Lacquers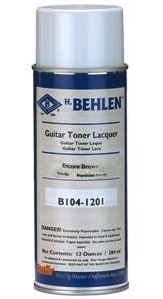 Toners are used to add shading effects to the guitar.
Made from fade resistant dyes in lacquer, they apply transparent color so the beauty of the wood shows through, yet they are strong enough that several coats will create the dark sunburst effect that is so popular on guitars. Starcast Amber applies the basic light tone colors of the guitar. Encore Brown is used to tone the body sides of acoustic guitars, which are typically darker than the soundboard.


New DEEP RED
B104-1203
is used on guitars, stringed, and percussion instruments.
Use to tone edges or create a solid opaque Red color with a few more coats.
Aerosol, DYE TONER Lacquers • UPS Ground Only •
Click above for Color Guide

Mohawk Ultra Classic & Behlen Master Toner
Aerosols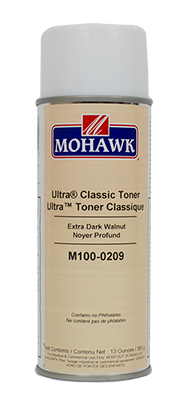 Translucent wood tone Dyes in furniture grade lacquer for shading, toning,
adjusting color and sealing touch-ups & repairs.
Mohawk Ultra Classic & Behlen Master Toners may also be used as a topcoats.

Aerosol, Jet Spray & Tone Finish LACQUER TONERS • UPS Ground Only •
Click above for more information
Jet Spray & Tone Finish LACQUER TONERS
Finely ground, non-fading pigments for color repairs that last.
Jet Spray & Tone Finish toners are translucent / semi-translucent dye and pigment based lacquers
made for color and tonal correction of off color or faded lacquer finishes.

Adjust the sheen with a topcoat of Jet Spray or Tone Finish clear gloss, satin, flat or dead flat lacquer.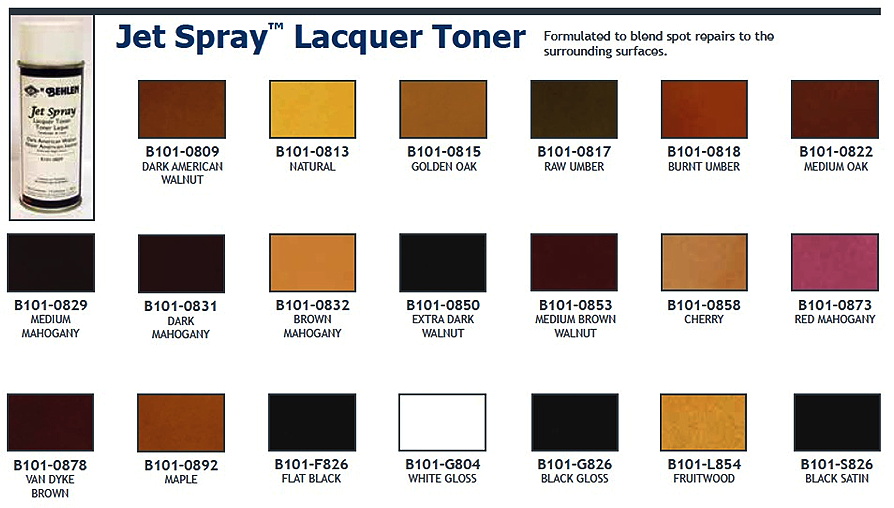 Digitized colors are shown as a reference and for color comparison purposes only.
These translucent colors will yield their final color based on the tone of the finish on which they are applied.
Note: The White & Black are Opaque Lacquers, Not Translucent.

Aerosol, LACQUER, Opaque ENAMEL BLACK • UPS Ground Only •
Behlen / Mohawk
BLACK ENAMEL Lacquers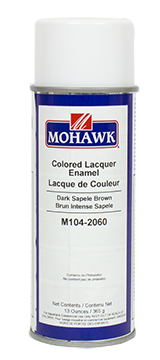 Aerosol Spray lacquers are formulated for re-coating
and for blending spot repairs into the surrounding surface.

The pigments dissolved into nitrocellulose lacquer,
are very resistant to color fade from UV exposure.

Aerosol Lacquers may also be used for finishing of smaller projects.
SOLID BLACK: Gloss, Satin, Flatt

FIL-STICK, MASTER Assortment - All 12 Colors
Click above for Color Guide
Behlen / Mohawk FIL-STICKS

Fil-Sticks are formulated to accept any type of top coat finish.

Semi-hard putty sticks used to fill in nicks and scratches or open corner
joints. Can be protected with Tone Finish aerosols or other coatings.
No heat or special tools required, simply rub in and wipe off.

A slight warming of the stick helps application in cool environments.

Complete Assortment [12 colors] is Exclusive to Shellac.net Wood Finish Supply. ($3.53 Each)
GRAY Fil-Sticks

GRAY FIL-STICKS
Quickly and easily eliminate scratches, nicks or abrasions on wood furniture,
picture frames, plastics and paneling with these semi-hard filler sticks.
No heat or special tools required. Simply rub the wax stick in damaged areas to fill.
Scrape excess filler off using a credit card to leave an even, smooth surface.
Works well on most wooden surfaces in low use areas. Can be protected with aerosols or other top coatings.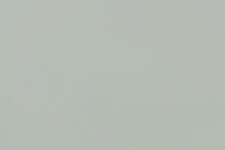 PEBBLE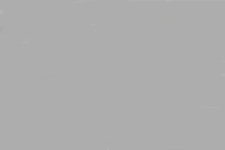 NEBULOUS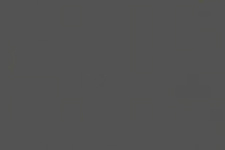 GUN METAL
BRUSH TIP MARKERS - 6 Pack Sets
Brush Tip Marker - Sets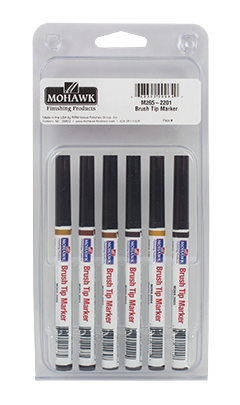 The Mohawk micro brush-tip applicator to allows you to apply color
exactly where it is needed without any messy powders, fluids or odors.
Simple and easy to use, this wood graining marker
applies color to imitate the natural grain appearance
of wood surfaces after minor repairs.
Features clear crisp colors that hold a thin line.
Low to no odor, easy to use, teach and learn.
Quick and easy application, no messy powders, extra brushes or liquids.
• Use to add grain lines or alter color after application of a:
Fil-Stik® Putty Stick, Quick Fill® Burn-In Stick, Burn-In Sticks, or Hard Fill Burn-In Stick.
• Add color to small sand thru areas on a face or edges of a wooden part
• Add or alter color in any small defect
• For the color contents of a set, click on the items price line below.

Capillary TOUCH-UP MARKERS
Click above for Product Data & Color Guide
Behlen / Mohawk Touch-Up Markers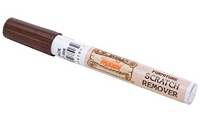 Pro-Mark® capillary style Touch-Up Markers incorporate a capillary style felt tip. Touch-Up Markers are dye based, easy to use, and permanently color
blemishes and stain wood and other substrates.
'Scratch Remover' Markers refinish worn out spots and scratches on furniture,
wall paneling, leather, vinyl, picture and mirror frames. $5.67 ea in the Set of 12
Ultramark GRAY Touch-Up MARKERS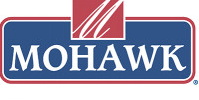 Ultra Mark - GRAY Touch-Up MARKERS
Ultra Mark Wood Marker for Paint or Stain
• Use the Ultra Mark wood stain marker to replace the color of worn or damaged areas
• Contains light fast pigments that seal, stain and finish Ideal for edges and scratches
• Compatible with all types of finishes, including painted furniture
GRAY TONES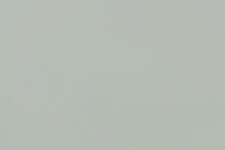 PEBBLE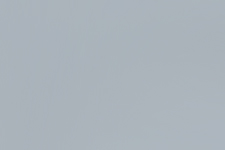 ASH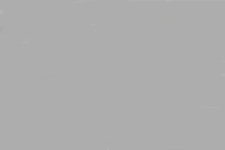 NEBULOUS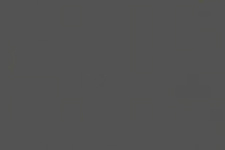 GUN METAL

SHARKEY

Midnight Mystique
GRAINING PENS, Fine Point
GRAINING PENS
- fine point, stain and finish marker.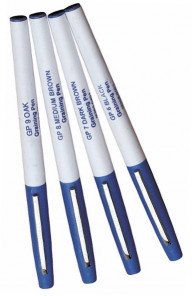 Graining pens are used to replace
or replicate grain in scratches, fills, or burn-in repairs.
Graining Pens are a fine point, stain and finish marker.

Use Graining Pens to replace or replicate grain
in scratches, fills, or burn-in repairs.
Topcoat to seal and protect.

DISTRESSING / Shading PENCILS
Distressing Pencil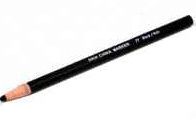 Use Distressing Pencils to simulate grain, "worm holes", fly specks, etc.
Ideal for creating antiqued finish effects.
Create distress markings and wood grain effects on spot repair work.
Spray treated surface with a protective coating after application.

No sharpening required, unwind the spiral wrap as the tip wears away.
Distressing Pencils must be top-coated to insure wearability.
---
---
Shellac.net Wood Finish Supply / MERIT Industries.com
An Authorized Mohawk Distributor
Visit our showroom at: 2325 #A First St. (east side of building) Napa CA 94559
Assistance in placing your order - (9:30am to 4:30pm Pacific Time) 877-245-5611
Email: orders@shellac.net ... to: Ordering Information ... Privacy Policy
rev. 8/16/19
---
---