---
---
Shellac.net Wood Finish Supply & MeritIndustries.com
Home of: MohawkFinishSupply.com
Authorized Mohawk Distributor
Select Products for Traditional Furniture Finishing, Touch-Up, Repair and Maintenance
At this time we continue to ship & support our loyal customers
as COVID-19 virus continues to close businesses.
Our showroom is now open, Napa County Health Requirements -
Please Wear a Face Covering & Maintain 6 ft. of Physical Distance
Email or phone orders can still be picked up with 'Curbside Delivery'
For details about Pick-Up orders, or questions,
Phone 707-391-4042 Monday - Saturday

Your On-line Web Orders will be shipped promptly via Mail or UPS
Wood Finish Supply, Merit Industries & Shellac.net
Thank You for your support, we appreciate your business
Ron, Pete & Shannon
---
---
ANTIQUAX PASTE WAX
---
Antiquax Fine Furniture Wax Polish was originally formulated in the early 1900's
by master woodworker Mr. Elliott of London for the protection of his furniture finishes.
In 1922 he approached Partridge Fine Arts, an antique gallery in New Bond Street, London
and asked them to sell it for him.
The Original Antiquax Paste Wax Polish formula is manufactured today in Manchester, England.
Antiquax is used by, museums, fine furniture collectors, and estates around the globe.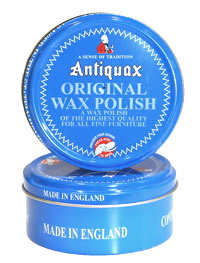 Antiquax is a superior furniture wax imported from England.
It is a perfect combination of the classic glow of beeswax
and the durability of carnauba to provide beautiful polished
fingerprint resistant protection for new and antique furniture finishes.
It is suitable for all woods including lighter finishes such as ash, maple, and beech.

Antiquax protects furniture from spills and changes in humidity.
Antiquax can be applied on bare, stained, or finished wood.
Directions:
• For grimy finishes, first, use a Furniture Cleaner to remove dirt & old polish.
• Apply Antiquax Very Sparingly with a clean cotton cloth. A little goes such a long way.
• Wait at least 15 minutes, and buff with a clean cotton cloth.
• Use Antiquax on your wood furniture on a regular basis for protection and a long lasting finish. - -

Application & use of Paste Waxes

Apply waxes Sparingly – a little wax goes a long way!

For all wax polishing, wait until all the solvent evaporates prior to buffing. Paste Waxes differ in composition. For ease of application waxes are blended with solvents to form a paste.
Some formulations require longer times for the solvent to evaporate.

It is important to apply all paste waxes sparingly, in a THIN EVEN coat.
This will assure even drying and yield an even sheen result when buffing
(a thicker area of wax will dry slower, and those areas will not buff to as high a sheen).

If you buff too soon, the buffing is just redistributing and pushing the soft (uncured) wax around.
I usually wait on Antiquax™ and other similar furniture makers waxes
for an hour and up to four hours before buffing.

Use a Soft 100% cotton cloth (free of any seams or stitching) for buffing.
Old worn out 100% cotton t-shirts, linens, diapers and well used and laundered terry cloth will work well.
The softer the buffing cloth, the higher the resulting sheen.

On older pieces of furniture, and other wood surfaces, it is important to clean the item first of any dirt, oils or accumulated grime. Residual oils, grime and some aerosol care products left on the surface can prevent the wax from drying properly and can lead to a splotchy uneven result.

Maintain and protect the finish and waxed surface with another thin coat of wax as needed.
For most wood furniture, a good wax layer is the best protection against moisture, dirt and abrasion.

Wax is the perfect protection for most fine furniture finishes.
Avoid the use of all maintenance oils, & aerosols or care products containing silicone.

• • • • •