NEW Item!

  T-SHIRT Material 100% WHITE COTTON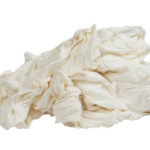 • 100% White Cotton T-Shirt material.
• Approximately 18″ by 18″ pieces
• Washed • ABSORBENT
• NO Seams  • NO Stitching  • NO Labels
NEW SELECT T-Shirt Material mill ends,
washed 100% cotton (no blends).
The ideal cloth for fine finish stain & dye application, stain wiping operations. No Seams or Stitching make the cloth ideal for waxing and polishing.
Made from the same soft heavyweight cotton used in premium t-shirts. Extremely low lint, washed and ready to use right out of the bag.