Customer Gallery
What makes this job worthwhile is seeing others experience success with their projects. The following are unsolicted testimonials and pictures from our users who were so giddy, they just had to send us pictures of their work. We've included the type of wood used, along with the kind of shellac (and undercoat/topcoat if applicable) so that you can get a feel for what shellac looks good (they all do!) on what species of wood.

Click on thumbnails to see a larger picture
---
April 13, 2000
Mango Jewelry Box
(super blonde)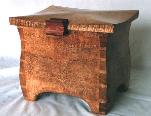 I make lots of jewelry boxes in my woodworking sideline. Shellac has become my finish of choice for bringing out the figure, color, and grain of the different woods I use. I've used garnet to give a rich amber tone to curly oak and dewaxed orange to impart a nice reddish orange tone to cherry, but my favorite shellac is super blonde. This is a picture of a largish jewelry chest made of Hawaiian Mango wood with an Ipe handle.
The Mango wood had nice curly figure and spalting that left some delicate pink and yellow streaks in the wood (barely visible in the picture). I wanted a finish that brought out all the rich detail in the wood without changing the subtle colors. The super blonde Paddylac I used fit the bill perfectly. I've had mixed results with some of the other super blonde shellac flakes from other suppliers - sometimes it's more like an orange shellac than a super blonde. For this box I used a French polish finish, which brings out a high gloss with loads of depth without the thick plastic look that varnishes often end up with.
In addition to its beauty, shellac is the easiest and fastest finish I've used. Even French polishing is pretty straight forward compared to many other finishes and techniques I've tried. Check out my web site for more pieces.
Carl Muhlhausen
Carl's Harvest Woodworks Home Page
---
Mar 31, 2000
Red Oak Cradle (with baby !)
(super blonde, dewaxed orange)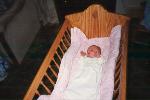 Here are pictures of the cradle. The baby is my niece. The cradle is made from red oak. I applied one coat of super blonde, followed by three coats of orange, all wiped on.
Thanks for all of your help, your shellac is great stuff.
Duane Hoover
---
Mar 28, 2000
Red Oak Bookcase
(Boiled Linseed Oil, Dewaxed Garnet, Dewaxed Orange)

This is my first attempt at using shellac as a finish. My only regret is that I hadn't tried shellac a long time ago. Shellac is so simple to use, and almost goof-proof as I found out. On this project, I started by wiping on a thin coat of boiled linseed oil - just enough to wet the wood, and rubbed it into the pores. After giving that a couple days to cure, I wanted the grain highlighted more, so I wiped on about 4 coats of 2# cut dewaxed garnet shellac. To give it a brighter color, and more sheen, I switched to dewaxed orange applying about 4 coats of that till I got the sheen I wanted. I finished by rubbing out with a grey scotch-brite pad lubricated with thinned wax, then applying 3 coats of wax to make it really slick.
By the way, I finished most of the pieces before assembling the project. That makes it so much easier because I didn't have to mess with inside corners. You can see from the reflection of the objects, that the shellac gives me a nice soft satin sheen that makes people just have to touch it.
I don't believe the stuff people say about shellac not being durable though. This is a pretty hard finish I think!
John Shear
---
Mar 27, 2000
Cypress Sawtill
(Dewaxed Lemon)

Here's my sawtill. It's the dewaxed lemon on top of cypress. I hadn't yet coated the kerf boards and I still had a couple of coats to apply when these were taken. It's all complete now but I have to reconfigure my wall space to hang it up.
Phil B.
---
Mar 26, 2000
Western Red Cedar Classical Guitar
(Blonde)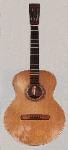 My daughter says I get 'bug-eyed' just thinking about your shellac.
I used the blonde dewaxed on this guitar. Thanks for the great service.
Editor's note: Geoff was one of our first customers, and probably the first guitarmaker to take a chance on our shellac. It's with great pride and satisfaction that we display his (and all our other customers') work here on our web site.
Geoff Roehm
www.roehmguitars.com
---
Mar 22, 2000
Curly Cherry Poster Bed
(Blonde)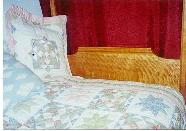 Your Shellac is great stuff. I prefer to use dry shellac flake for finishes and this has limited my options with local suppliers. I really appreciate the varieties, the quality and the price available. Shellac is sorely underrated and this is a GREAT way to find out the pleasures of using the real stuff! Note the very satisfied owner of the bed.
---
Jan 22, 2000
George Wallace produces outstanding work.
Cedar-lined Cherry Blanket Chest
(Dewaxed Garnet)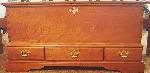 Cedar lined blanket chest. This Cherry blanket chest is modeled after a popular mid-1800's country design. These go very well with either the Sheraton or Pencil Post Beds. The brasses are Horton Brass reproductions of a Chippendale style. A perfect gift for the young lady in your life. I built one for each of my daughters.
As you can see, there are three full depth drawers beneath The cedar lined chest section. The back is fully finished, so the chest can be displayed from all angles. I used eight coats of pure Indian Garnet Shellac to bring out the rich natural Cherry color.
---
Jan 22, 2000
Walnut Chest
(Watco, Super Blonde and Dewaxed Garnet)

This chest is made of walnut. The finish, in order of application is Watco natural, one coat of Super Blonde, one coat of Garnet, eight coats of Super Blonde. All applied by brush . Sanding schedule included wet-sanding every two coats with 400 grit SC. Finish coat wet sanded to 600 grit, 0000 steel wool then polished with dry paper towels.
Donna did the sandpiper marquetry. All I did was make the veneers for her.
Thanks again.
www.mdmwood.com
Mike and Donna's Woodworking Page Port Charlotte, Florida
---
Jan 17, 2000
Fumed Red Oak Table
(Boiled Linseed Oil, Super Blonde and McCloskey Heirloom Gloss Varnish)

The tabletop is 39-3/4"W X 84"L, tabletop height is 29-1/2" off the floor. It's made of red oak (top is q-sawn red oak). I built a box 4'W X 8'L X 4'H (which was a really tight fit in my single car garage/shop), covered it in plastic and put the table inside with about 1 gallon of high strength ammonia (29%, I think) that I bought at a chemical supply house. I fumed it for a week and it came out a dull, chocolate-colored brown. I put two coats of boiled linseed oil on it and the grain really popped. The entire table has a wash coat of ~1.5# cut super blonde. The top is filled with Pore-O-Pac filler, applied after the wash coat.
I then put three coats of McCloskey's Heirloom Gloss varnish (recommended by Jeff Jewitt) on both sides of the top and rubbed it out with Murphy's oil soap and a white 3M synthetic steel wool, followed with a couple coats of Minwax paste wax. The base has an additional three coats of super blonde shellac, lightly rubbed out with the same type of 3M pad (dry) and waxed. The top is 9 boards, jointed with my trusty type 11 #7 and edge glued with urethane glue. No metal, no b*scu*ts ;-) All of the joints are M&T. The only metal in the table is the McFeely's square drive screws holding the top to the base with the homemade black locust table clips.
I like shellac!! If there's an easier finish to work with, I sure don't know what it could be.
Regards,
Charlie
---
A real long time ago
Mahogany Bookcase
(Tung Oil, Buttonlac, Dewaxed Orange and Super Blonde)
This is the second time I've ever used dry shellac, and I must say the experience was even better this time. Your buttonlac, dewaxed orange, and super blonde worked great on this mahogany bookshelf. I'm not that experienced a woodworker, or wood finisher, but I think it came out pretty swell. The price sure was right!
---
A real long time ago
Pine Highboy
(Dewaxed Garnet)
Hola 'Mano,
My first order was for orange and garnet dewaxed, and I have to say that garnet's the best finish I've found for "instantly aging" projects. I used it on a pine highboy and it gave me just the right amount of warmth and color.
The flakes were not clumpy, and dissolved easily, and there was very little "garbage" at the bottom of the jar. Also, the price is by far the best I've ever seen for flakes.
Best of all, Shellac.net guarantees that all shellac is individually selected and packaged by hand under carefully controlled conditions.
Chuck
---
A real long time ago
Pine Tool Tote
(Dewaxed Garnet)

Looky here. Here's the first thingy I done shellacked. I used a thin cut (about 1lb., I'm not one to measure too carefully 'cept at my day job) of dewaxed garnet shellac. This is one coat, globbed on with a china bristle brush. That's recycled pine (in its former life, it was a table). I was going for that instant antique look. I think it came out purdy nice...
jc
---

I should start by saying that the shellac you sold me is looking absolutely incredible on the mahogany and maple coffee table I am making! Both the mahogany and the figured maple are practically glowing. I've never seen that with any other types of finishes. This is my first experience with shellac and it is every bit as satisfying as you state in the web site. I hope you are having success with that venture.
- Dave H. in Raleigh, N.C.
---
V.M., Forth Worth, Texas writes:
I am very happy with the quality of the finish I was able to accomplish with your shellac. I am even considering refinishing some of my previous projects that I have finished with polyurethane. Finishing projects with shellac is easy and forgiving. Even amateur woodworker as me can accomplish excellent results. One of the disadvantages often associated with shellac, slow or incomplete drying of the dissolved and stored shellac is easily overcome by preparing fresh solution with the flakes. Not to mention, it is cheaper to prepare your own solution and you have the flexibility of making the right cut for the job.
I knew that I needed dry shellac flakes but I had trouble finding them locally. I live in a major metro area and I was not able to find shellac flakes in the hardware or hobby shops around. It was not difficult to find your web page with an offer of shellac. Initially I was a little reluctant to order via Internet. My thoughts were going in the line: "Yeah, I am getting great prices but what about the customer service? What if something goes wrong?"
Well, after ordering, I had a chance to get familiar with this part of your business. I did not fill in the form properly and did not receive all the shellac I wanted. After, sending an Email to you I was pleasantly surprised by the quickness of your response and even better by receiving the shipment I wanted in a couple of days at no cost to me. Nowadays, customer service like that is difficult to find.
When I run out of shellac I know where from I am going to order.
You are definitely going to hear from me when I need shellac again.
Once again thank you for your good service.
---
---