for Traditional Finishing, Repair and Maintenance
Burn-In Supplies & Damage Repair Materials for Wood Finishes
Please Click an item above to SEE our NEW Listings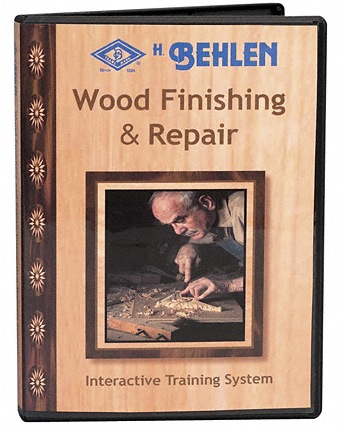 Wood Finishing & Repair -- H Behlen - DVD
This BEHLEN DVD is designed to teach you the most up-to-date wood finishing and repair methods in the industry. Beginners in finish repair and the professional touch-up technician will find this a valuable tool for learning and reviewing the latest in furniture service procedures.
"Better than any book for the subjects covered!"
- - - Highly recommended! .... To: More DVD Info & Details
Electric Oven -- Burn-In Knife Heater - - .See The: Burn-In Video


Efficiently heats the manual Burn-In knives. Unit includes a pilot light.
Heats knives quickly -- maintains a constant 700° - 800º F temperature.
Insert knifes at both ends. All units are equipped with 3-wire grounded circuits with 15amp, 125 volt plug.
Durable all metal construction with knife handle guard and Safety Cage.
Electric Oven / Burn-In Knife Heater -- B900-2500
Manual Burn-in Knives
To be used with an electric heater/oven
---
Angled 'Fishtail' Burn-In Knife
The fishtail knife is an excellent general purpose knife. The blades narrow shaft allows good vision of the repair. Use in Pairs; rotate knives so one is always in the oven and ready for use.


EBKFTB - Angled 'Fishtale' Burn-In Knife

---
Angled Burn-In Knife
The Angled Knife is the 'work horse' for larger repairs repairs on flat surfaces.
The thick blade holds heat for extended periods of time.
Use in Pairs; rotate knives so one is always in the oven and ready for use.


EBKATB - Angled Thick Blade Burn-In Knife

---
Curved Blade Burn-In Knife
Super stainless steel curved rigid blade with a rosewood handle.
Generally used for carvings and concave surfaces. Blade is 3-1/4" long.


EBKCB - Curved Burn-In Knife

---
Flared Angle Sharp Edge Knife
Can be used on flat surfaces but the sharp (1/4 in) edge is most effective at creating grain texture.


EBKSFA - Small Flared Angle Burn-In Knife
Heat Control Unit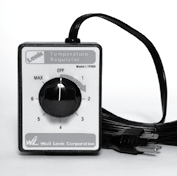 Use with the electric burn-in knife to regulate the heat of the blade
so as not to scorch or burn the surface surrounding the repair.
Eliminates the worry of an overheated knife.
The Control Unit also works with the electric oven.

... ... ... ... ... ... ... ... ..... ... ... ... ... ... .... ... Heat Control Unit ... B900-0800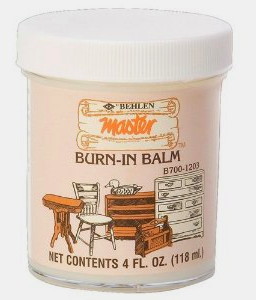 Burn-In Balm™
Heat resistant paste used to prevent damage to the surrounding finish|
while performing a burn-in repair.
Also prevents unwanted spread of excess Burn-In Stick.

... ... ... ... ... ... ... ... ... ... ... ... Burn-In Balm™ ... 4 oz. Jar -- B700-1203
Burn-In Sealer
Jet-Spray™ Burn-In Sealer (aka -- sheen protector) may be sprayed over a Burn-In Stick repair to eliminate an unwanted gloss sheen or "halo" prior to topcoating with a clear lacquer finish.
........... Jet-Spray™ Burn-In Sealer Aerosol ... 13 fl. oz. B101-0867 .... -- UPS Ground Only --
Electric Burn-In Knife - - Designed for Melting Burn-In Sticks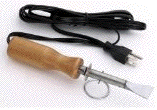 This special design knife has set the standard for dependability in production throughout the finish maintenance and repair industry.
The high temperature element core assures top performance in the
field or shop. The EK24FC knife features rugged construction, a long element life, easy grip wooden handle, with 3-conductor extra flexible
6 foot neoprene power cord. - - UL listed, 25W, wt. 8 oz.
...
Electric Burn-In Knife 110 Volt - - B900 - EK24FC w/ Flat Blade

Electric Burn-In Knife 220 Volt - - B900 - EK22FC w/ Flat Blade
..-- Without Plug - Supply a 220 plug to match your electric system..

............................Curved Blade for the Electric Burn-In Knife - - B900-B24C
... ... ... Note: The New Handle Shape is the same as in the Burn-In Kit (see below)
Burn-In Kit

The Behlen Burn-In Kit includes the tools and supplies
uniquely designed for applying burn-in materials to damaged wood. Burn-ins have long been the industry standard for
making professional repairs on defects and damages in wood.
If you've never done a burn-in, don't be intimidated.
We've lowered the learning curve by including
step-by-step pictorial instructions in this kit.

For a training video where you can watch an expert go through all the steps.
-- See The: Burn-In Video • • • To: Procedure Instructions & Text packaged with the kit)
Kit Contents:
1 - Electric Burn-In Knife, Length: overall inc. flat blade 9.25 - Handle 4.5,
12 - Burn-In Sticks 2" length Assorted (B320's)
Amber, Black, Cherry, Clear, Dark Amber, Dark Cherry, Dark Mahogany,
Extra Dark Walnut, Fruitwood, Light Brown Walnut, Maple, White
1 - Burn-In Balm™ 2 oz.
1 - Easy-to-follow instructions.
Packaged in a clear, clamshell package - convenient for on-site use
............... BEHLEN 110Volt Burn-In Kit - B881-0018
Micro Therm™ Flameless Heat Gun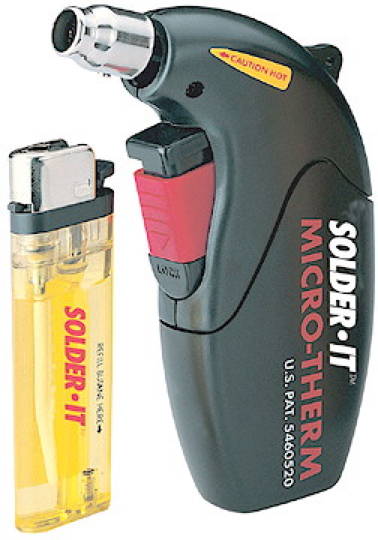 The Micro Therm™ Heat Gun is a hand held self-igniting flameless
heat gun and is powered by a refillable butane fuel cell.
The Micro Therm™ is the perfect heat source for Quick Fill® Burn-In Sticks.
• Hand held, with automatic electronic ignition / trigger.
• Patented safety lock ...• Produces 1300ºF flameless heat
• Refillable fuel cell included - butane lighter
• Compact ergonomic design ...• Butane not included ...-- UPS Ground Only --
Leveler Card
The Leveler Card is used with Behlen Quick Fill® Burn-In Sticks
to level burn in or to scrape away any excess.
Also used to level fill sticks. --
.....................(One Card included with the Heat Gun & the QuickFill Set of 12)

Leveler Card - B898-0002 ---
Pack of 3 Levler Cards - B898-0003
Qualarenu™ #1 ... Amalgamator
A modern method of renovating an old cracked, or alligatored finish.
Works equally well on old varnish, lacquer, or shellac finishes. May be brushed, sprayed, or padded on the old surface. Eliminates the need for re-staining and/or re-filling with paste wood fillers.
Made ready for use on most surfaces. For some work, it may be necessary to add some Behkol to assist in the amalgamation. Will not work on polyurethane, epoxy or polyester finishes.
Will not eliminate veneer checks or damage to the wood.
B611-00055 - Qualarenu™ #1 - Pint -- UPS Ground Only --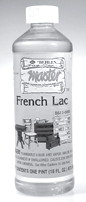 French Lac (French padding finish)
French Lac is a light amber French padding finish, suitable for use on the lightest of finishes. French Lac is offered in a ready to use formula (needing no additional oils or reducers).
French Lac has been job tested for years by professional repair technicians, for the repair an entire surface or to finish a spot repair.

French Lac -- B611-0065 - Pint -- UPS Ground Only --
Qualasole™ -- The modern "French Polish"


Qualasole™ is an invaluable product in the cabinet finishing department. No oil is required for French polishing, padding, touching up, or renovating. Apply Qualasole™ with a pad to raw wood or over any cured shellac, varnish, lacquer, paint or enamel finish in the same manner as French polishing. A superior and durable finish is obtained in a fraction of the time as compared to the old method. Behlen Qualasole™ affects speedy, permanent, new finishes and renovations that do not show press marks after handling or transportation. Qualasole™ accentuates the wood grain and natural markings and produces a beautiful appearance that improves with age.
Qualasole™ French Polish - B611-00015 - Pint ... & ... B611-00016 - Quart
..............................................-- UPS Ground Only --
Shellac.net Wood Finish Supply
See The: Burn-In Video To: Touch Up Markers & Fill Sticks
To: BEHLEN Index & Links .. to: Products for Finishing, Repair and Maintenance
to: Touch-Up Powders & Materials .. to: Aerosol Listing .. to: Guitar & Stringed Instrument Finishing
to: Home Page

8/6/14 - pricing subject to change without notice.

---