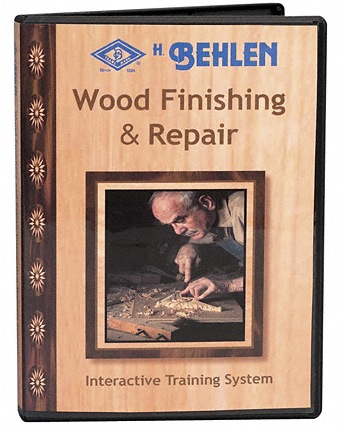 Wood Finish & Repair demonstrates, through
step-by-step training, professional finish repair techniques.
This BEHLEN DVD is designed to teach you the most up-to-date wood finishing and repair methods in the industry.
Beginners in finish repair and the professional touch-up technician will find this a valuable tool for learning and reviewing the latest in furniture service procedures.
It is much easier to understand finishing techniques by having them simultaneously explained and demonstrated.
Wood Finishing & Repair covers important furniture repair methods with
live demonstrations and detailed understandable explanations.
Wood Finishing & Repair Includes:
· Damage analysis
· Burn-Ins and Filling damages
· Replacing color
· Grain replacement
· Spot finish application
· Sheen adjustment
· Scratch removal
· Finish care
· .. and much more, Well indexed: for easy review of special interest information
• Approx. 2 hours packed with valuable information
The techniques show how to deal with normal furniture that needs repair, and not about furniture restoration or conservation. The finishing portion covers how to apply modern finishes. Wood Finishing & Repair is the best video presentation on furniture finish repair techniques we've ever seen.
"Better than any book for the subjects covered!" -- Highly recommended!