H BEHLEN P.D.E.™ Paint Remover washes away layers
of tough old paints (latex, casein, milk paint, and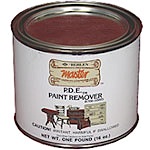 oil).
Mix the PDE powder with water to create a powerful, inexpensive and easy to use remover for thick hardened paints. P.D.E.'s easy to apply creamy consistency can dissolve up to 8 layers of paint in one application.
Once in its liquid form, there is no worry of toxic fumes, acids or fire hazards. The difficulty in scraping is eliminated with PDE™Remover.

Note: The warmer the temperature (at least 65° F)
the quicker the removing action.
As the name implies, PDE™ is a paint remover and is
NOT Recommended for lacquer, shellac, varnish, or urethanes.
Directions:
Mix one part of powder with one part of water,
using any container except aluminum or plastic.
Pour powder slowly into the cool water while stirring.
Let the mix stand for 5 to 10 minutes until it has formed a thick paste,
& then re-stir into a cream.
Apply a thick uniform coat of remover to the surface with a nylon paintbrush.
Some layers will dissolve in minutes, but it might take as long as an hour to completely dissolve some crusty old antique paints.
A mist spray mist of water will keep the action going.
Spot test with a wet cloth, and when you can see the original wood surface, wash everything by rotating a rough wet cloth or medium steel wool pad. Some woods may darken but a quick after-wash with vinegar or oxalic acid will quickly restore the natural wood tone.
Clean the surface thoroughly with water
and allow drying for 24 hours before applying a new finish.
CAUTIONS:
IRRITANT, Harmful if Swallowed
Contains: Calcium Hydroxide
Avoid contact with eyes or contact with skin
First Aid:
In case of Eye contact, flush immediately with cool water for at least 15 Minutes; Call a physician.
For Skin, wash thoroughly with soap and water.
If swallowed, give water or milk, Call a physician Immediately.
KEEP OUT of the REACH of CHILDREN