Bysakhi Button Shellac

Now Shipping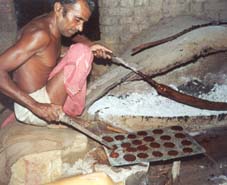 Varieties of shellac resin differ primarily in color as well as properties.
The type of tree, climate conditions, the region where harvested, and the time of year harvested,
all play a role in determining the different colors and shellac varieties.
Handmade Button Shellac is produced by placing Seedlac into a long narrow cloth bag and heating with a charcoal fire.
One end of the bag is attached to a windless and is gradually twisted.
The heat from the charcoal fire melts the seedlac which is forced through the cloth by pressure.
The molten lac is scraped off and placed onto metal sheets and left to dry.
The making of Lac buttons requires considerable manual skill and long experience.
Listing: Bysakhi Button Shellac 
---
---