---
Shellac.net Wood Finish Supply & MeritIndustries.com
Home of: MohawkFinishSupply.com
Authorized Mohawk Distributor
Select Products for Traditional Furniture Finishing, Touch-Up, Repair and Maintenance
---
Our showroom is now open - New Location - 2465 Second Street, Napa Ca 94559
Thank You for your support, we appreciate your business. Ron, Pete & Shannon
---
---
MOHAWK
---

WOOD FINISH SUPPLY an Authorized Mohawk Distributor




History of Mohawk
Frank D. Pabis started Mohawk Finishing Products with an initial investment of $5,000 in 1948.
In 1973, Pabis merged his firm with RPM, a company based in Ohio. By 1980, Mohawk Finishing
had 200 employees, 140 of them in Amsterdam. Twenty years later, in 2001, RPM closed
the Amsterdam plant and moved Mohawk Finishing Products to Hudson, North Carolina.

Today Mohawk Finishing Products is the leading manufacturer and distributor of professional wood touch up,
repair and finishing products. Mohawk offers the highest quality wood coatings and finishing products,
furniture polishes and cleaners, and touch up and repair products for wood and leather in the industry.
Specializing in products for the furniture, cabinet and flooring markets, Mohawk also offers
environmentally friendly touch up and repair products. We consider the best products as well as the best practices.
Mohawk provides more products and services to help small to mid-size businesses with their furniture and cabinet finishing, finishing and repair projects than anyone in the industry.

Based in Hickory, North Carolina, Mohawk Finishing offers its top quality wood coatings and finishing products across the country and around the world through respected distributors.
---
---
MOHAWK BRUSH TIP MARKERS - Sets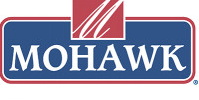 BRUSH TIP MARKER - Sets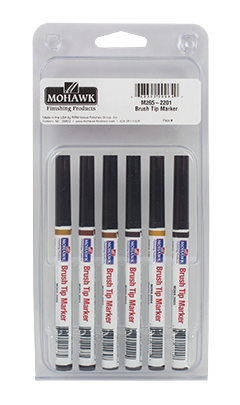 The Mohawk micro brush-tip applicator to allows you to apply color
exactly where it is needed without any messy powders, fluids or odors.
Simple and easy to use, this wood graining marker applies color to
imitate the natural grain appearance of wood surfaces after minor repairs.

Features clear crisp colors that hold a thin line.
Low to no odor, easy to use, teach and learn.
Quick and easy application, no messy powders, extra brushes or liquids.
• Use to add grain lines or alter color after application of a:
Fil-Stik® Putty Stick, Quick Fill® Burn-In Stick, Burn-In Sticks,
or Hard Fill Burn-In Stick.
• Add color to small sand thru areas on a face or edges of a wooden part
• Add or alter color in any small defect
• For the color contents of a Set, click on the set price line below.

QUICK FILLฎ BURN-IN Sticks (Low Heat)
Click Above for Color Guide and Application Information
Mohawk QUICK FILL® BURN-IN STICKS
make filling defects quick and easy.
The Quick Fill Low Sheen filler is designed to fill nicks, dents, and scratches,
it's the perfect filler for floors, cabinetry, vinyl wrapped products and photo processed laminates.
Quick Fill® is applied using the Battery Powered Burn-In Knife or Micro Therm™ Flameless Heat Gun
Level without the use of burn-in knives or sandpaper,
simply scrape away excess with a leveler (credit) card.

• Low sheen
• Quick simple application.
• Use for floor nail holes and other small defect repairs.
• Perfect for production, field service technicians, cabinet & floor installers

Lt Red Mahogany
M320-0001

Deep Mahogany
M320-0002

True Brown
M320-0003


Ex Dark Walnut
M320-0004

Cherry
M320-0005

Red Brn Mahogany
M320-0006


Lt Golden Oak
M320-0007

Nutmeg
M320-0008

Heartwood Cherry
M320-0009

Cinnamon Sugar
M320-0010

Black
M320-0011

White
M320-0012
HARD FILL Burn-In Sticks
Click
above to review the Hard Fill Application Procedure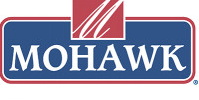 HARD FILL Burn-In Sticks
Designed to fill minor and medium defects in wood furnishings and rigid plastic.
Use for repairs on practically any flat surface, including tops,
fronts, sides, doors, drawers and excellent for floors.
Available in a range of colors to match surface finishing and blend repairs.
Requires the Battery Operated Burn-In Knife or Burn-In knife to melt the stick into the defect.
Use the Hard Fill leveling tool to carefully remove the excess filler
without harming the surrounding wood surface.
Colors are approximate representations of the actual colors. Variations may occur.

---

HARD FILL Set # 1 of 10 Colors
American Walnut
M310-4057


White
M310-0202


Black
M310-0224

Honey Maple
M310-0360


Clear
M310-0901


Van Dyck Brown
M310-1478


Fawn Glaze
M310-4012


Lt. Oak / Hickory
M310-4038

Mocha
M310-4062


Kona
M310-4071


---

HARD FILL Set #2 of 10 colors



Dark Umber
M310-0003

Cream
M310-0012


Trans Green Brown
M310-0032

Brown Mahogany
M310-0229


Snow White
M310-0354

Champagne
M310-0402

Natural Tone
M310-0902



Pine
M310-1516


Antique Oak
M310-1521


Light Fawn
M310-4057


---

More Hard Fill Tones

Light Cherry
M310-0001


Medium Cherry
M310-0264


Oak Hickory
M310-4054


Egret / Khaki
M310-0095


Ash Gray
M310-0117


Stone Gray
M310-2000

---
Note: the 1 or 2 after the Color Name indicates set contents.

Ultra Penetrating & Solar-Lux NGR RETARDER • UPS Only •
Ultra Penetrating & Solar-Lux NGR DYE RETARDER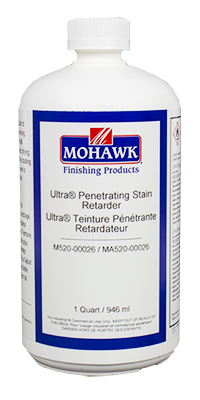 NGR (non grain raising) DYE RETARDER
slows evaporation and drying of NGR Dyes to give more working time
and improve penetration, especially on hard dense woods.

With the newer Dye VOC Compliant formulation,
use of the NGR DYE RETARDER is HIGHLY RECOMMENDED
especially for dye application by hand.

WATERBORNE Brushing Urethane VARNISH
WATERBORNE Brushing Urethane VARNISH
Waterborne Brushing Varnish is a high quality, non-yellowing acrylic / urethane top coat

that provides a beautiful finish that will enhance the beauty of wood projects.
Waterborne Brushing Varnish is low odor, fast drying
and low VOC.
It is easy to apply and has excellent leveling properties.
It is a high solids, self-sealing finish that provides faster build with fewer coats for superior results.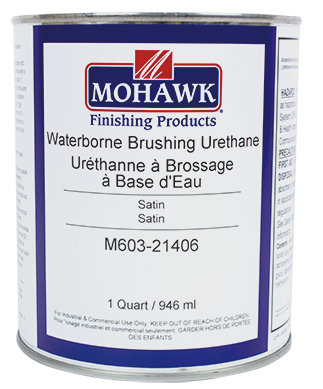 WATERBORNE Brushing Varnish Highlights:
• Urethane / Acrylic blend
• Low odor
• Easy to use
• Can be applied with brush
• Dries quickly
• High Solids: 28%
• Excellent leveling properties!
• M603-21606 -- Semi-Gloss (Sealer & build coats)
• M603-21406 -- Satin • M603-21206 -- Flatt

Note: Click Here for the Original oil/solvent based ROCKHARD TABLETOP VARNISH

WHITE, BLACK & CLEAR VINYL LACQUER SEALERS • UPS Ground Only •
Click link above for Data Sheet
WHITE, BLACK & CLEAR VINYL LACQUER SEALERS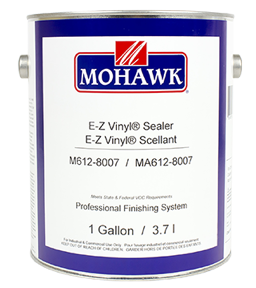 Vinyl develops an excellent moisture resistant barrier for the wood substrate,
and provides a good tough, and flexible base for all lacquer finishes.
Vinyl Sealer is offered in a ready to use formulation
that needs no further reduction or catalyst.
• • • 5 Gallon Pails available on Order. Please Phone to order.

Note: Vinyl Sealer may be applied over raw wood or filled and stained substrates.

Clear also available for Aerosol applications
Finishers Choice CLEAR LACQUERS • UPS Ground Only •
Click above for Product Data Sheet & application information
Finisher's Choice™ CLEAR LACQUERS - 275 VOC compliant (Alcohol Resistant)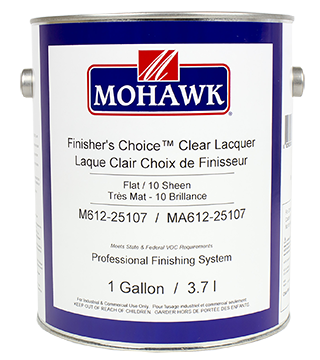 Mohawk's Finisher's Choice™ clear nitrocellulose lacquers are
highly resistant
to the strongest of alcohols, water, moderate heat,
abrasion, impact, and
are highly scratch resistant after a week's cure time.
Finisher's Choice™ lacquer forms a hard film designed to take
punishment that would normally ruin other lacquers.
It may be used on tabletops and other applications that require a tough finish.
Finisher's Choice™ Clear Lacquers are ready to spray, high solids, low viscosity formulas that enables users to achieve the best flow and build without reduction.
Apply in light, even coats of no more than 3-4 wet mils.
Clear WW Lacquers are 275 VOC compliant. --
Solids % (wt): 20.14
BUFFCOTE™ LACQUER (Waxing Lacquer)
Click above: Product Data Shee
t & Application Information

BUFFCOTE™ LACQUER
(Satin & Matte)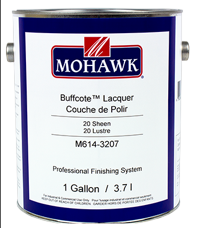 Buffcote™ (aka Waxing Lacquer) contains waxes that yields dazzling results for all types of fine furniture and interior woodwork. This unique lacquer delivers a very soft look and feel that will "wow" your customers and is formulated to give a hand rubbed effect right off the spray gun.
Buffcote Lacquer is used as a Top-Coat only over Finishers Choice gloss lacquer.
The slightly amber appearance of Buffcote Lacquer also adds to the patina and richness of the wood. Buffcote offers quick dry, quick build, and exceptional flow and leveling.
Buffcote looks great over stained wood or, alone as a beautiful natural finish.
Solids: 27% --- Satin (40) & Matte (20) sheens

CLASSIC Stringed INSTRUMENT LACQUER • UPS Ground Only •
Click above:
Label Text & Application Information
CLASSIC Stringed INSTRUMENT Lacquer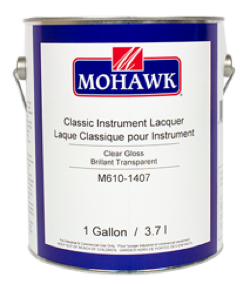 Classic Stringed Instrument Lacquer is a high quality
nitrocellulose lacquer specifically designed for wooden stringed instruments.

Stringed Instrument Lacquer allows for the special expansion and contraction
that occurs due to the unique construction of stringed instruments.
Note:
Stringed Instrument Lacquer must be applied over our Vinyl Sealer in order
to assure its unique film building and special finish characteristics.
Also available in Aerosol
CRACKLE LACQUER • UPS Ground Only •
CRACKLE LACQUER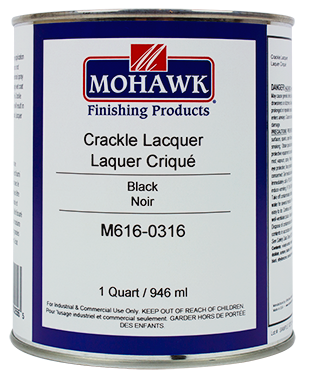 Crackle Lacquer creates a cracked, crazed, or antique looking finish.
A wet coat of Crackle Lacquer is sprayed over a dried nitrocellulose colored base coat.

The base color shows through when the crackle layer cracks.
For example, black over white yields white visible in the cracks
and clear over white simulates an antique white enamel finish.

Effective only when a wet coat is applied with a spray gun over a
conventional gloss lacquer finish. Crackle is offered in a ready to spray consistency.
The clear can be colored with lacquer colorants to create dynamic results.
WAX WASH Cleaner & WAX REMOVER • UPS Only •
To: Info & Label Text
WAX WASH DE-WAXER WOOD CLEANER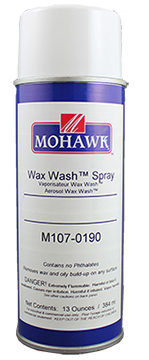 WAX WASH / De-Waxer Wood & Finish CLEANER
& WAX REMOVER
is a specially formulated blend of solvents.

For best repair and rub-out results, first prepare and clean the surfaces with

WAX WASH / De-Waxer to remove waxes, oil and other foreign material
from bare woods, new finishes, and aged wood finishes.

Wax deposits that remain after the use of paint, lacquer, and varnish removers
can be eliminated with use of WAX WASH / De-Waxer
Available: Quart M712-1906 & Aerosol M107-0190
POUR-N-WIPE / Master Gel FINISH • UPS Only •
Click above for Label Text & Product Data
POUR-N-WIPE FINISH
(M603-3016)
/
Behlen
Master Gel
(B550-30016)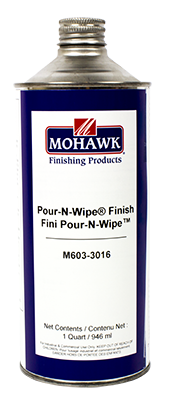 A (solvent / oil based) top coat for bare, dyed or stained wood.
• Unique gel form • Easy-to-apply • No mess, no brush marks
• Pour-N-Wipe® Finish is self sealing • Excellent as a wood turning finish.
Pour-N-Wipe is self-sealing (no sealer coat is required) and virtually colorless when dry.
Imparts a lustrous satin urethane finish to wood, protecting against water and alcohol staining.
Clean up: Mineral Spirit.
Pour-N-Wipe is durable enough for use on hardwood floors, bar and table tops.
Pour-N-Wipe Finish can be applied with a lint free cloth.
Dries overnight. Allow to dry 4 hours prior to re-coating.
For Best Results: The work area, surface being finished, Pour-N-Wipe should be above 60°f
Maintain 60 degrees throughout the dry time of the coats.
Colder temperature can affect flow and dry times.

FNISH UP™ Polyurethane
Click above for Data & Application Information

FNISH-UP™ Wipe-On Polyurethane
(Waterborne Wipe On)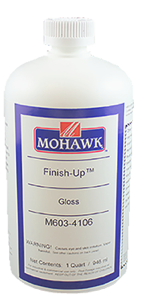 Finish Up is a waterborne (WATER CLEAR) user friendly wipe on finish.
Mohawk Finish-Up™ Polyurethane can be applied over repairs such as
Burn-Ins, Fil-Stik® Putty Stick fills, Blendal® Powders and
Touch Up Markers to seal in the repair, leaving a durable protective finish.
Can be applied over properly cleaned existing finishes to improve appearance and durability.
Finish-Up™ Polyurethane adheres well to most types of lacquers, vinyl clads, and
high pressure laminates as well as many other substrates.
Best of all, it is water based and has almost no odor.
The almost no odor feature makes Finish-Up™ Polyurethane the product of choice
where aerosols and other solvent based touch up finishes are not appropriate.


• Low VOC 380 g/l • Easy Wipe On application • Quick Drying • Good Flow characteristics • Good Durability
• Moisture & Alcohol Resistant • Water Clear • Excellent Adhesion • Won't Lift other finishes • Nonflammable

LACQUER REDUCER / THINNER 2255 • UPS Only •
PLEASE Click Above for Additional Information
LACQUER REDUCER - MOHAWK / Finishes Edge Lacquer Thinner 2255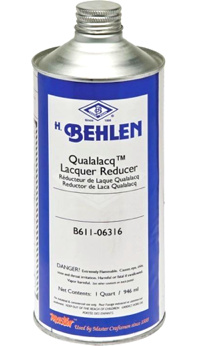 A special blend of solvents formulated for thinning nitrocellulose lacquers.

Use to thin:
• Lacquer Sanding Sealer
• Vinyl Lacquer Sanding Sealer
• Mohawk Nitrocellulose Lacquers
• Classic Stringed Instrument Lacquer.

Thinner improves flow of lacquers and adjusts viscosity for the spray equipment used.
(Avoid using more than 15 % by volume of the lacquer)
Note: 5 Gallon Pails are PICK-Up or DELIVERY Only - Please Phone ahead


DENATURED Alcohol, BEHKOL / Shellac Reducer • UPS Only •
DENATURED ALCOHOL
Shellac Solvent / Reducer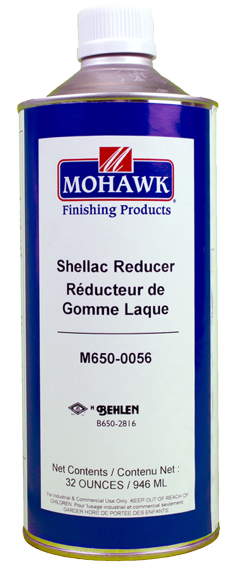 DENATURED Alcohol, Mohawk Shellac Reducer / (Behlen Behkol B650-2816),
is formulated specifically to dissolve shellac flakes,

and dilute or 'cut' liquid Shellacs.
See the: Shellac Pound Cut Mixing Chart

Shellac Reducer (Behkol / Denatured Alcohol) will make a shellac that has
a little more open or 'working time', a good solvent choice for mixing your own shellac.
Also used to dissolve alcohol Aniline Dyes.
Note: 5 Gallon pails are Pick-Up, or North Bay & Bay Area Delivery Only. Call to arrange details.

---
---
Shellac.net Wood Finish Supply / MeritIndustries.com
Authorized Mohawk Distributor
Visit our New Location: 2465 Second Street (green building, end of Second St.) Napa CA 94559
Assistance for placing your order - (8:30am to 3:30pm Pacific Time) 707-299-8016 - toll free 877-245-5611

Email: wfs@mcn.org ... to: Ordering Information ... Privacy Policy
rev. 10/25/21 & Updated Daily
---
---