---
Shellac.net Wood Finish Supply & MeritIndustries.com
Home of: MohawkFinishSupply.com
Authorized Mohawk Distributor
Select Products for Traditional Furniture Finishing, Touch-Up, Repair, and Maintenance
• • •
Visit Our Showroom, 2465 Second Street, Napa Ca 94559
Thank You for your support, we appreciate your business, Ron & Pete.

---
---
MOHAWK
---

WOOD FINISH SUPPLY an Authorized Mohawk Distributor




History of Mohawk
Frank D. Pabis started Mohawk Finishing Products with an initial investment of $5,000 in 1948.
In 1973, Pabis merged his firm with RPM, a company based in Ohio. By 1980, Mohawk Finishing
had 200 employees, 140 of them in Amsterdam. Twenty years later, in 2001, RPM closed
the Amsterdam plant and moved Mohawk Finishing Products to Hudson, North Carolina.

Today Mohawk Finishing Products is the leading manufacturer and distributor of professional wood touch up,
repair and finishing products. Mohawk offers the highest quality wood coatings and finishing products,
furniture polishes and cleaners, and touch up and repair products for wood and leather in the industry.
Specializing in products for the furniture, cabinet and flooring markets, Mohawk also offers
environmentally friendly touch up and repair products. We consider the best products as well as the best practices.
Mohawk provides more products and services to help small to mid-size businesses with their furniture and cabinet finishing, finishing and repair projects than anyone in the industry.

Based in Hickory, North Carolina, Mohawk Finishing offers its top quality wood coatings and finishing products across the country and around the world through respected distributors.
---
---
GRAINING PENS, Fine Point
GRAINING PENS
- fine point, stain and finish marker.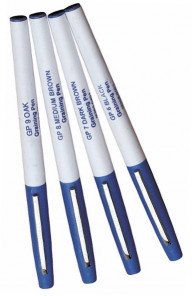 Graining pens are used to replace
or replicate grain in scratches, fills, or burn-in repairs.
Graining Pens are a fine point, stain and finish marker.

Use Graining Pens to replace or replicate grain
in scratches, fills, or burn-in repairs.
Topcoat to seal and protect.


DISTRESSING / Shading PENCILS
DISTRESSING PENCILS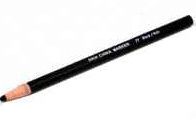 Use Distressing Pencils to simulate grain, "worm holes", fly specks, etc.
Ideal for creating antiqued finish effects.
Create distress markings and wood grain effects on spot repair work.
Spray treat the surface with a protective coating after application.

No sharpening required, unwind the spiral wrap as the tip wears away.
Distressing Pencils must be top-coated to insure wearability.
SLIDEEZ™ LUBRICANT
Click Above for Label Text
SLIDEEZ™ LUBRICANT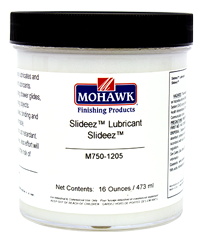 Lubricates wood, metal, plastic.
The semi-paste consistency lasts much longer than other forms of lubricant.
Drawers, windows, and doors work easier with an application of Slideez™.
It prevents binding of all moving parts.
• Slideez™ is also good for starting screws.
• An excellent rust preventative for tools used in gardens and metal objects in storage.
Slideez™ will not stain or cake and is non-flammable. •• Contains NO Silicone.
1 Pint / 16 Oz Jar

Aerosol, GUITAR TONER Lacquers • UPS Ground Only •
GUITAR TONER Lacquers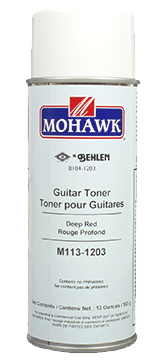 Toners are used to add shading effects to the guitar. Made from fade resistant dyes
in lacquer, they apply transparent color so the beauty of the wood shows through,
yet they are strong enough that several coats will create the dark sunburst effect
that is so popular on guitars.
Starcast Amber applies the basic light tone colors of the guitar. Encore Brown is used to
tone the body sides of acoustic guitars, which are typically darker than the soundboard.
The new DEEP RED M113-1203 is used on guitars, stringed, and percussion instruments;
use to tone edges or create a solid opaque Red color with a few more coats.
Aerosol colors shown for comparison only, color rendering subject to computer monitor limitations.

M113-1201
Encore Brown
M113-1202
Starcast Amber

M113-1203
Deep Red
Aerosol, DYE TONER Lacquers • UPS Ground Only •
Click above for Color Guide
Mohawk ULTRA CLASSIC
TONER
Aerosols
(Transparent DyeToners)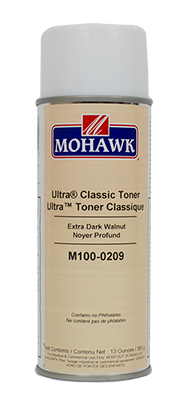 Mohawk Ultra Classic are manufactured by blending Translucent Fade Resistant Dyes
into furniture grade lacquers. Use Aerosol Dye Toners for shading, toning,
adjusting color and for sealing touch-ups & repairs.

The clarity of these Dye based Toners will not obscure the figure or grain of the wood.
Mohawk Ultra Classic Toners may also be used as a topcoat.

To adjust the toner sheen, topcoat with a Tone Finish CLEAR of the appropriate sheen.

Please See: The Importance of Agitating and Clearing the Aerosol tube
Aerosol colors shown for comparison only, color rendering subject to print & computer monitor limitations.
M100-0002
Natural Pine


M100-0004
Maison Brown

M100-0007
Amber

M100-0207
Med Brown Walnut

M100-0209
Extra Dark Walnut


M100-0220
Dark Golden Oak


M100-0224
Black
M100-0227
Dark Red Mahogany
M100-0229
Brown Mahogany

M100-0249
Perfect Brown

M100-0321
Lt Oak / Natural

M100-0351
Dark Walnut / Oak

M100-0352
Lt Walnut/Col Maple

M100-0353
Van Dyke Walnut

M100-0354
Brown Fruitwood
M100-0355
Med.OakTavern Pine

M100-0381
Red Mahog / Cherry

M100-0382
Natural Cherry

M100-0383
Dark Red Walnut

M100-0384
Deep Red Mahog
M100-0408
Cherry
M100-0415
Lt Golden Oak
M100-7020
Dark Walnut
M100-7021
Universal Walnut





























NOTE: Items without a price will be available soon; and when available will allow ordering.

COLOR GRAINING PENCILS
Click Above for COLOR GUIDE
COLOR GRAINING PENCILS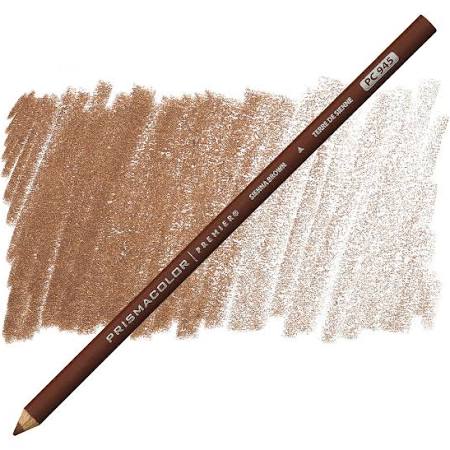 The Graining Pencil is an artist pencil with soft, thick cores
to create a
smooth color lay down for superior blending and shading.
The pencils can be used to add color or grain lines over raw wood,
finished wood, Epoxy Sticks and Wood Fillers.
The color of the pencils will not bleed or change when top coated.
Recommended for production line touch-up stations since color can be
replaced along a moving line. Absence of liquid usage eliminates drying time.
Ideal For Fine Delicate Work.
Manual sharpening is recommended for these pencils.
Each 3.8 mm core is enclosed in a round cedar casing, lacquered to match the color.
Color Reference Swatches created with heavy to light application applied on 100 lb drawing paper.
---
| | | | | | |
| --- | --- | --- | --- | --- | --- |
| BLACK | Mineral ORANGE | BURNT OCHRE | DARK BROWN | SANDBAR BROWN | LIGHT UMBER |
| WHITE | DARK UMBER | SEPIA / Red BROWN | OAK | MAHOGANY Lt. | MAHOGANY Red |
| BEIGE | ORANGE | TERRA COTTA | French GRAY 70% | French GRAY 90% | WARM GRAY 10% |
| Warm GREY 50% | SIENNA BROWN | DARK GREEN | CRIMSON RED | Sunburst YELLOW | METALLIC GOLD |
| CHESTNUT | CHOCOLATE | HENNA BROWN | CRIMSON LAKE | TUSCAN RED | YELLOW OCHRE |
---
---
---
Shellac.net Wood Finish Supply / MeritIndustries.com
Authorized Mohawk Distributor
Our New Location: 2465 Second Street (One block west of California St.) Napa CA 94559
Assistance for placing your order (8:30 am to 3:30 pm Pacific Time) 707-299-8016 - toll-free 877-245-5611

Email: wfs@mcn.org ... Privacy Policy
rev. 1/28/23
---
---