---
Shellac.net Wood Finish Supply & MeritIndustries.com
Home of: MohawkFinishSupply.com
Authorized Mohawk Distributor
Select Products for Traditional Furniture Finishing, Touch-Up, Repair and Maintenance
• • •
Our showroom is now open, 2465 Second Street, Napa Ca 94559
Thank You for your support, we appreciate your business. Ron, Pete & Shannon
---
---
MOHAWK & H.Behlen FINISHING PRODUCTS
---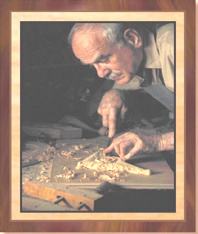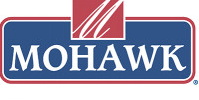 MOHAWK WOOD FINISHING PRODUCTS
An Authorized Mohawk Distributor
Materials Listed by Category & Product #

NEWS Blog

For Mohawk in Canada, Please Visit

Ardec Wood Finishing Products
---
Round Bridled GLUE BRUSHES
Round BRIDLED GLUE BRUSHES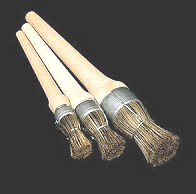 | | | |
| --- | --- | --- |
| Size | Diameter | Bristle Length |
| 4 | 1/4 in. | 1.5 in. |
| 8 | 1/2 in. | 1.75 in. |
| 10 | 5/8in. | 2 in. |
| 18 | 1 in. | 2.25 in. |
| 20 | 1.25 in. | 2.25 in. |
Currently, only the # 4, 10, 18 brushes are available
These 100% pure gray hog bristle brushes feature plain wood handles
and seamless metal ferrules. For all hot or cold glue applications.
Wire bridled construction for added strength and to extend the brushes life.
When the brush wears down, remove the bridle, you now have a 'new' glue brush!

GLUE BRUSHES
GLUE BRUSHES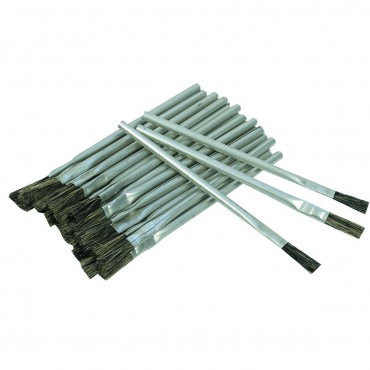 Use for applying glue or adhesives to small areas,
dovetails, dowel pins and mortises.
Round open seam polished metal handle; 4 5/8" long.

Machine pressed setting of Black Chinese hog bristles
The 1/4 inch brush is excellent for dowel holes & small mortises
FRENCH POLISHER'S HANDBOOK (1910 Reprint)
Click above for More Information
FRENCH POLISHER'S HANDBOOK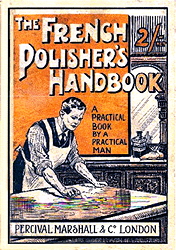 (1910 Reprint) 104 pages, 5.8 in. x 8.3 in.
This Reprint is spiral bound with a protective cover -
great for in-shop use, lays perfectly flat & folds back on itself.
Pagination and format is an exact facsimile of the original book.

A valuable resource for those working on antiques.
Several historic finishing recipes are included.
The book includes some fascinating 'lost' information and recipes for furniture stains.
---
---
Shellac.net Wood Finish Supply / MeritIndustries.com
Authorized Mohawk Distributor
Our New Location: 2465 Second Street (One block west of California St.) Napa CA 94559
Assistance for placing your order - (8:30am to 3:30pm Pacific Time) 707-299-8016 - toll free 877-245-5611

Email: wfs@mcn.org ... to: Ordering Information ... Privacy Policy
rev. 5/14/22 & Updated Daily
---
---