---
---
Shellac.net Wood Finish Supply & MeritIndustries.com
Home of: MohawkFinishSupply.com
Authorized Mohawk Distributor
Select Products for Traditional Furniture Finishing, Touch-Up, Repair and Maintenance
At this time we continue to ship & support our loyal customers
as COVID-19 virus continues to close businesses.
Our showroom is now open, Napa County Health Requirements -
Please Wear a Face Covering & Maintain 6 ft. of Physical Distance
Email or phone orders can still be picked up with 'Curbside Delivery'
at our NEW Location 2465 Second Street, Napa Ca 94559
For details about Pick-Up orders, or questions,
Phone: 877-245-5611 Monday - Friday - (Saturday by Appointment)
Your On-line Web Orders will be shipped promptly via Mail or UPS
Shellac.net Wood Finish Supply & Merit Industries
Thank You for your support, we appreciate your business
Ron, Pete & Shannon
---
---
MOHAWK & Behlen FINISHING PRODUCTS
---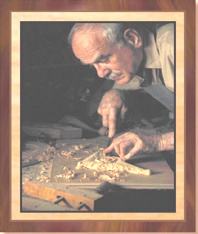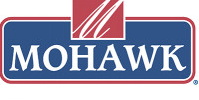 WOOD FINISHING PRODUCTS
An Authorized Mohawk Distributor
Materials Listed by Category & Product #

NEWS Blog

For Mohawk & H.Behlen in Canada, Please Visit

Ardec Wood Finishing Products
Ground HIDE GLUE
Ground HIDE GLUE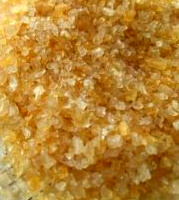 Ground hide glue is the traditional luthier's glue. It creates stronger wood joints than bottled liquid hide glues. Ground glue granules are mixed approximately 50 / 50 with hot water
and kept warm during use.
Although this glue has a quick grab it still allows
you to re-position
the piece for an extended period prior to setting.
Ground Hide Glue is used extensively in wood veneering, chair making, guitar manufacture,
stringed instrument making and repair, antique repair and restoration,
and in cabinet making.

Hide Glue can also be used to create a crackle effects over oil
or latex based under coats.
Grade: "192" gram strength. Made in the USA
GLUE BRUSHES
GLUE BRUSHES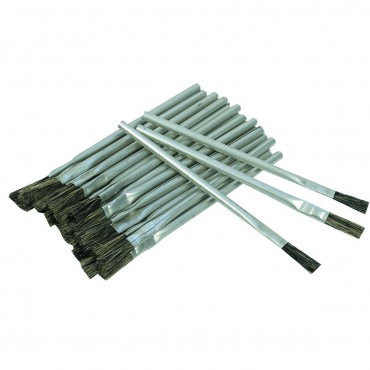 Use for applying glue or adhesives to small areas,
dovetails, dowel pins and mortises.
Round open seam polished metal handle; 4 5/8" long.

Machine pressed setting of Black Chinese hog bristles
The 1/4 inch brush is excellent for dowel holes & small mortises
FRENCH POLISHER'S HANDBOOK (1910 Reprint)
Click above for More Information
FRENCH POLISHER'S HANDBOOK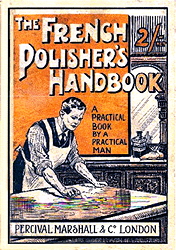 (1910 Reprint) 104 pages, 5.8 in. x 8.3 in.
This Reprint is spiral bound with a protective cover -
great for in-shop use, lays perfectly flat & folds back on itself.
Pagination and format is an exact facsimile of the original book.

A valuable resource for those working on antiques.
Several historic finishing recipes are included.
The book includes some fascinating 'lost' information and recipes for furniture stains.
---
---
Shellac.net Wood Finish Supply / MeritIndustries.com
Authorized Mohawk Distributor
Visit our New Location: 2465 Second Street (green building, end of Second St.) Napa CA 94559
Assistance for placing your order - (Toll Free, 8:30am to 3:30pm Pacific Time) 877-245-5611

Email: orders@shellac.net ... to: Ordering Information ... Privacy Policy
rev. 10/24/20 & Updated Daily
---
---