---
---
Shellac.net Wood Finish Supply & MERIT Industries.com
An Authorized Mohawk Distributor

Select Products for Traditional Furniture Finishing, Touch-Up, Repair and Maintenance
---
---
BEHLEN & MOHWK FINISHING PRODUCTS
---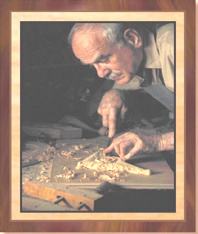 WOOD FINISHING PRODUCTS
&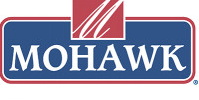 FINISHING PRODUCTS
Descriptions & Photos Listed by Category & Product #

NEWS Blog

Subscribe to our News & Notes
In Canada, Please Visit

Ardec Wood Finishing Products
---
WATER BASED GRAIN FILLER
Water Base Grain Filler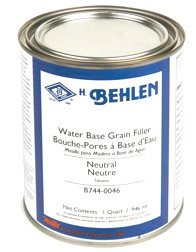 Behlen Water Base Grain Filler has been designed to create a professional smooth,
closed grain surface on open grain woods like oak, mahogany and cherry.
It applies easily,
levels smoothly, dries quickly (usually in 2 to 3 hours)
and sands to a finishing grit smoothness.
Accepts any Behlen waterborne or solvent base stain or finish.
Allow overnight dry time if using solvent base stains and finishes.
Behlen Water Base Grain Filler is environmentally friendly.
It is low in VOC's, nonflammable, and cleans up with warm water and detergents.
Use waterborn or UTC pigments to make additional color tones.
Quarts.

Rockhard™ TABLE TOP Urethane VARNISH • UPS Ground Only •
Click link for Product Data
Rockhard™ TABLE TOP Urethane VARNISH
(Gloss & Satin)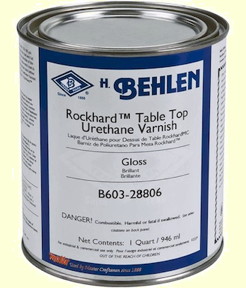 Rockhard™ Table Top Urethane Varnish
is the coating of choice when you want a hard finish
that will deliver maximum resistance to water, alcohol,
food stains, chemicals, detergents, and other damaging liquids.
Its toughness also makes Rockhard suitable for many other uses
like wooden chairs, benches, desks, dressers, chests of drawers,
vanities, bookcases, and many more.
REDUCER & for Cleaning Brushes or tools use Mineral Spirits.

WATERBORNE Rockhard™ Brushing Varnish
WATERBORNE Rockhard™ Brushing Varnish
is a high quality, non-yellowing acrylic / urethane top coat
that
provides a beautiful finish that will enhance the beauty of wood projects.
Rockhard™ WATERBORNE Brushing Varnish is low odor, fast drying
and low VOC. It is easy to apply and has excellent leveling properties.
It is a high solids, self-sealing finish that provides faster build with
fewer coats for superior results. Available in Semi-Gloss, & Flatt sheens.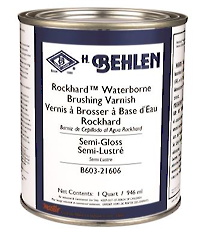 Rockhard™ WATERBORNE Brushing Varnish Highlights:
• Urethane / Acrylic blend
• Low odor
• Easy to use
• Can be applied with brush
• Dries quickly
• High solids
• Excellent leveling properties!
B603-21606 -- Semi-Gloss (Sealer & build coats)
B603-21206 -- Flatt
NOTE: Please Click Here For the Original Oil/Solvent based ROCKHARD TABLETOP VARNISH

SALAD BOWL FINISH CLEAR • UPS Ground Only •
Click
above for Application Information
SALAD BOWL FINISH
Clear
Behlen Salad Bowl Finish has been specially formulated to allow the following statement. "This product contains FDA regulated ingredients complying with
21 CFR 175.300." and therefore achieves a non-toxic, safe for food contact
(in its cured state) finish.
Behlen Salad Bowl Finish has the application ease of an oil finish (just use a clean white cloth) and the film building and sheen producing (up to a satin) qualities of a varnish. Wooden bowls, wooden utensils, butcher block counters
when finished with Salad Bowl Finish may be used in contact with foods.

Child safe for use on toys, recreational related objects (games, puzzles), and infant furniture.

(NOT intended for use on cutting boards or cutting blocks)

WAX WASH Cleaner & WAX REMOVER • UPS Only •
To: Info & Label Text
WAX WASH DE-WAXER WOOD CLEANER


WAX WASH / De-Waxer Wood & Finish CLEANER
& WAX REMOVER
is a specially formulated blend of solvents.
For best repair and rub-out results, first prepare and clean the surfaces with

WAX WASH / De-Waxer to remove waxes, oil and other foreign material
from bare woods, new finishes, and aged wood finishes.

Wax deposits that remain after the use of paint, lacquer, and varnish removers
can be eliminated with use of WAX WASH / De-Waxer
Available: Gallon - Quart & Aerosol M107-0190
POUR-N-WIPE / MASTER GEL FINISH
Click above for Label Text & Product Data
MASTER GEL
(B550-30016)
/ Pour-N-Wipe FINISH
(M603-3016)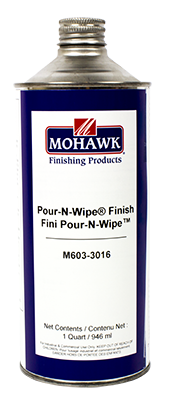 A top coat for bare, dyed or stained wood.
• Unique gel form • Easy-to-apply
• No mess, no brush marks
• Excellent as a wood turning finish.
Master-Gel / Pour-N-Wipe is self-sealing (no sealer coat is required)
and virtually colorless when dry. Imparts a lustrous urethane finish to wood,
protecting it against water and alcohol staining.

Pour-N-Wipe is durable enough for use on hardwood floors, bar and table tops.
Master-Gel / Pour-N-Wipe Finish can be applied with a lint free cloth.
Dries overnight. Allow to dry 4 hours prior to re-coating.

FRENCH LAC (Shellac French Polish)
FRENCH LAC

Behlen French Lac, is a Shellac based French Polish, packaged in a ready to use formula.
French Lac is a Light Amber French Padding Finish,
suitable for use on the lightest of finishes.

French Lac, French Polish has been job tested for years
by professional repair restorers, to develop a complete surface or to spot repair a finish.


QUALASOLE (French Polish)
Click above for Product Data
QUALASOLE
™
- The modern "
French Polish"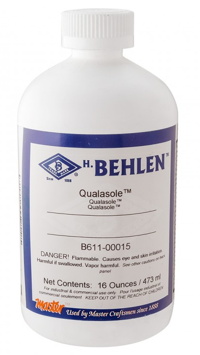 Qualasole™ fortified Fench polish is an valuable product in the cabinet finishing department.

No oil is required for French polishing, padding, touching up, or renovating.

Apply Qualasole™ with a pad to raw wood or over any cured shellac, varnish, lacquer,
paint or enamel finish in the same manner as French polishing. A superior and durable finish is obtained in a fraction of the time as compared to the old method.
Behlen Qualasole™ affects speedy, permanent, new finishes and renovations that do not show press marks after handling or transportation. Qualasole™ accentuates the wood grain and natural markings and produces a beautiful appearance that improves with age.

FNISH UP™ Polyurethane
FNISH-UP™ Wipe-On Polyurethane
(Waterborne Wipe On)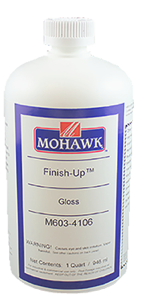 Finish Up is a waterborne user friendly wipe on finish.
Mohawk Finish-Up™ Polyurethane can be applied over repairs such as
Burn-Ins, Fil-Stik® Putty Stick fills, Blendal® Powders and
Touch Up Markers to seal in the repair, leaving a durable protective finish.
Can be applied over properly cleaned existing finishes to improve appearance and durability.
Finish-Up™ Polyurethane adheres well to most types of lacquers, vinyl clads, and
high pressure laminates as well as many other substrates.
Best of all, it is water based and has almost no odor.
The almost no odor feature makes Finish-Up™ Polyurethane the product of choice
where aerosols and other solvent based touch up finishes are not appropriate.


• Low VOC 380 g/l • Easy Wipe On application • Quick Drying • Good Flow characteristics • Good Durability
• Moisture & Alcohol Resistant • Water Clear • Excellent Adhesion • Won't Lift other finishes • Nonflammable

SealCoat Universal Sanding SEALER (Shellac) • UPS Ground Only •
Click above for Product Data
SealCoat
™
Universal Sanding Sealer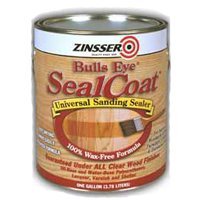 SealCoat
offers the time-saving versatility of a
refined Dewaxed Shellac in a pre-mixed 2 lb. cut 100% wax-free formula.
It's the perfect sanding sealer because it penetrates the surface, dries quickly,
gives a rich tone to wood surfaces and since it contains no waxes or stearates.
SealCoat is guaranteed to be compatible with oil-base polyurethanes,
acrylic finishes, lacquers, catalyzed finishes, and varnishes.
SealCoat™ won't raise the grain and dries quickly.

VINYL CLEAR LACQUER SEALERS • UPS Ground Only •
Click link above for Data Sheet
VINYL Clear LACQUER SEALER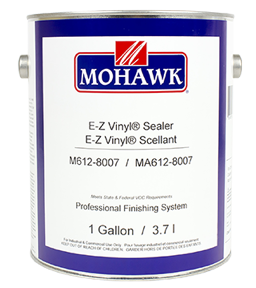 Vinyl develops an excellent moisture resistant barrier for the wood substrate,
and provides a good tough base for all lacquer finishes.
Vinyl Sealer is offered in a ready to use formulation
that needs no further reduction or catalyst.
• • • 5 Gallon Pails available on Order. Please Phone to order.

Note: Vinyl Sealer may be applied over raw wood or filled and stained substrates.

Also available for Aerosol applications
Finisher's Choice LACQUER SANDING SEALER • UPS Only •
Finisher's Choice™ LACQUER Sanding SEALER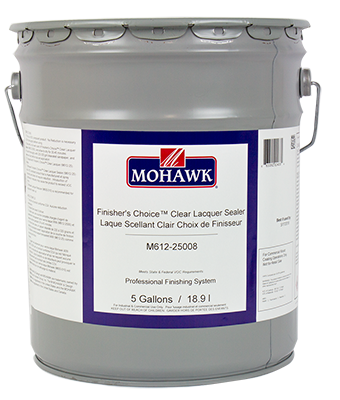 This Nitrocellulose sealer produces a smooth, hard, clear,
seal coat
as a foundation for lacquer topcoats.
Finisher's Choice™ Sanding Sealer is light in color and high in solids.
Formulated for maximum adhesion, superior hold-out,
and exceptional flow-out properties.
Finisher's Choice™ Sealer dries within forty-five minutes and may be used
under any lacquer topcoat
except the acrylics and shellacs.
5 Gallon Pails Available on Order. - Please Phone to Order.

Use Lacquer Reducer / Thinner for reduction (Not Over 15% recommended).
Finisher's Choice CLEAR LACQUERS • UPS Ground Only •
Finisher's Choice™ CLEAR
LACQUERS
-
275 VOC compliant
(Alcohol Resistant)
To:
Product Data Sheet --
PDF to download or print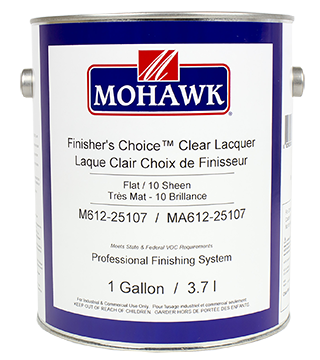 Mohawk's Finisher's Choice™ clear nitrocellulose lacquers are
highly resistant
to the strongest of alcohols, water, moderate heat,
abrasion, impact, and
are highly scratch resistant after a week's cure time.
Finisher's Choice™ lacquer forms a hard film designed to take
punishment that would normally ruin other lacquers.
It may be used on tabletops and other applications that require a tough finish.
Finisher's Choice™ Clear Lacquers are ready to spray, high solids, low viscosity formulas that enables users to achieve the best flow and build without reduction.
Apply in light, even coats of no more than 3-4 wet mils.
Clear WW Lacquers are 275 VOC compliant. --
Solids % (wt): 20.14
CRACKLE LACQUER (Clear) • UPS Ground Only •
CRACKLE LACQUER - CLEAR
Behlen Crackle Lacquer allows for the creation of a cracked, crazed, or antique looking finish.
A wet coat of Crackle Lacquer is sprayed over a dried nitrocellulose colored base coat.
The base color shows through when the crackle layer cracks.
Crackle is offered in a ready to spray clear consistency,
which can be colored with lacquer colorants to create dynamic results.
LACQUER REDUCER / THINNER 2255 • UPS Only •
LACQUER REDUCER 2255
(Lacquer Thinner)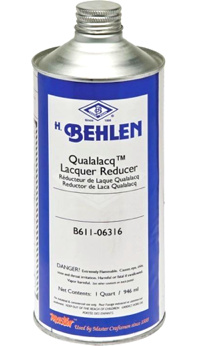 A special blend of solvents formulated for thinning nitrocellulose lacquers.

Use to thin:
• Lacquer Sanding Sealer
• Vinyl Lacquer Sanding Sealer
• Mohawk Nitrocellulose Lacquers
• Classic Stringed Instrument Lacquer.

Thinner improves flow of lacquers and adjusts viscosity for the spray equipment used.
M650-010 & B611-0631
(Avoid using more than 15 % by volume of the lacquer)

CLASSIC Stringed INSTRUMENT LACQUER • UPS Ground Only •
Click above:
Label Text & Application Information
CLASSIC Stringed INSTRUMENT Lacquer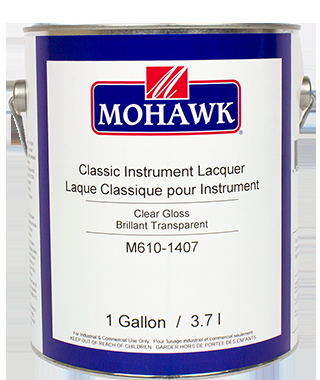 Classic Stringed Instrument Lacquer is a high quality
nitrocellulose lacquer specifically designed for wooden stringed instruments.

Stringed Instrument Lacquer allows for the special expansion and contraction
that occurs due to the unique construction of stringed instruments.
Note:
Stringed Instrument Lacquer must be applied over our Vinyl Sealer in order
to assure its unique film building and special finish characteristics.
Also available in Aerosol
---
---
Shellac.net Wood Finish Supply / MERIT Industries.com
An Authorized Mohawk Distributor
Visit our showroom at: 2325 #A First St. (east side of building) Napa CA 94559
Assistance in placing your order - (9:30am to 4:30pm Pacific Time) 877-245-5611
Email: orders@shellac.net ... to: Ordering Information ... Privacy Policy
rev. 8/16/19
---
---