---
Shellac.net Wood Finish Supply & MeritIndustries.com
Home of: MohawkFinishSupply.com
Authorized Mohawk Distributor
Select Products for Traditional Furniture Finishing, Touch-Up, Repair and Maintenance
---
Our showroom is now open - New Location - 2465 Second Street, Napa Ca 94559
Thank You for your support, we appreciate your business. Ron, Pete & Shannon
---
---
Monthly SALE •• OCTOBER Only ••
---
NEWS Blog - Subscribe to our News & Notes

---

Wiping Wood™ Stain - A traditional Pigmented Wood Stain


Semi-transparent, pigmented, solvent-based stain.
Non-grain raising, fade resistant. Easy stir, soft-settling formula.

1. Fade resistant, non-bleeding permanent colors.
2. Application by spray, rag or brush.
3. Ultra fine ground pigments for maximum color yield.
4. Seal coat may be applied the over stain after 30 minutes of dry time.
5. HAP's compliant.

Finish Room Notes:
• Intermix factory colors to obtain additional custom shades or tints.
• To lighten colors and maintain working features add the Clear Stain Base (M545-0106) as needed.
• For a deep toned finish, especially on light woods, first apply an Ultra Penetrating Dye
of the required color. Allow dye to dry one hour before application of the wiping stain.
• Make the final color evaluation and approval with a sealer and desired sheen topcoat in place.


---

OCTOBER Sale Items are LIMITED To Stock on Hand. - Stock Up Now

Wiping WOOD STAIN • UPS Only •
Click Above for application information

WIPING WOOD STAIN
-

The same formula previously labeled H.BEHLEN 15 Min Stain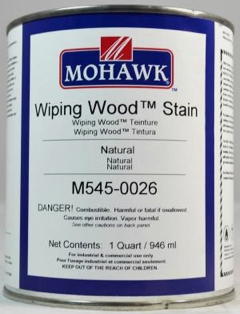 Mohawk Pigmented Wiping Wood Stains are semi-transparent, pigmented,
solvent-based stains that are non-grain raising, fade resistant, easy to stir,

soft-settling formulas. Allow 30 minutes drying time before a lacquer
sealer or topcoat can be sprayed. Apply by spray, brush or cloth.
Pigmented Wiping Stains are easier to control because there's less lapping.
An ideal uniforming stain when applied over NGR Dye stains prior to sealing.

A dark color tone may be lightened with use of Wood Stain Reducer S-15.

This stain will not bleed through the finish. Virtually any finish can be applied
over Wiping Wood™ Stain: lacquer, shellac, varnish, polyurethane,
acrylics and many others.

Note:
Maintain the working characteristics of the stains by using the M545-0106 - Stain Base
to lighten or extend the stain color.
Avoid thinning Wiping Wood Stains with solvents.
One Quart - Also Available In Gallons (Please Phone for gallon orders)

Ex. Dark Walnut
M545-2096


Med Brown Walnut
M545-2076


Medium Walnut
M545-02056


Burnt Umber
M545-14356


Raw Umber
M545-01436


Black
M545-2246


Natural
M545-0026


Light Golden Oak
M545-4156


Dark Golden Oak
M545-2206


Jacobean (Oak)
M545-10046


Weathered Oak
M545-10036


Shale Grey
M545-10016


Dk Red Mahogany
M545-2276


Brown Mahogany
M545-2296


Perfect Brown
M545-2496


Brown Maple
M545-2366


Cherry
M545-4086


Antique White
M545-4126

Note:The Pure WHITE # M545 -2026 is not shown on the above color guide
SALE PRICE Good For OCTOBER ONLY - Limited to stock on Hand