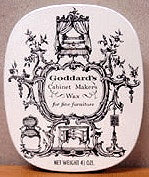 The Original Formula - Manufactured in the UK
J. Goddard introduced his cabinetmaker's wax in
1847 to protect Thomas Chippendale's furniture.
Goddard's Fine Cabinet Maker's Wax enhances and protects both your fine furniture and decorative art work.
An exceptional wax for furniture care and maintenance.
Contains NO Silicone & will not yellow over time.

" I think Goddard's paste wax is the best bees/carnauba (blend)
for all general furniture waxing purposes."